Has Obama been exposed as an innocent abroad?
True to his pre-election word, the new President wasted no time in dramatically reshaping US foreign policy. But a series of challenges to America's interests have emboldened critics who accuse him of inexperience and naivety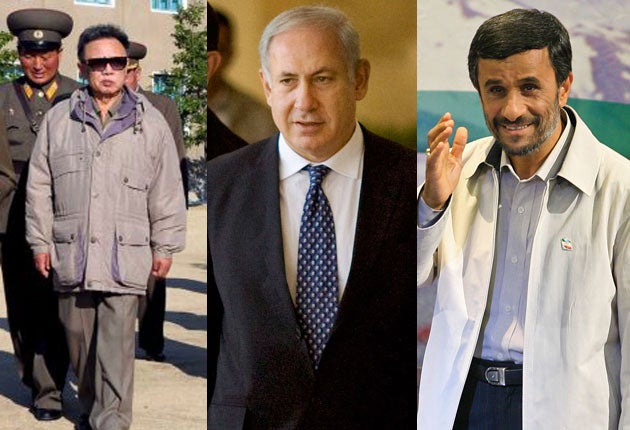 Barack Obama's foreign policy honeymoon may be petering out as events around the globe, whether in Israel, Iran or North Korea, conspire to expose some inconvenient realities about his vaunted olive-branch approach to international relations. A nicer America does not a nicer world immediately make.
That Mr Obama has moved with lightning speed to reshape America's foreign stance is not in dispute. He has taken the US back into negotiations for a new global warming treaty, set in motion the closing down of Guantanamo Bay, shifted military resources from Iraq to Afghanistan and, more than anything, introduced a new tone of engagement in America's diplomatic dealings. He has not been afraid to say where America might have erred in the past.
All at once, however, the President's fledgling foreign policy team finds itself fighting several extremely difficult fires at once and critics at home are taking the opportunity to hold them up as evidence that Mr Obama has been naive on the world stage, and flaying him for saying sorry too much.
"It's very clear the President's policies of going around America and apologising aren't working," declared Mitt Romney, who may already be thinking of a new presidential run in 2012. "North Korea isn't just sabre-rattling. They've taken the sabre out of the sheath. Iran is moving headlong toward nuclearisation. And all his apologies have not let any of those nations to pledge any more support to America."
It would help if the "Obama Effect" could be demonstrated actually to exist, even just a little. It has earned Mr Obama many fans abroad but, at home, there are some who remain less impressed. "Rhetoric, concession and apology, however, are not enough to alter reality," argues Michael Rubin of the conservative American Enterprise Institute in Washington.
Arguably, the commitment of this White House to push hard for Middle East peace is at least scrambling the jigsaw pieces slightly. At the weekend, Benjamin Netanyahu, the Israeli Prime Minister, for the first time endorsed the two-state solution with the Palestinians. But he attached so many conditions, including a demand for guarantees that the Palestinian state be demilitarised, that the Palestinians are calling his so-called shift nothing of the sort.
Today, Mr Obama welcomes to the White House the President of South Korea, Lee Myung-bak. Of course, the conversation will focus on the new belligerence from the northern end of the peninsula, not least the detonation last month of another nuclear device. Even more ominous was the response at the weekend to the new UN sanctions resolution against it that the US has promised fully to implement.
President Lee is expected to demand from Mr Obama a new commitment to maintain a protective nuclear umbrella over South Korea – and to ask for it in writing. This may help Mr Lee ease some of the anxieties of his own citizens at home, but it will do nothing to address the core of the crisis: how to draw the regime of the ailing Kim Jong-il back from his new path of provocation and nuclear brinkmanship?
Hardly helping is the parallel problem of two young Asian-American journalists sentenced by Pyongyang to 12 years hard labour after being arrested on the border with China. The US would like to deal with the two dossiers separately, but it is likely Pyongyang will try to gain leverage in the nuclear talks from the jailing of the women.
In its fury at the new UN resolution, which includes provisions for inspecting ships going to and from the country, North Korea has threatened nuclear war. With all of East Asia at risk – and potentially also parts of Alaska – Mr Obama may find that this crisis before any other requires him to reveal the iron fist his critics believe he does not possess. Yet, military engagement by the US on the Korean peninsula seems unthinkable and more or less impractical.
Nothing suggests that Mr Obama is about to abandon his philosophy of giving primacy to diplomacy and negotiation even where foes are involved. Note that this weekend saw a visit to Syria by his special envoy George Mitchell. Yesterday, the US was more reluctant than the European Union to do more than express vague concern about the election in Iran and the claims that the outcome was rigged in favour of President Mahmoud Ahmadinejad.
"Obviously, we continue to have concerns about what we've seen," was the rather awkward remark yesterday from White House spokesman Robert Gibbs. So far only Joe Biden, the Vice President, has given voice to concerns in Washington that some gross subversion of democracy has been taking place in Iran. But then, Washington will still want to negotiate with Iran about its nuclear programme.
"We should be very careful about overreacting," agrees Anthony Cordesman, an analyst at the Centre for Strategic and International Studies, who notes that true power in Iran lies anyway with the supreme leader Ayatollah Ali Khamenei. "They realise that it is the supreme leader and those around him who shape any movement in terms of US-Iranian relations. This was going to be true regardless of who was elected.
If Mr Ahmadinejad indeed remains as Iranian President, Mr Obama may find it easier to find unity with his foreign partners on how to confront him. But that, according to Karim Sadjadpour at the Carnegie Endowment for International Peace, is likely to be little consolation for the events of the last few days in Tehran.
"It's going to make it incredibly difficult for the Obama administration to acquiesce on Iran's enrichment of uranium when there is a president in Tehran who continues to deny the Holocaust, and continues to be belligerent toward Israel," he said. "I don't see the probability of Ahmadinejad taking a more moderate or conciliatory approach his second time around."
Thomas Pickering, the former Under Secretary of State, is also pessimistic. "This is the worst result. The US will have to worry about being perceived as pandering to a President whose legitimacy is in question. It clearly makes the notion of providing incentives quite unappetising."
It is unusual for an American President – especially one so new to his office – to be tested by so many foreign crises at once. But possibly it is North Korea that will try Mr Obama the most. He knows Mr Netanyahu. America has some handle on what is going on in Tehran even in these days of chaos. But Pyongyang seems like a place of madness to Washington and, worse, entirely opaque madness.
Join our commenting forum
Join thought-provoking conversations, follow other Independent readers and see their replies