Iran, Saudi Arabia and Pakistan push worldwide executions to 25-year high
At least 1,634 people were executed in 2015 – a rise of 54%, according to an Amnesty report
Chris Green
Wednesday 06 April 2016 10:45 Comments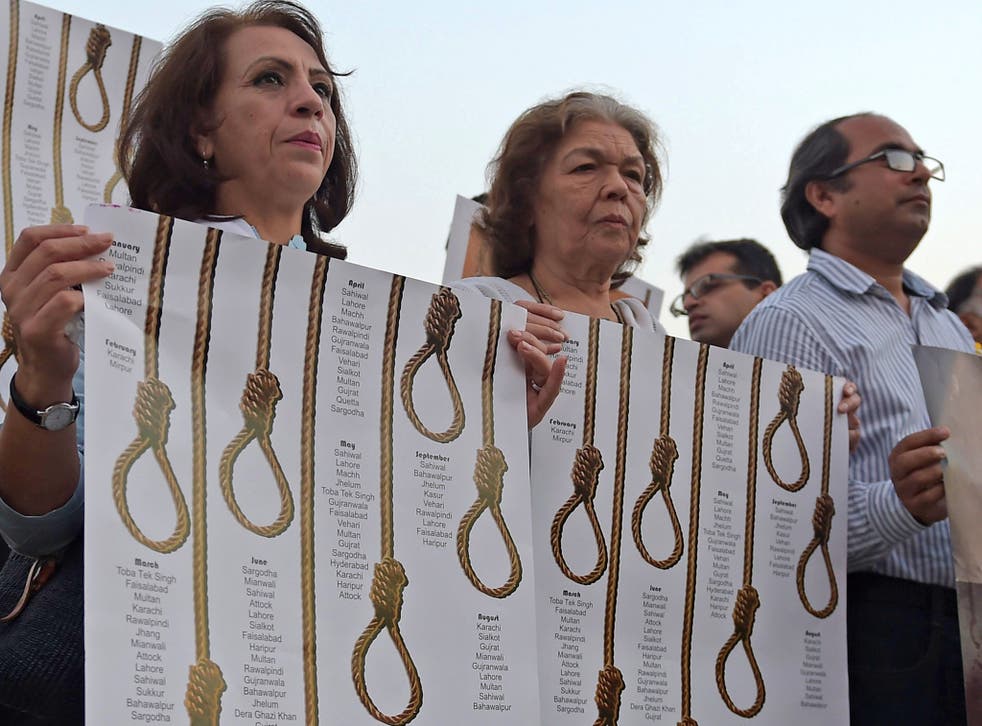 The number of executions carried out worldwide reached a 25-year high last year due to a dramatic rise in the number of people being put to death in Iran, Saudi Arabia and Pakistan, according to new research.
At least 1,634 people were executed in 2015, a rise of 54 per cent on the year before, Amnesty International's annual global review of the death penalty found. It is the highest total recorded by the charity since 1989 and does not include figures from China, where thousands of people are likely to have been executed in secret.
The surge in deaths, which Amnesty described as "profoundly disturbing", was largely driven by a ramping up of executions in Iran, Saudi Arabia and Pakistan. Iran killed at least 977 people in 2015, the vast majority for drug-related crimes, a rise of almost a third on the previous year. At least four of those killed were under 18 when they committed their alleged crimes.
In Pakistan, the lifting of a moratorium on civilian executions in December 2014 resulted in more than 320 people being killed in 2015. In Saudi Arabia, the only country in the world to carry out the death penalty by beheading, at least 158 people were executed.
The execution rate has shown no sign of slowing in 2016. Last week, The Independent revealed that Saudi Arabia has already executed 82 people this year following the mass killing of 47 people in January, meaning that it is on course to behead twice as many prisoners as it did in 2015.
Where most executions were carried out in 2014

Show all 10
"The rise in executions last year is profoundly disturbing," said Amnesty International's Secretary General Salil Shetty. "Not for the last 25 years have so many people been put to death by states around the world. Iran, Pakistan and Saudi Arabia have all put people to death at unprecedented levels, often after grossly unfair trials. This slaughter must end."
The UK Government has been criticised for maintaining close relationships with countries such as Saudi Arabia which continue to make use of the death penalty, and MPs on the Foreign Affairs Committee said recent statements from ministers had led to a "perception" that promoting human rights was no longer a priority.
"Now more than ever, Britain needs to be speaking out against the grave abuses – including mass trials, torture and death sentences handed down to juveniles and political protesters – being committed by its allies," said Maya Foa, director of the death penalty team at the charity Reprieve.
Baroness Anelay, the Human Rights Minister, said she was "deeply troubled" by Amnesty's report. "The UK opposes the death penalty in all circumstances and we make our opposition well known at the highest levels to countries which continue to apply it. Our message to them is clear, the death penalty is unjust, outdated and ineffective," she added.
Despite the spike in executions in 2015, four countries also abolished the death penalty: Fiji, Madagascar, Republic of Congo and Suriname. The development means that for the first time, a majority of the world's countries do not execute people.
Register for free to continue reading
Registration is a free and easy way to support our truly independent journalism
By registering, you will also enjoy limited access to Premium articles, exclusive newsletters, commenting, and virtual events with our leading journalists
Already have an account? sign in
Join our new commenting forum
Join thought-provoking conversations, follow other Independent readers and see their replies