Terror attacks: From Paris to Mali – a week in the life of a new global conflict
Day by day more details emerge of the heroism of victims as the world pledges to stand united against Isis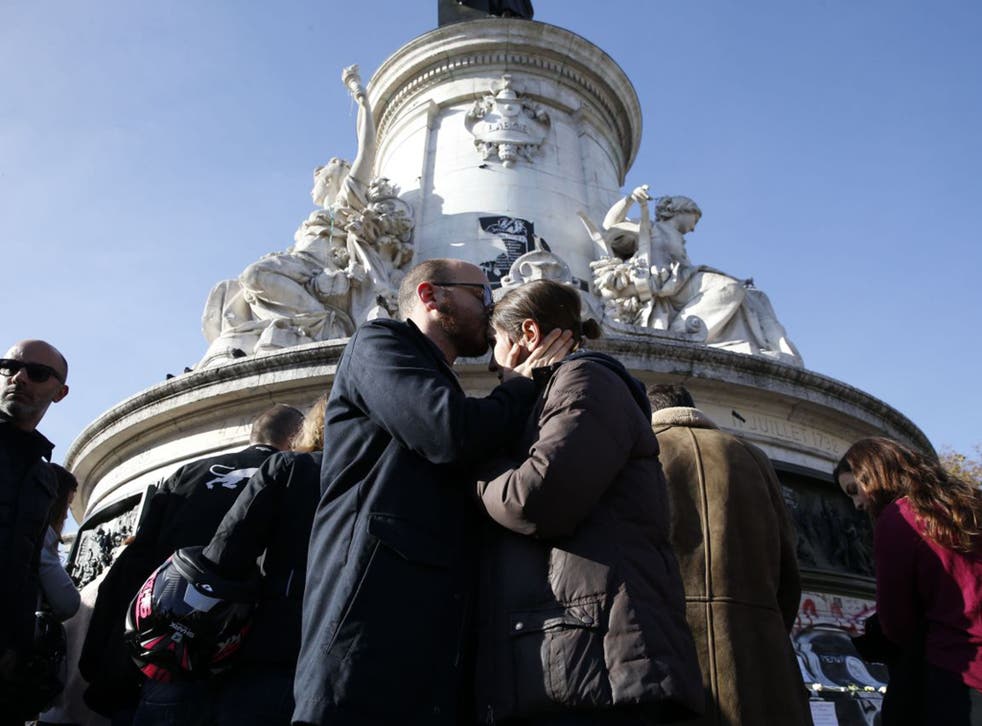 Sunday
The world mourns the victims of the Paris attacks. In London, flowers surround the entrance to the French Embassy, while in Berlin hundreds of people break into a spontaneous "La Marseillaise" after a minute's silence. Leaders at the G20 summit in Antalya, Turkey, also stand in silence. Paris begins three days of mourning. President Barack Obama declares the tragic events an "attack on the civilised world". Pope Francis says: "The road of violence and hatred does not resolve humanity's problems ... using the name of God to justify this road is blasphemy."
Accounts of the attacks continue to emerge. Nick Alexander, a 36-year-old Briton shot at the Bataclan theatre, died in the arms of his ex-girlfriend Helen Wilson. Two other Britons at the concert, Christine Tudhope, 34, and Mariesha Payne, 33, survived by hiding in a cellar. But Elsa Veronique Delplace San Martin, 35, died with her mother, Patricia San Martin Nunez, 61, and acted as a human shield for her five-year-old son, who survived.
Police raids continue across France and Belgium. Details of the attackers start to be disclosed – with one named as Omar Ismail Mostefai, 29. An international manhunt is launched for terror suspect Salah Abdeslam, 26, as officials admit police pulled over his car near the Belgian border, hours after the attacks, before letting him go. In Syria, French fighter jets repeatedly bomb the Isis stronghold of Raqqa.
Monday
Abdelhamid Abaaoud, 27, from Brussels, is named by French officials as the suspected mastermind of the attacks and is linked to previous plots to attack a high-speed train and a church. Three of the suicide bombers are named – Bilal Hadfi, 20; Ibrahim Abdeslam, 31; and Sami Amimour, 28. President François Hollande tells French parliamentarians: "France is at war, but we're not engaged in a war of civilisations, because these assassins do not represent any."
In Britain, David Cameron reveals British security services have foiled seven attacks in the past six months; and the Government unveils plans to recruit 1,900 security and intelligence agents and increase spending on aviation security. Foreign Secretary Philip Hammond says Britain will join air strikes in Syria as soon as MPs support such a move.
In Turkey, a government official claims suspected Isis members arrested in Istanbul in the week of the attacks had been in contact with those behind the Paris attacks.
One of those who died, Ludovic Boumbas, 40, is hailed a hero; he threw himself in front of a friend to protect her as terrorists shot 19 dead at La Belle Equipe restaurant.
CIA director John Brennan warns: "I would anticipate ... this is not the only operation that Isil has in the pipeline."
Tuesday
England v France at Wembley
France calls on European allies to back action against Isis. It invokes a clause from the EU's Lisbon Treaty; this requires members to give "aid and assistance by all the means in their power" to a member country that is "the victim of armed aggression". French air strikes against Isis in Raqqa continue. President Vladimir Putin orders the Russian missile cruiser Moskva, in the Mediterranean, to co-operate with the French on operations in Syria. And David Cameron says air strikes against targets in Syria will be part of a "comprehensive strategy" for taking on Isis.
Reported bomb threats mean a football game between Holland and Germany in Hanover is called off at the last minute, and two Air France planes to Paris are diverted and forced into emergency landings.
Antoine Leiris, whose wife, Hélène Muyal, was killed, writes an open letter to the attackers, saying: "You stole the life of an exceptional person, the love of my life, the mother of my son, but you will not have my hatred."
Football players and fans at an England-France friendly match at Wembley, attended by the Duke of Cambridge, unite in solidarity.
The world mourns Paris attacks - in pictures

Show all 25
Wednesday
A fierce firefight takes place between French police and terrorists during the seven-hour siege of a flat in Saint-Denis, where Abaaoud is thought to be hiding. After a battle in which 5,000 rounds are fired, with grenades, several police are wounded and two suspects are reported as dead, including a woman blowing herself up with a suicide belt.
Seven arrests are made, and French officials say the cell was planning an attack on Charles de Gaulle Airport and the city's financial district.
India warns it could face Isis attacks, and increases security around American, French, and British embassies. Denmark and Sweden raise threat levels. A Malaysian government minister warns that Southeast Asia may be targeted by Isis-inspired attacks, to "glamorise terrorism".
The French parliament votes to extend a state of emergency for three months. Stories of victims include that of Stéphane Hache, 52, found dead a day after the massacre. A stray bullet from the Bataclan attack had ricocheted through an open window in his flat and hit him in the back.
A video of a father in Paris calming his young son, who is worried about the "bad guys", gets tens of millions of views online. Isis releases a video hailing the success of the attacks and threatening more to come.
Thursday
French authorities confirm Abaaoud was among those killed in the Saint-Denis raid. And pictures emerge of Hasna Aitboulahcen, 26, the cousin of Abaaoud reported as having blown herself up during the raid.
France says it has destroyed more than 30 Isis targets in Syria since the attacks. Prime Minister Manuel Valls warns that Isis could use chemical and biological weapons. Europol reveals the number of suspected foreign fighters travelling between Europe and Syria has doubled in the past year and now stands at around 10,000.
German Chancellor Angela Merkel says "all of the freedom-loving countries on earth must stand together ... to find the perpetrators and also to protect and secure our way of life".
Belgian police mount raids in and around Brussels, in connection with Bilal Hadfi, one of the Paris suicide bombers. In Sweden, police arrest Moder Mothama Magid, 22, suspected of planning an attack in Stockholm. Italy searches for five FBI-flagged individuals, amid US warnings that St Peter's Basilica in Rome, Milan's cathedral and La Scala opera house are among "potential targets".
Friday
Dozens are killed when armed jihadists storm the Radisson Blu hotel in Bamako, Mali, and take 170 hostages. US and French Special Forces support Malian soldiers, who free the captives; 27 people are reported dead. US and Iraqi intelligence officers also warn that Isis is trying to develop chemical weapons, and the UN Security Council passes a resolution calling on countries to "combat by all means this unprecedented threat".
At an emergency meeting in Brussels, European ministers agree to fast-track new laws to share air passengers' data, crack down on firearms trafficking and introduce immediate, stricter checks at borders. Belgium charges a third suspect with terror offences relating to the Paris attacks.
As the death toll rises to 130, French authorities announce that three people were killed in Wednesday's raid in Saint-Denis and that Aitboulahcen did not blow herself up as thought. It emerges that Amimour, one of the suicide bombers, had missed appointments with French police investigating him on suspicion of terrorism-related activity before he disappeared two years ago.
The bravery of those killed is highlighted by Richard Rammant, 53, who died protecting his wife by lying on top of her during the Bataclan shootings. As evening falls, thousands take to the streets of Paris in a series of vigils one week on from the attacks.
Saturday
Soldiers and armed police patrol Brussels; the city goes into lockdown and the metro is closed, amid reports that the surviving terrorist from the Paris attacks, Salah Abdeslam, is in hiding in the city. In a statement, Prime Minister Charles Michel explains Brussels is on maximum alert due to concerns that "several individuals with arms and explosives could launch an attack ... perhaps even in several places".
In Turkey, authorities confirm the arrest of Ahmet Dahmani, 26, a Belgian suspected of having scouted out locations in Paris prior to the attacks. He is one of three individuals arrested by Turkish police near Antalya, on suspicion of "aiding and abetting" Isis. He is reported as having arrived in Turkey from Amsterdam last Saturday. "The investigation continues," says a Turkish official.
Meanwhile, in Mali, a 10-day state of emergency begins in the wake of Friday's terrorist attack in the capital and Malian security forces continue to hunt "more than three" suspects.
And Malaysian Prime Minister Najib Razak attacks Isis as a "perverted Islam" at the start of the Association of Southeast Asian Nations summit. He says: "Be assured ... we stand with you against this new evil that blasphemes against the name of Islam."
Register for free to continue reading
Registration is a free and easy way to support our truly independent journalism
By registering, you will also enjoy limited access to Premium articles, exclusive newsletters, commenting, and virtual events with our leading journalists
Already have an account? sign in
Register for free to continue reading
Registration is a free and easy way to support our truly independent journalism
By registering, you will also enjoy limited access to Premium articles, exclusive newsletters, commenting, and virtual events with our leading journalists
Already have an account? sign in
Join our new commenting forum
Join thought-provoking conversations, follow other Independent readers and see their replies