Maritime murders? Justice for the 2,000 sailors who go missing each year
Some jump ship for a new life in a foreign land, while hundreds more are believed to commit suicide – but a small proportion are killed during suspected inter-crew disputes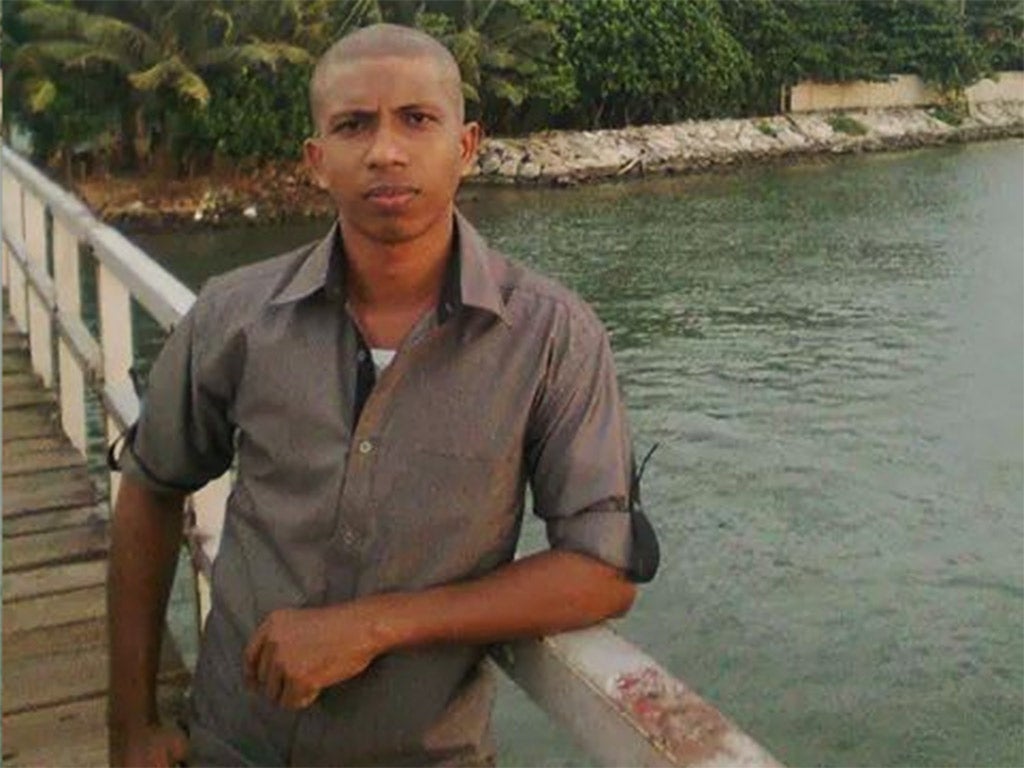 Harshaka Fernando was last seen alive when he reported late for duty (following a 21-hour shift) on the Taiwanese fishing boat he had been working on for nine months.
According to the accounts of fellow sailors, he was repeatedly shoved during an argument with the bosun about his time-keeping. It appeared to have been the final straw. After previously complaining about the food and working conditions, the 25-year-old refused to work. He said he wanted to go home to Sri Lanka and returned to his cabin on the Oman-flagged boat.
That was the last time anybody saw him, according to a statement compiled by his family. Ninety minutes later, he was reported missing. Six days later, his family were informed of his death in an unsigned letter and were told to collect his unpaid wages and make an insurance claim.
His family does not believe the official version of events. Fernando was a few months from completing training to become a qualified seaman. They find it suspicious that the bosun and the captain went to his cabin before he was reported missing.
"We believe he might have been assaulted and thrown into the sea," his cousin, Father Joseph Srinath, told The Independent. "They were in international waters so nobody saw what happened. They said that he jumped from the ship."
Fernando is thought to have become the latest victim of a hidden scandal of the sailors who go missing without any proper investigation.
Agencies working in the industry say that between 1,500 and 2,000 seafarers go missing every year: some take the opportunity to jump ship for a new life in a foreign land; hundreds are believed to commit suicide – but a small proportion are killed during suspected inter-crew disputes.
There has been no systematic attempt to chart the problem. But Fernando's case is one of the first to be posted on a new global database, charting what its organisers say is likely to highlight widespread human rights' abuse on the high seas.
The primary responsibility for investigating a crime on board a ship in international waters rests with the authorities from the state in which the vessel is registered. But many investigations are perfunctory, or non-existent.
"If there's an issue of humanitarian conflict, the UN will deploy forces and monitors," said David Hammond, founder of Human Rights at Sea, which is setting up the Missing Seafarers' Reporting Programme. "There are multiple international organisations as well as civil society and NGOs. But outside the territorial boundaries you are bound by the jurisdiction of the flag which flies on your vessel."
The difficulty of investigating crime at sea was highlighted by a case of a Ukrainian crewman who was stabbed 250 miles off the west coast of Ireland in September. During a party to celebrate the news that one of the crew had become a father, the 26-year-old was stabbed in the chest, according to officials.
The blow was not fatal, but it took seven hours for the alarm to be raised and for him to be airlifted off the Liberian-registered vessel.
Irish police interviewed the man accused of delivering the blow, but in international waters they had no jurisdiction. And the Liberian authorities – who were responsible for carrying out an investigation – did nothing, the officials said.
Even where there is evidence, it has proved difficult to establish the truth. Mr Hammond, a barrister, has had mobile-phone footage examined of an apparent summary execution of five men floundering in the sea.
The footage, posted online earlier this year, appears to show the men desperately clinging to the wreckage of their boat and being shot at and killed by the crew – speaking in a number of different languages – of a larger boat nearby.
The video was reportedly found on a mobile telephone left in a taxi in Suva, the capital of Fiji. Three larger boats were seen in the footage, one identified as a Taiwanese vessel flagged under the Seychelles. Mr Hammond said he believed the victims may have been from a small, unflagged fishing boat that had been mown down by bigger competitors and then picked off. Officials at Taiwan's representative office in London did not return calls.
A small team from the reporting programme is to travel to Sri Lanka next year to get further statements from Fernando's family, who learned about the troubles he was suffering from an impromptu diary he kept on his mobile phone.
They do not believe that he killed himself, but: "If he did commit suicide, then they [senior crew] brought him to that state," said Fr Srinath. "I put the whole blame on them."
Join our commenting forum
Join thought-provoking conversations, follow other Independent readers and see their replies