New Year 2014: Smash a plate, drink a wish, eat a grape – how did the rest of the world see in 2014?
Forget Big Ben and Auld Lang Syne, here is a round up some more exotic ways to celebrate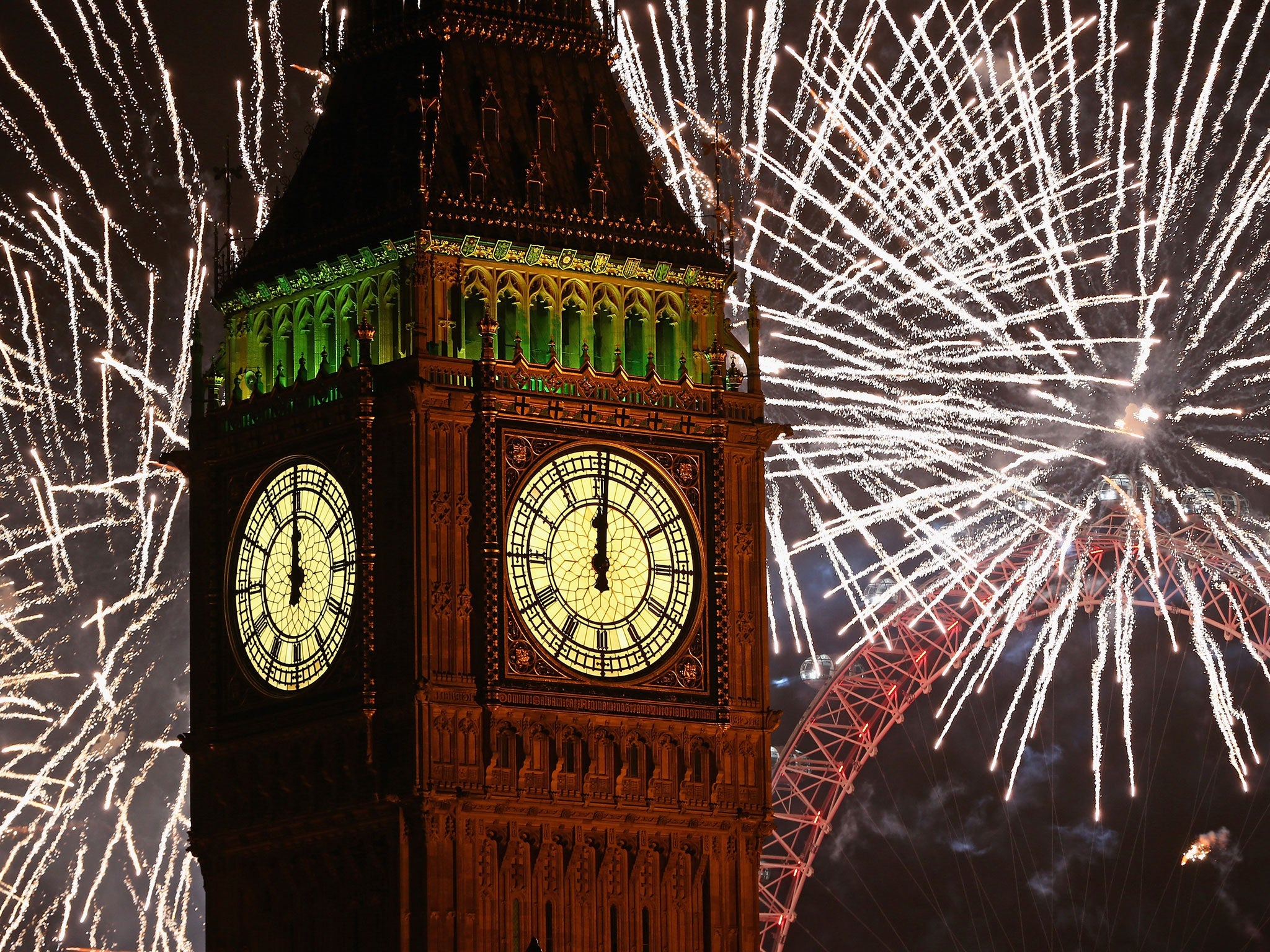 In Britain, many of us welcome the new year with the simplest of celebrations: alcohol, fireworks and a great big clock. But for much of the rest of the world, the final minutes of 2013 and the first few of 2014 were an occasion to mark with something a little more exotic. From smashed plates to swiftly eaten grapes, these are some of the more unusual alternatives to singing "Auld Lang Syne" out of tune.
New Zealand
Abuse your kitchen utensils
The first big country to see in 2014, for New Zealand the celebration comes in the depths of summer. While the big cities naturally staged fireworks displays, out in the sticks people resorted to a more modest form of New Year's Eve noisemaking – namely, standing on their front porches banging their pots and pans together. To some cultures making a racket at midnight is a way to drive off evil spirits. For most Kiwis, however, it is simply an end in itself.
Japan
Ring in the new year – 108 times
In Japan, New Year's Eve – or "Omisoka" – is time to welcome the Shinto god of the new year, Toshigami. Observers display traditional new year decorations such as kadomatsu (typically made from bamboo) and shimenawa (rice straw rope). At midnight, at each of the country's Buddhist temples, a bell would have been rung – not 12 times, but 108 times, to dispel a long list of unwanted mental states, such as anger and jealousy. Whereas most people think of working on New Year's Day as mere bad form, the Japanese consider it bad luck.
Russia
Drink a wish
New Year's Eve took on a particular significance for Russians under Communist rule during the 20th century, when religious holidays, including Christmas, were banned. The New Year proved to be a suitable non-religious substitute for the forbidden seasonal celebration – and its popularity has continued beyond the fall of the Soviet Union. One midnight tradition in Russia is to write your new year's wish on a scrap of paper, set it alight and drop the smouldering remains into your champagne glass – and then drink the lot before 12.01am.
Denmark
Abuse your crockery
Many cultures see New Year's Eve as a time to celebrate and catch up with friends and family, but few do so in quite such an aggressive manner as the Danes. In Denmark, it is traditional to keep your chipped and unwanted items of crockery, and then smash them against the front doors of your chums on the last night of the year. It's a measure of your popularity to find a heap of broken china on the doorstep at midnight – which presumably comes as some comfort while you're clearing it up.
New Year's celebrations around the world
Show all 23
Spain
Eat grapes
The Spanish always stock up on grapes before New Year's Eve, so they can eat one on each of the 12 chimes at midnight – not as easy as it sounds. The grape-munching is a 20th-century invention, started by Alicante's grape farmers in 1909 as a way to dispose profitably of the surplus grapes from that year's unexpectedly large harvest. Last night the 12-grape custom was observed by almost everyone in Spain – as well as by new year's revellers in several Spanish-speaking South American countries.
Scotland
Give a gift of coal
Scotland is famous for a long list of "Hogmanay" traditions, from dancing a reel to swinging a fireball around one's head. First-footing is the simple feat of being the first to enter the home of a friend or family member after the stroke of midnight, carrying a gift of whisky, bread, a coin – or a lump of coal. A similar custom is observed in several other countries, including England. In some areas, the first-foot is a welcome omen only if the visitor is tall, dark and male. Women and blond men are thought of as unlucky.
Bahamas
Junkanoo
The wonderfully named Bahamian festival Junkanoo takes place across the islands on both Boxing Day and New Year's Day, beginning at 2am and continuing until long after dawn. Revellers in Nassau and elsewhere welcome the new year with a vibrant, noisy parade, which is thought to have originated in the 16th or 17th century, when slaves were allowed to leave the plantations to celebrate Christmas with traditional African music and dancing.
Brazil
Hit the beach
In Rio de Janeiro, millions of people saw in 2014 on Copacabana Beach and its lesser-known neighbours, Ipanema and Leblon. Brazil's new year revellers often wear white to ward off unfriendly spirits, and they gather by the shore to make offerings to Iemanjá, who, according to the local Umbanda religion, is the Goddess of the Sea. Her worshippers launch thousands of tiny boats loaded with flowers and other gifts. Others jump seven waves for good luck – one for each day of the week.
Suriname
Light a firecracker
In Suriname, the standard New Year's Eve firework displays are augmented by long, red, firecracker ribbons known as "pagaras", which each of the big shops in the capital, Paramaribo, puts on display in the days leading up to the celebration. The ribbons are then tied together into one epic string of small explosives which runs through the centre of the city. Its lighting on New Year's Eve is guaranteed to draw a crowd of thousands.
United States
Watch something drop
In New York's Times Square, a six-foot ball spent the final minute of 2013 sinking down a 77-foot flagpole. The tradition began after the city's 1904 new year fireworks display rained hot ash down on the crowds, leading to a ban on fireworks. Today the ball-drop is such a recognised feature of the American new year that it is replicated around the US. In Eastport, Maine, for example, an eight-foot sardine is lowered from a window at the stroke of midnight, while in Key West, Florida, a drag queen called Sushi is lowered from a balcony inside a giant, red, high-heeled shoe.
Join our commenting forum
Join thought-provoking conversations, follow other Independent readers and see their replies