Nobel Peace Prize 2017 winner: Who could it be?
Contenders range from Pope Francis to Donald Trump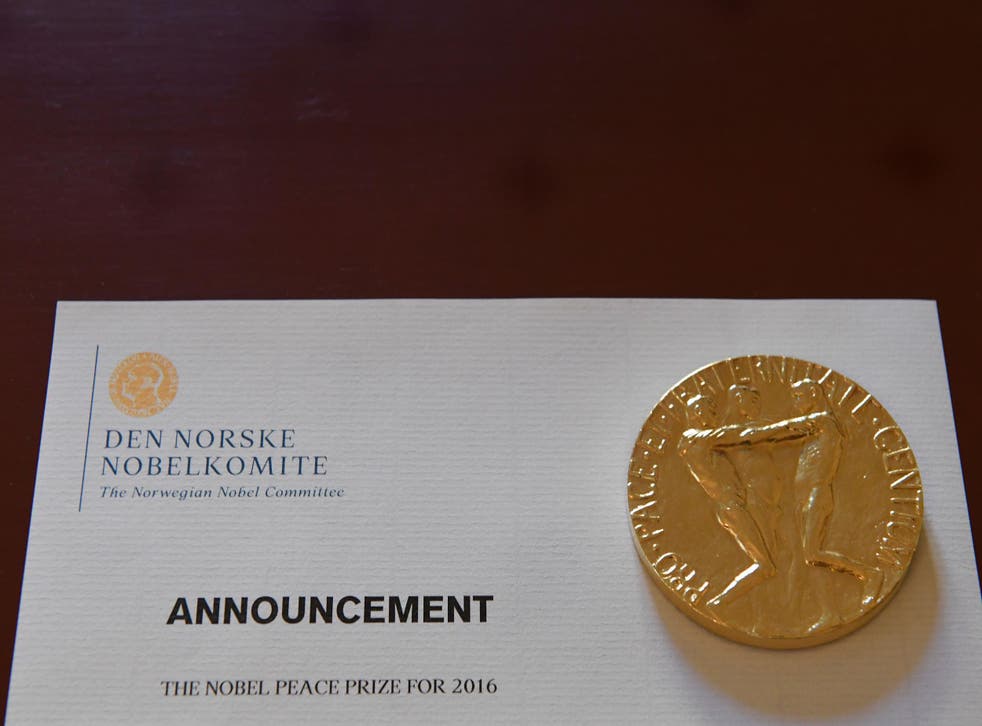 Capping off its highly anticipated week of awards, the Norwegian Nobel Committee will announce its annual Peace Prize on Friday.
The coveted prize is given to a person, or group of people, who have "done the most or the best work for fraternity between nations". The committee reportedly receives more than 200 nominations a year, though only a select group of people – such as politicians, committee members, and Peace Prize laureates – are allowed to nominate.
The committee has received some questionable nominations this year – both the US President Donald Trump and Russian President Vladimir Putin are said to have been nominated – but various organisations have whittled them down to a more realistic list of front runners.
Topping the list is Pope Francis, who has been favoured to win since he became head of the Catholic church in 2013. No pontiff has ever won the prize, but Pope Francis has distinguished himself for his progressive viewpoints and strong statements on climate change and refugees. One British betting company told TIME that Francis received more bets than any other candidate.
But if the committee is looking to reward work with refugees, they have several strong contenders. The UN Refugee Agency and High Commissioner Filippo Grandi are obvious nominees, given their work on the international refugee crisis. German Chancellor Angela Merkel, who opened her country to more than one million refugees and migrants, is an outside contender.
The Peace Research Institute Oslo, which maintains a popular list of Peace Prize favourites, is betting on two architects of the Iran nuclear deal: Mohammad Javad Zarif, the foreign minister of Iran, and Federica Mogherini, a High Representative of the European Union.
The 2015 agreement ended a 12-year international diplomatic crisis over Iran's nuclear weapons programme. After 20 months of deliberations, the country agreed to get rid of their uranium stockpile and allow international observers to oversee their nuclear programme. Awarding the Peace Prize to the deal's authors would reward these efforts while sending a strong message to Mr Trump, who is reportedly planning to decertify the deal.
If the Committee is serious about reaching Mr Trump, however, The Guardian has suggested awarding the prize to the American Civil Liberties Union. The nonprofit advocacy group has mounted some of the most effective legal challenges to Mr Trump's policies since he took office, and have seen a surge in donations in response.
The committee may choose to target to another world leader, however, by awarding the prize to Turkish journalist Can Dündar. The former editor of Turkey's Cumhuriyet newspaper, Mr Dündar was convicted of espionage and aiding a terrorist group due to his groundbreaking reporting. He currently lives in exile in Germany.
Seventeen of Mr Dündar's former Cumhuriyet co-workers have also been put on trial for aiding a terrorist organisation. Awarding the prize to Mr Dündar, or Cumhuriyet as a whole, would be a strong rebuke of Turkish President Recep Tayyip Erdoğan's media crackdown.
World news in pictures

Show all 50
Another journalist floated for the prize is Raif Badawi, a Saudi writer who was arrested in June 2012 for "insulting Islam" online and on television. He was sentenced to 10 years in jail and 1,000 lashes, of which he has received 50. The award would send a similar message to the Saudi government about the importance of press freedoms.
Rounding out list is one of last year's top contenders, the Syrian Civil Defence (better known as the White Hats). The group, nicknamed for the helmets they wear to protect themselves, rescues civilians in Syria from bombed-out buildings. They claim to have saved 99,000 people over course of the country's six-year civil war. While they were passed over for the prize last year, they've since had a poignant – and very convincing – documentary made about their work.
The Nobel Peace Prize will be announced at 10am BST on Friday.
Join our new commenting forum
Join thought-provoking conversations, follow other Independent readers and see their replies