North Korea 'has nuclear weapon it can mount on rocket' warns US, as John Kerry warns missile launch would be 'huge mistake'
Mr Kerry arrived South Korea as part of a unusual diplomatic journey, traveling directly into a region bracing for a possible North Korean missile test
Rob Williams
Friday 12 April 2013 18:28 Comments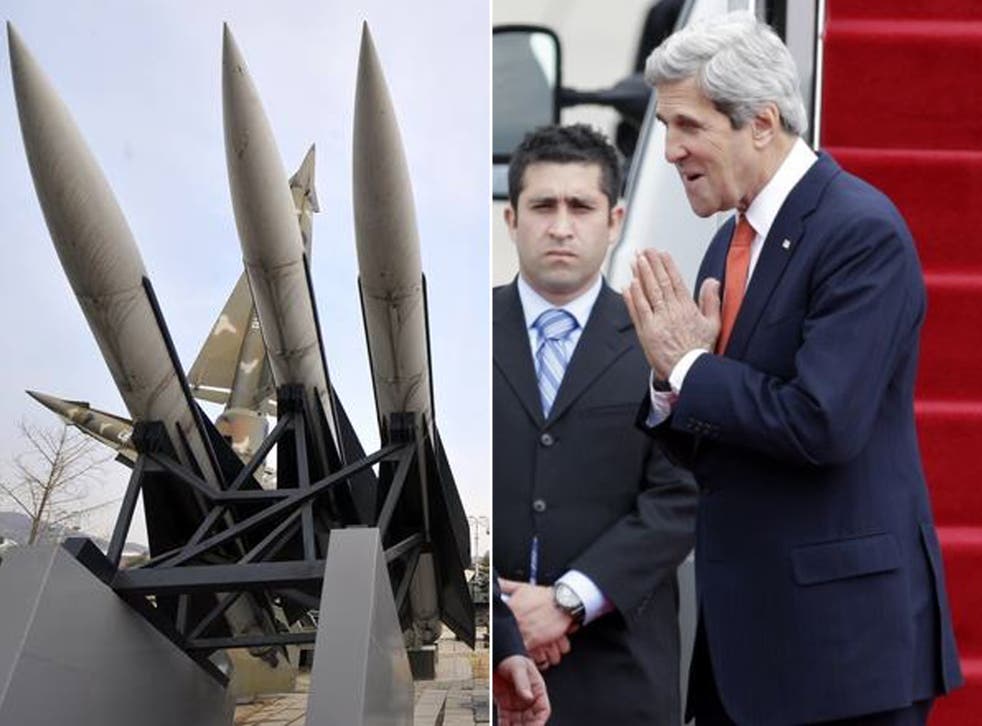 US secretary of state John Kerry has warned that threats of a nuclear test from North Korea will 'gain nothing' and that an anticipated missile launch by Pyongyang would be a "provocative act" and a "huge mistake".
Mr Kerry arrived in South Korea this morning as part of an unusual diplomatic journey, traveling directly into a region bracing for a possible North Korean missile test and risking that his presence alone could spur Pyongyang into another headline-seeking provocation.
Mr Kerry said the US and its Asian ally will not accept the North as a nuclear power, adding that its rhetoric is "unacceptable".
South Korean foreign minister Yun Byung-se called Pyongyang's threats a "grave provocation" to the entire international community.
Earlier intelligence reports from Japan, South Korea and America claim a North Korean missile test could take place at any time it emerged today as US Secretary of State John Kerry arrived in the South Korean capital Seoul.
A US agency said last night that North Korea has a nuclear weapon it can mount on a missile, adding an ominous dimension to the tensions on the Korean peninsula as Kerry arrived for talks.
However, the assessment by the Pentagon's Defence Intelligence Agency (DIA) was swiftly dismissed by several US officials and South Korea.
Asked if war was imminent, a US official in South Korea said: "Not at all".
Washington was quick to clarify the meaning of the DIA statement saying: "In today's House Armed Services Committee hearing on the Department of Defence budget, a member of the committee read an unclassified passage in a classified report on North Korea's nuclear capabilities," Pentagon spokesman George Little said.
"While I cannot speak to all the details of a report that is classified in its entirety, it would be inaccurate to suggest that the North Korean regime has fully tested, developed, or demonstrated the kinds of nuclear capabilities referenced in the passage."
Despite this the US government is said to be concerned about the potential for a miscalculation by North Korea's inexperienced 30-year-old leader, Kim Jong-un.
Kim Jong-un's youth and inexperience make him very vulnerable to miscalculation. Our greatest concern is a miscalculation and where that may lead," said the official, who spoke on condition of anonymity.
"We have seen no indications of massive troop movements, or troops massing on the border, or massive exercises or anything like that that would back up any of the rhetoric that is going on."
Bellicose rhetoric from the secretive regime has become increasingly frequent in recent months as the young leader attempts to sure-up support at home.
The regime has also been angered at the imposition of new sanctions on the country following an underground nuclear test in February this year.
It was the third such test carried out by the regime in just seven years.
Annual joint military drills carried out by South Korea and the US last month, which included the use of B-2 nuclear enabled stealth bombers, also further raised tensions on the peninsula.
Register for free to continue reading
Registration is a free and easy way to support our truly independent journalism
By registering, you will also enjoy limited access to Premium articles, exclusive newsletters, commenting, and virtual events with our leading journalists
Already have an account? sign in
Join our new commenting forum
Join thought-provoking conversations, follow other Independent readers and see their replies