Paris agreement: Macron says climate deal will not be renegotiated despite Trump's demands
French President says 'door will always remain open' for America to re-join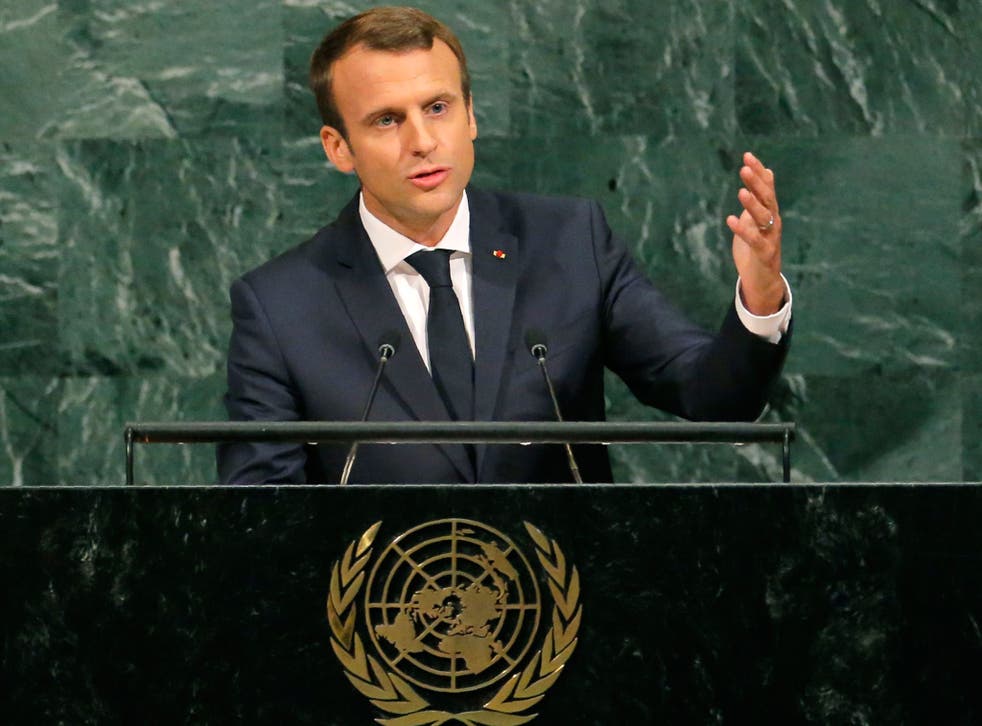 Emmanuel Macron has said the landmark Paris climate deal will not be renegotiated, after White House officials suggested Donald Trump could remain a signatory of the agreement but only if new terms were reached.
The French President's comments during his address to the UN General Assembly effectively end renewed hopes that the world's second largest polluter would remain tied to the accord's carbon emission targets.
Following a meeting with around a dozen ministers on Monday, a White House official said: "We are withdrawing from the Paris agreement unless we can re-engage on terms more favourable to the United States."
But speaking a day later, Mr Macron ruled out a renegotiation of the 2015 deal, saying the wording of the agreement could be enriched with new contributions, "but we won't go back".
He added that he "profoundly respects" Mr Trump's decision and said the "door will always remain open".
​Mr Trump announced in June that America was withdrawing from the Paris deal, arguing that it disadvantaged businesses and would impoverish the US.
Rather than remain signed up to the existing deal, Mr Trump said he would "begin negotiations to re-enter either the Paris accord or a really entirely new transaction on terms that are fair to the United States".
Trump pulls US out of Paris climate change deal
However, reports in recent days suggested his administration was still exploring options to remain in the accord.
Speaking at the weekend, Secretary of State Rex Tillerson said the US was willing to stay signed up "under the right conditions".
"The President said he's open to finding those conditions where we can remain engaged with others on what we all agree is still a challenging issue," Mr Tillerson said.
But following Mr Macron's half-hour UN speech, the prospect of a renegotiation appears to have diminished.
The Paris deal commits 188 countries – including the US – to keeping rising global temperatures "well below" 2C above pre-industrial levels, with an additional aim to limit them even more, to 1.5C.
The only two countries not to have signed up to the agreement are Syria and Nicaragua.
The French President warned that the planet "is taking its revenge on the madness of man" and said France would spend an additional $5bn (£3.7bn) on fighting climate change from now until 2020.
In his own UN speech, Mr Trump reconfirmed his intention to walk away from the climate deal.
It takes four years for a country to withdraw from the Paris agreement, so the US will be a party to it until two days after Mr Trump's first term ends, if it follows through on the pull-out.
The US accounts for more than 15 per cent of worldwide emissions of the greenhouse gases blamed for global climate change, second only to China.
Register for free to continue reading
Registration is a free and easy way to support our truly independent journalism
By registering, you will also enjoy limited access to Premium articles, exclusive newsletters, commenting, and virtual events with our leading journalists
Already have an account? sign in
Register for free to continue reading
Registration is a free and easy way to support our truly independent journalism
By registering, you will also enjoy limited access to Premium articles, exclusive newsletters, commenting, and virtual events with our leading journalists
Already have an account? sign in
Join our new commenting forum
Join thought-provoking conversations, follow other Independent readers and see their replies