Record number of refugees would make 21st biggest country in the world with population bigger than the UK
Save the Children says displaced people live with poor security, education, employment and healthcare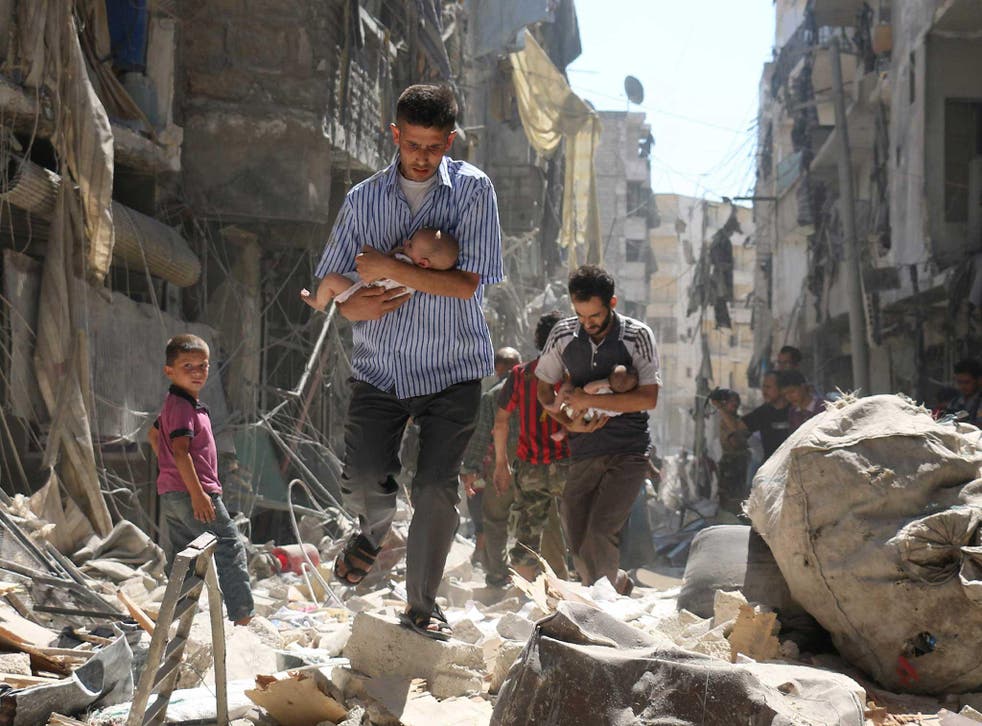 The number of people driven from their homes by war and persecution has now surpassed the UK's population to equal the 21st largest country in the world.
More than 65.3 million people are currently refugees or are displaced in their own countries according to the United Nations – the highest figure since records began before the Second World War.
Humanitarian organisations warn that those forced to flee face an uncertain future with difficulties in education, employment, health and security.
A report by Save the Children found that if the world's displaced people formed a country, it would have the fastest-growing population and one of the youngest, with half of refugees under 18.
But it would be among the worst nations for access to education, seeing children killed by preventable illnesses including pneumonia and malaria, as well as alarming rates of child marriage.
A refugee nation, which would have a population ranking 21st globally between Thailand and the UK, would have the 54th largest economy in the world if its citizens could gain employment equalling their skills, the charity found.
"Imagining all displaced people as citizens of one country recognises their value as equal members of a global society and draws attention to the massive scale of the issues they face," said Tanya Steele, interim CEO of Save the Children.
"The number of families forced to flee their homes in search of safety continues to reach record highs – it's time to move out of emergency mode and engage in serious discussions about how to help displaced families integrate and begin to rebuild their futures."
The research was released on Wednesday as world leaders prepared to gather for the United Nations General Assembly in New York.
A UN Summit on Refugees and Migrants on Monday will be followed by a separate summit on the issue hosted by Barack Obama the following day.
Theresa May has been urged to rethink Britain's stance by 200 religious leaders, while a Parliamentary report found the Government has a "particular responsibility" to resettle refugees because of the UK's intervention in Libya.
It comes amid a fragile ceasefire between the regime and opposition in Syria, while battles rage against Isis in Iraq and conflicts continue in Afghanistan, Yemen, Nigeria, Somalia, South Sudan and many other countries.
According to official figures compiled by the UN Refugee Agency (UNHCR), refugees and internally displaced people account for one in every 113 people on Earth.
A total 65.3 million people were displaced at the end of 2015, compared to 59.5 million the year before – and the record figure is expected to grow.
The other Alan Kurdis: Refugee children who survived the journey

Show all 8
The total includes refugees, asylum seekers and people forced to flee their homes to other parts of their own country.
The primary cause is a rising number of wars and insurgencies, the UNHCR said, while long-term solutions are not being found, leaving millions "in limbo".
While international attention has focused on the crisis in Europe, the vast majority of the world's refugees live in low and middle income countries, with most coming from Syria (4.9 million), Afghanistan (2.7 million) and Somalia (1.1 million).
More than 3,200 migrants have died so far this year in sea crossings attempting to reach safety in Italy and Greece, despite attempts to shut smuggling routes over the Aegean Sea with the EU-Turkey deal.
The highest number of internally displaced people live in Colombia (6.9 million), Syria (6.6 million) and Iraq (4.4 million).
Register for free to continue reading
Registration is a free and easy way to support our truly independent journalism
By registering, you will also enjoy limited access to Premium articles, exclusive newsletters, commenting, and virtual events with our leading journalists
Already have an account? sign in
Register for free to continue reading
Registration is a free and easy way to support our truly independent journalism
By registering, you will also enjoy limited access to Premium articles, exclusive newsletters, commenting, and virtual events with our leading journalists
Already have an account? sign in
Join our new commenting forum
Join thought-provoking conversations, follow other Independent readers and see their replies