Russia accuses UK of 'colonial hypocrisy' over Syria during heated UN Security Council meeting
'All Arab countries recall your colonial hypocrisy,' Vladimir Safronkov tells Matthew Rycroft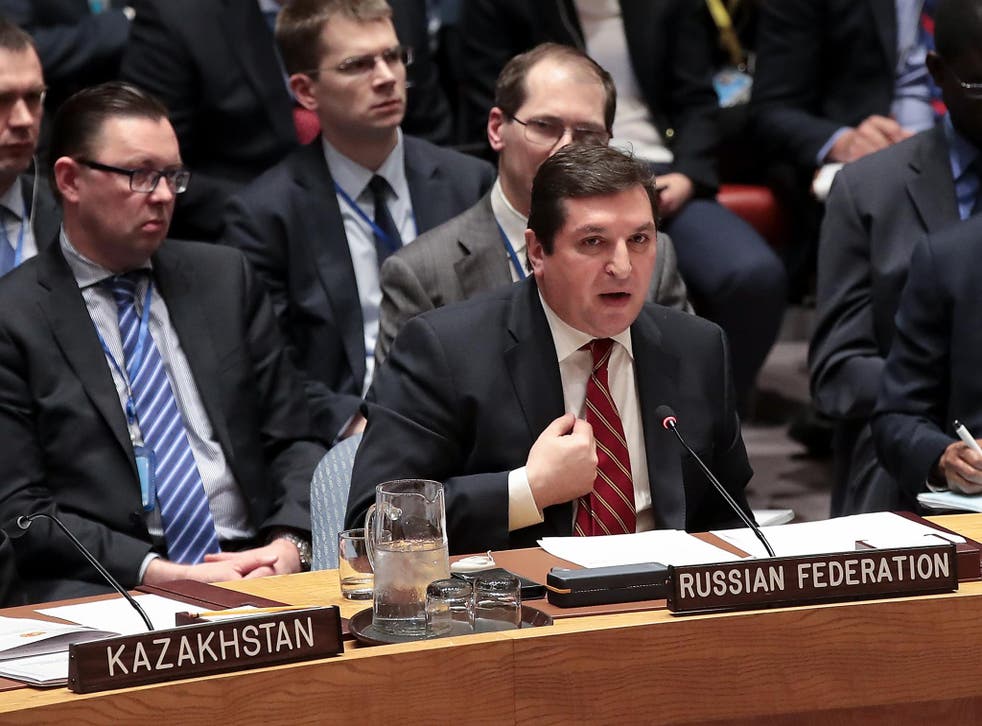 Russia accused Britain of "colonial hypocrisy" after the UK voiced support for US air strikes in Syria during a tense emergency meeting of the United Nations (UN) Security Council.
Matthew Rycroft, the UK's ambassador to the UN, said Syrian President Bashar al-Assad had been "put on notice" after Donald Trump ordered cruise missile strikes on a Syrian air base in response to a chemical attack on the rebel-held town of Khan Sheikhoun that killed at least 72 people, including 20 children.
The Syrian government has been widely blamed for the attack, although it denies involvement and has blamed rebel groups.
Mr Rycroft criticised Russia for giving the dictator "everything he could have dreamed of" in its continued support for his regime.
"The greatest war criminal of all, Bashar Assad, has now been put on notice", he said. "The US strike was a proportionate response to unspeakable acts that gave rise to overwhelming humanitarian distress.
"Russia sits here today humiliated by its failure to bring to heel a puppet dictator entirely propped up by Russia, Hezbollah and Iran."
His comments provoked a furious response from Russia's UN representative, Vladimir Safronkov.
"Stop putting forward these unprofessional arguments and accusations against my country", he said. "These are not diplomatic. These are lies. Don't even try to get into fights in the Arab world. Nothing will work and nothing will be achieved.
"All Arab countries recall your colonial hypocrisy."
In pictures: US missile strike against Syria

Show all 7
The row followed Mr Trump's decision to order a series of strikes on Syria's Shayrat airbase, where the planes involved in the chemical attack are believed to have taken off from.
Launched from two US warships, 59 cruise missiles pounded the base, killing at least seven people and causing extensive damage - although Syrian planes were able to take off from the air base hours later.
Mr Trump said the strikes were in the "vital national security interest of the United States to prevent and deter the spread of deadly chemical weapons".
He said: "There can be no dispute that Syria used banned chemical weapons, violated its obligations under the Chemical Weapons Convention, and ignored the urging of the U.N. Security Council."
US airstrikes in Syria: How the world reacted
A Downing Street spokeswoman backed the strike, saying: "The UK Government fully supports the US action, which we believe was an appropriate response to the barbaric chemical weapons attack launched by the Syrian regime, and is intended to deter further attacks."
But Russia, which is a staunch ally of Mr Assad, immediately condemned the strikes, describing them as "aggression against a sovereign state in violation of international law".
Russia would be helping Syria to strengthen its air defences, the Kremlin said.
Join our new commenting forum
Join thought-provoking conversations, follow other Independent readers and see their replies