Russia quietly moves border hundreds of yards into occupied Georgia
'This is a continuation of the illegal process of the so-called borderisation, which not only violates the fundamental rights of local residents but directly damages the security situation'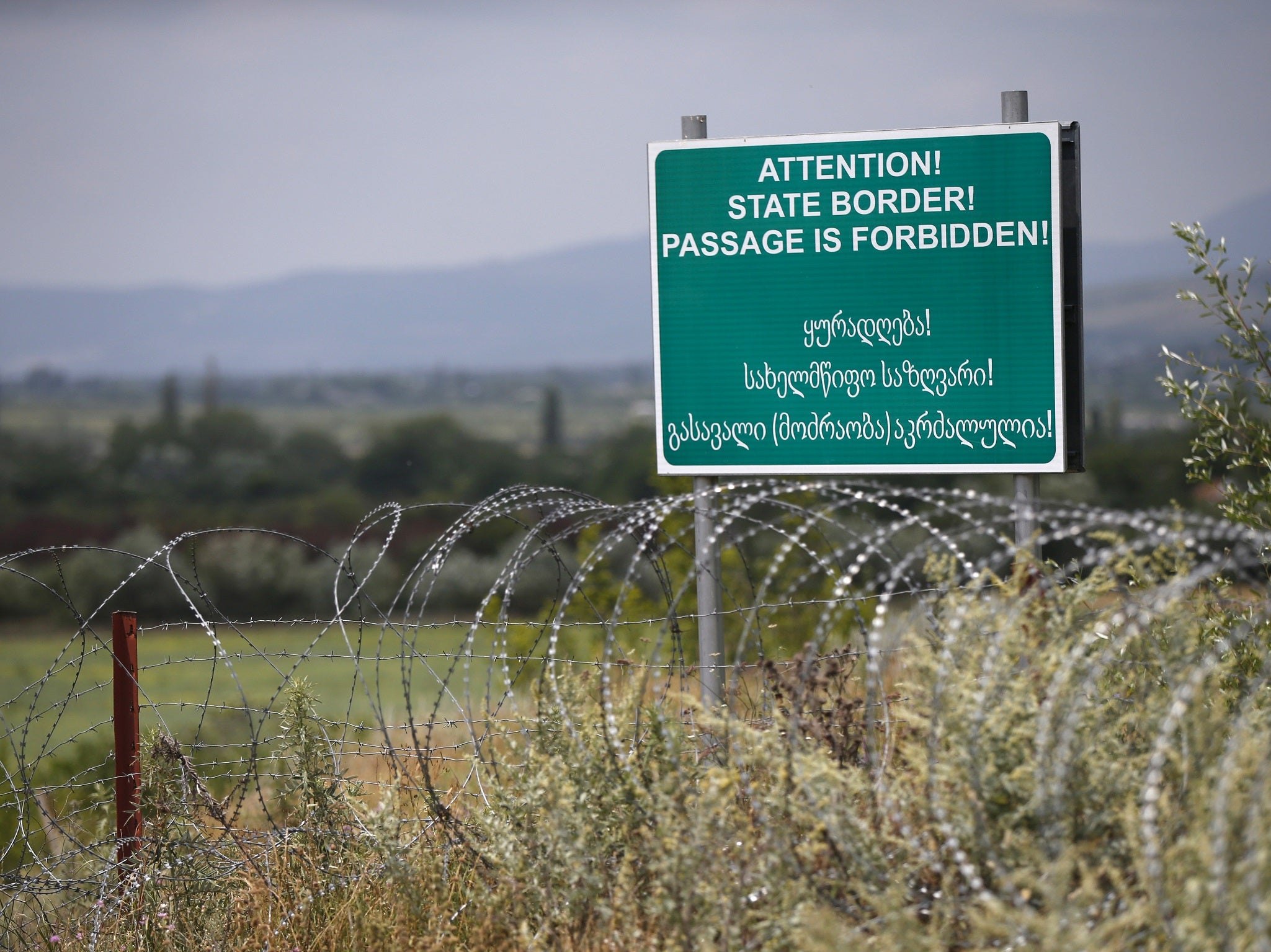 Russia has quietly moved one of its borders hundreds of metres further into Georgia, according to local media reports.
Kremlin troops reportedly moved a border sign hundreds of yards further into occupied territory in South Ossetia last week, ahead of talks between Russian President Vladimir Putin and Donald Trump at the G20 summit.
Georgia's security agency called the move "illegal" and said local farmers had been affected in the Gori Municipality.
"This is a continuation of the illegal process of the so-called borderisation, which not only violates the fundamental rights of local residents but directly damages the security situation," a statement from the national security service read.
Georgia's president Giorgi Margvelashvili said he was outraged by the move and called on the international community to condemn the action.
"Georgia will use all diplomatic levers at its disposal to stop the creeping occupation," he said.
World news in pictures
Show all 50
Georgia's Minister of Reconciliation and Civil Equality Ketevan Tsikhelashvili said it was not "creeping occupation" but a "very open and dynamic occupation process", according to local media.
"The process has been in progress since the Russia-Georgia 2008 war," she said.
"We are doing our utmost to achieve the removal of all kinds of barriers, banners or barbed-wire-fences from the territory of Georgia, which is a challenge not only for security, but also creates very serious daily problems for locals, many of whom lack access to their own lands."
Kurt Volker, a former US representative to Nato, called on the West to stand up to Moscow.
"Russia is in a much weaker position but it has managed to play a weak hand very aggressively – because it has counted on the fact we are not going to respond in any assertive way," he told BBC Radio 4.
After the collapse of the Soviet Union in 1991, South Ossetia, a small sliver of land to the northeast of Georgia, broke away from the country in a war. In August 2008, Russia sent in troops, saying it was protecting civilians in South Ossetia from attack by Georgian forces.
Georgia, backed by the US and the EU, said the Russian operation was a naked land grab.
After a brief war, Russia recognised South Ossetia as an independent state. Only a handful of other states recognise it as a state.
Russia's critics say the war in South Ossetia was a dress rehearsal by Russia for its annexation in 2014 of Ukraine's Crimea Peninsula, and its support for separatist fighters in the eastern Ukrainian Donbass region.
Additional reporting by agencies
Join our commenting forum
Join thought-provoking conversations, follow other Independent readers and see their replies