Russia has made 'big miscalculation' over Ukraine warns Hague
The Foreign Secretary conceded that none of the sanctions being threatened by the West could remove Moscow's military forces from the Ukrainian peninsula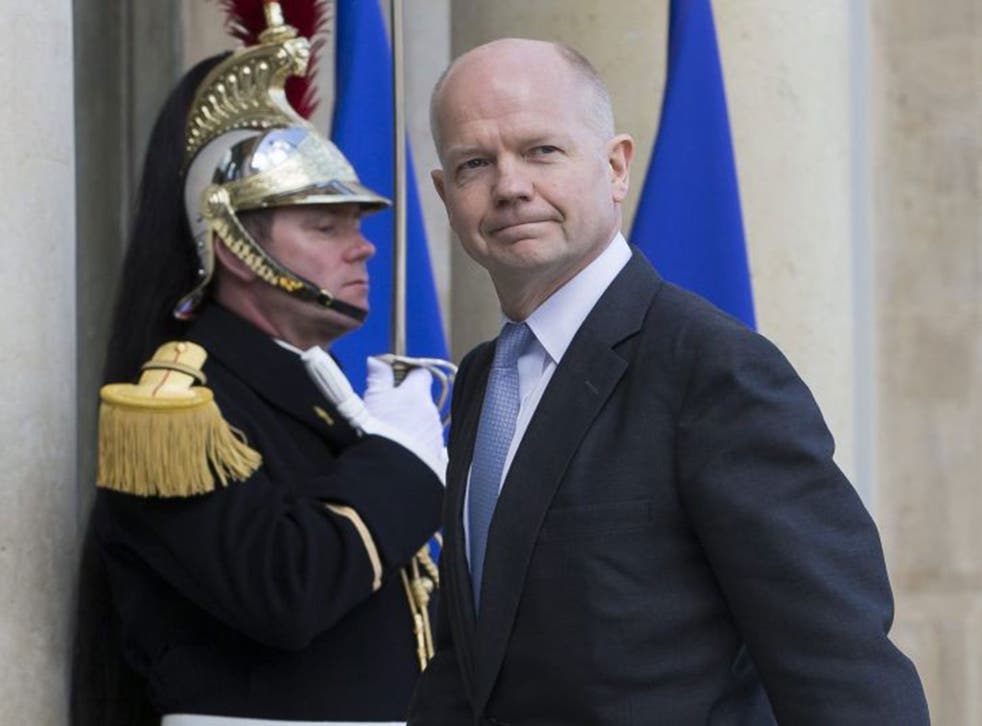 Russia has made a "big miscalculation" in occupying Crimea, UK Foreign Secretary William Hague has warned.
Delivering the stark caution, Mr Hague said that there would be "very significant" long-term consequences for Russia's future on the global stage if it refused to enter into diplomatic talks with Kiev over the stand-off.
But he admitted that none of the sanctions being threatened by the West could remove Moscow's military forces from the Ukrainian peninsula.
The population of the key strategic region is due to vote in a referendum on becoming part of Russia in a week's time after pro-Russian forces seized control of key military and other facilities.
Mr Hague dismissed Vladimir Putin's claims that the insignia-less troops are local fighters rather than Russian personnel, but he declined to say directly that the Russian president was lying.
The Kremlin "clearly had a well-rehearsed plan to move militarily" into the region, which it was forced to hurriedly implement on the ousting of pro-Russian Ukrainian president Victor Yanokovich, Mr Hague said.
But despite criticism of the failure of the EU to impose sufficiently stringent sanctions on Moscow, Mr Hague insisted there was no "tacit acceptance" of the takeover in the Crimea.
"It would be wrong to conclude that Russia has won in some sense. I think this will turn out over time to be quite a big miscalculation," he told BBC1's Andrew Marr Show.
"The long-term consequences will be very significant for Russia.
"European nations will, if no solution to this can be found, recast their approach to energy and economic links to Russia over time.
"The long-term effect will be to unite Ukraine more against Russian domination of their affairs and to recast European policies in a way that will reduce Russian leverage over Europe."
He went on: "None of the measures we can propose remove Russian forces from the Crimea. Nobody is proposing a military conflict between the West and Russia.
"But some of the diplomatic and other costs to Russia of this are serious and need to be taken seriously in Moscow."
Mr Hague said he would later today have more talks with US secretary of state John Kerry on the latest developments as Western allies seek to secure direct talks between Moscow and Kiev.
The Kremlin refuses to recognise the legitimacy of the interim Ukrainian government and the Russian parliament has backed the Crimean legislature's decision to rejoin Russia subject to the backing of its majority-Russian population in the proposed March 16 vote.
The European Union has suspended talks with Moscow on visa liberalisation and threatened asset bans and travel freezes on Russian officials if there is no rapid progress to a diplomatic solution.
Labour says the position is too weak and called on the EU to be "more explicit about the real costs and consequences for Russia if it fails to de-escalate this crisis".
Fears over the economic consequences for Europe's fragile economies and the dependence on Russian gas have thwarted agreement on a tougher response.
Mr Hague said that there was "clearly an increased case for American gas exports to Europe" and other measures to reduce reliance on Russian energy supplies.
Discussions were under way with Washington about that issue, he said.
Asked if Mr Putin was lying about the presence of Russian troops, he said: "There clearly are Russian troops in Crimea.
"All the evidence is that they are. There is no plausible explanation of where else they have come from.
"They have taken possession of the Crimea. But I would argue that it would be in Russia's interest, faced with these short-term and long-term consequences of this action, to enter into a diplomatic process with Ukraine, supported by other nations."
Shadow foreign secretary Douglas Alexander said Europe needed to be "more explicit about the real costs and consequences for Russia if it fails to de-escalate this crisis".
He said the EU's failure to translate condemnation into concrete action risked emboldening the Kremlin and increasing the risk of escalations elsewhere in the world.
Writing in the Independent on Sunday, he said there should be a "graduated hierarchy of diplomatic and economic measures that could help effectively pressure Russia into changing course".
Negotiations on Russia's application to the Organisation for Economic Co-operation and Development (OECD) should be suspended, he suggested.
A "clear deadline for progress" should be set after which threatened asset freezes on Russian officials suspected of involvement were implemented.
The freezing of bank accounts belonging to 18 Ukrainians suspected of misappropriating state funds - including that of ousted president Victor Yanukovich - should be extended to Russian officials.
And he said the G7 countries "should seek agreement to suspend Russia from the group until it changes course" if there was no rapid progress.
They have already suspended preparations for the next G8 summit due to be hosted by Russia - which appears unlikely to go ahead.
"As well as the immediate security threats to the Ukraine, Russia's recent actions have also reaffirmed the existence of a geopolitical fault line that the West ignores at its peril," Mr Alexander said.
"So now, over a week after Russian troops took effective control of the Crimea, the West must raise the costs to Mr Putin for his reckless actions," he wrote.
"On the one hand, we must be clear that we want to see an inclusive government in Kiev, with protection for the rights of the Russian minorities within the Ukraine and guarantees that the EU Association Agreement does not preclude continuing trade relations between Ukraine and Russia.
"On the other, Europe must be more explicit about the real costs and consequences for Russia if it fails to de-escalate this crisis."
Additional reporting by Press Association
Join our new commenting forum
Join thought-provoking conversations, follow other Independent readers and see their replies