Russia raises its price to rescue Nato from Afghan quagmire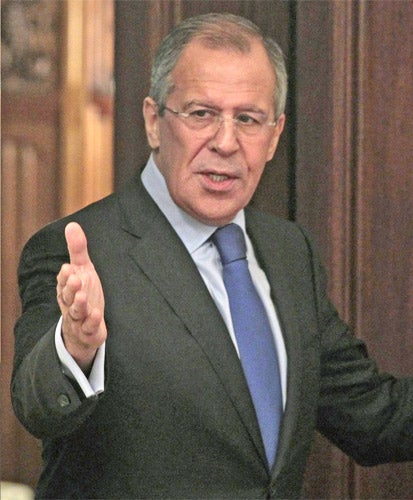 Russia is setting out tougher terms for Nato, in return for its assistance in Afghanistan, with demands that the Alliance restricts the number of troops it bases in member countries which were former members of the Warsaw Pact. Moscow has agreed in principle to supply "several dozen" military helicopters and has started training Afghan security forces. Talks are also under way for Nato to bring in arms and ammunition through Russian territory as an alternative to a Pakistani route, which has come under repeated Taliban attack.
But Sergey Lavrov, the Russian foreign minister, is said to have asked Nato to desist from deploying "significant military forces" to countries which joined the Alliance after the break-up of the Soviet Union in 1991, maintaining that their presence would not be conducive to a relationship of trust.
News of the move comes before next month's Nato summit in Lisbon, which will be attended by President Dmitry Medvedev and where groundbreaking agreements on Afghanistan and missile defence are expected to be announced.
Limitations on what Nato can deploy under pressure from Moscow is certain to lead to protests from the new member states in eastern Europe. Russian troops have remained in South Ossetia and Abkhazia since the war with Georgia two years ago, with Nato unable to persuade President Medvedev to withdraw them.
The Russians have pulled out some troops from Georgia and announced that they will not be reinforcing those in Abkhazia and South Ossetia. At the same time they have repeatedly sought to distance the Georgian crisis from an arms treaty with Nato.
Moscow's vociferous protests have already persuaded President Barack Obama to scrap plans to place missile defence shields in Poland and the Czech Republic. Nato has now agreed that Russia will be consulted on the replacement system. Anders Fogh Rasmussen, the Nato Secretary-General, is due to visit Russia before the Lisbon summit.
The warming relationship was partly undermined yesterday when Mikhail Gorbachev warned that victory in Afghanistan is "impossible".
The former Soviet leader, who withdrew his country's forces from Afghanistan in 1989, said that the US faced another Vietnam if it refused to bring an end to the current conflict.
Russia has also complained that Nato has been slow to act on information about drug production in Afghanistan, echoing its deep concern about the heroin trade from central Asia.
Join our commenting forum
Join thought-provoking conversations, follow other Independent readers and see their replies