The top 10 countries which suffer the most from terrorism - most of which are Muslim
There have been calls for Muslims, who make up the majority of the victims of terrorism, to nonetheless publically distance themselves from its perpetrators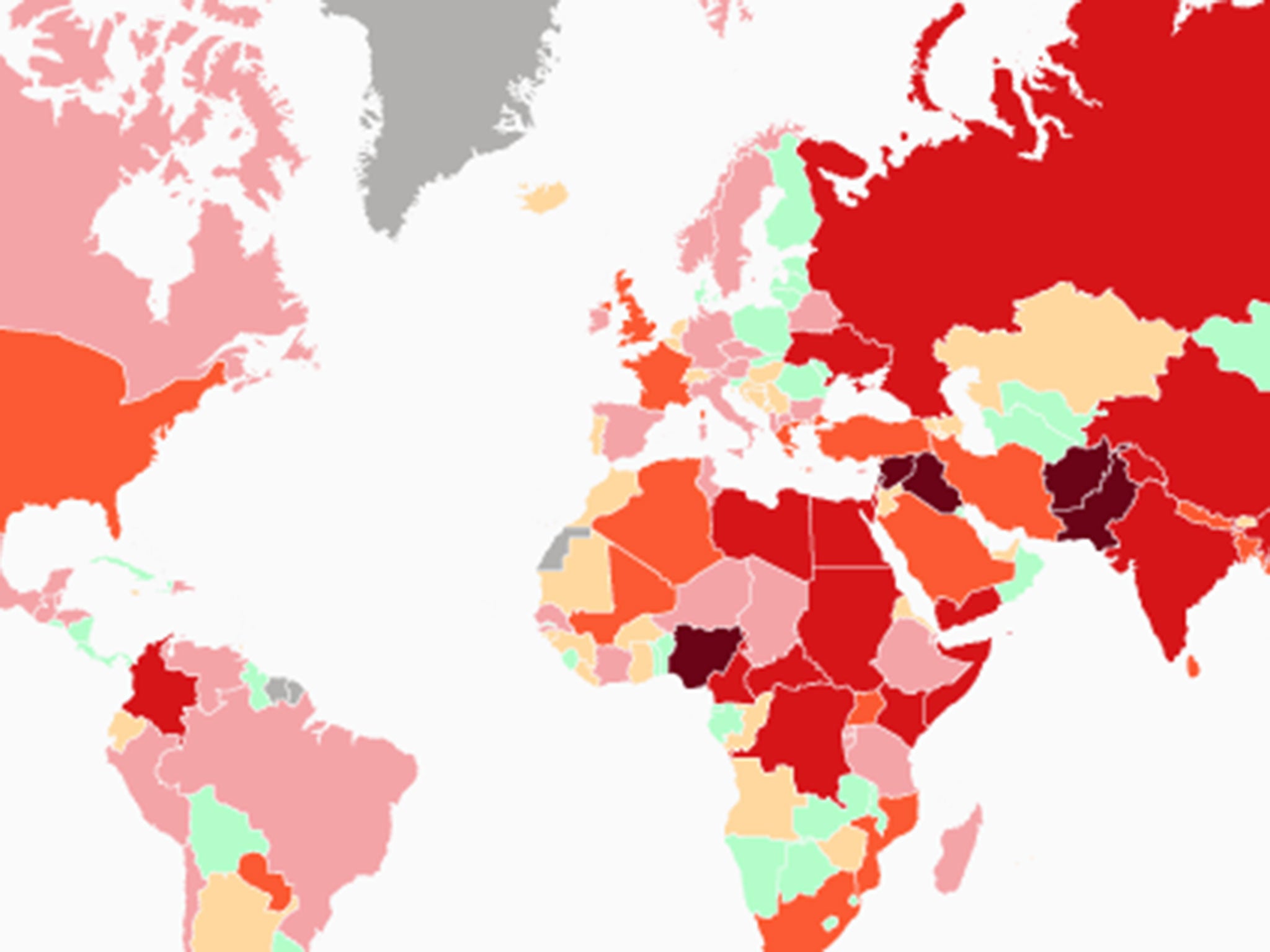 Iraq has been named as the country most severely impacted by acts of terrorism last year, according to a new study.
The Global Terrorism Index 2015 recorded 9,929 deaths due to terrorism in Iraq in 2014 – the highest ever recorded for a single country in the annual report produced by the Institute for Economics and Peace (IEP).
The study also revealed that despite its impacts being felt around the world, deaths as a result of global terrorism overwhelmingly occurred in just five countries.
The index, which was produced before Friday's shootings across Paris, found that 78 per cent of all deaths as a result of terrorism in 2014 happened in Iraq, Afghanistan, Nigeria, Pakistan and Syria.
Year on year, Nigeria experienced the largest increase in terrorist activity of all the more than 160 countries studied, with 7,512 deaths recorded at an increase of 300 per cent from 2013.
The countries most impacted by global terrorism
Show all 11
A total of 32,658 people were killed by terrorists around the world in 2014 - an 80% increase on the previous year, according to the Global Terrorism Index.
Of the 10 countries most affected by terrorism last year, seven are majority Muslim, while Nigeria has a roughly even Muslim-Christian split.
In addition, the IEP said the victims of terrorism are also in the countries with the worst problems relating to internal and external displacement.
It reaffirms European Commission president chief Jean-Claude Juncker's statement that those who carried out the Paris shootings are the very people refugees are fleeing from.
And it puts into perspective demands for normal Muslims to publically reject terrorists who generally victimise them more than anyone else.
IEP chairman Steve Killelea said: "The significant increase in terrorist activity has meant that its ramifications are being felt more widely throughout the world.
"What is most striking from our analysis is how the drivers of terrorism differ between more and less developed countries. In the West, socio-economic factors such as youth unemployment and drug crime correlate with terrorism.
"In non-OECD countries, terrorism shows stronger associations with ongoing conflict, corruption and violence.
"Ten of the eleven countries most affected by terrorism also have the highest rates of refugees and internal displacement. This highlights the strong inter-connectedness between the current refugee crisis, terrorism and conflict."
Join our commenting forum
Join thought-provoking conversations, follow other Independent readers and see their replies