Anti-immigration Norwegian politicians nominate Donald Trump for Nobel Peace Prize
A growing group of people across the globe have expressed support of a Nobel Prize for the US president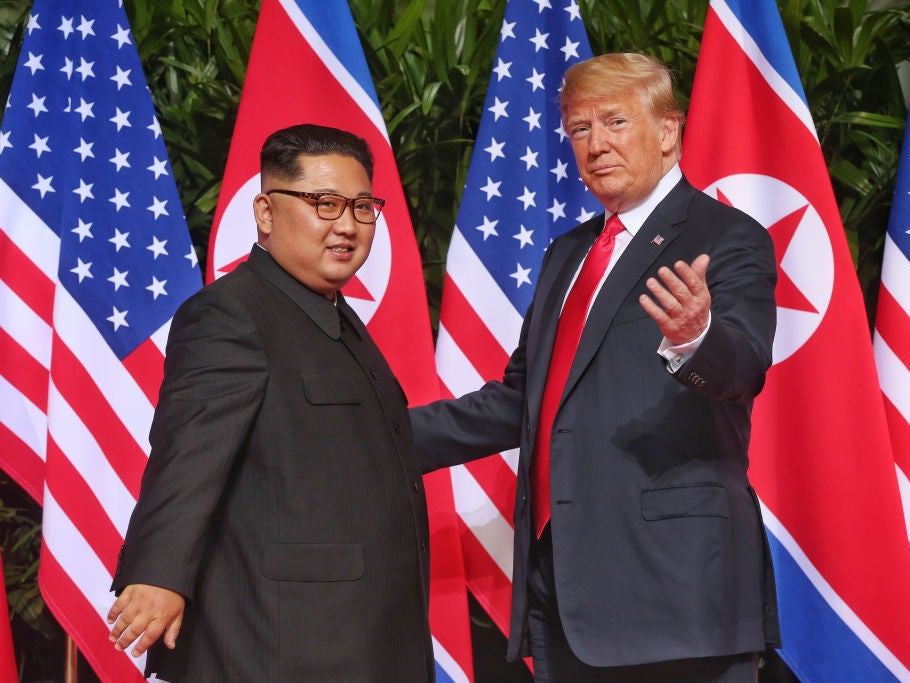 Ant-immigration Norwegian politicians have nominated Donald Trump for the Nobel Peace Prize after his historic meeting with North Korean leader Kim Jong-un to discuss nuclear disarmament.
The nomination came from two members of Norway's Progress Party, which is the third largest political party in the country and is generally considered very right wing with libertarian leanings.
"What's going on now is historic," Progress Party member Per-Willy Amundsen told NRK. "A process is underway to ensure world peace in the future. It's a fragile process, but we must of course do what we can to help this process bring good results.
The nomination missed this years' deadline for the prize, so Mr Trump's nomination would only make him eligible for the award next year.
A record 330 people were nominated for the 2018 award.
The prize — one of the most prestigious honours in the world — is awarded each year by the foundation to the person who "shall have done the most or the best work for fraternity between nations, for the abolition or reduction of standing armies and for the holding and promotion of peace congresses," according to the will of Alfred Nobel, which established the committee.
Trump will 'absolutely' invite Kim Jong-un to White House following historic summit in Singapore
Mr Trump's nomination places him alongside other prominent nominees in the past, including Russian President Vladimir Putin, and former Cuban leader Fidel Castro.
Should he win, he would join his predecessor, Barack Obama, as a recipient of the honour.
Singapore Summit: historic first meeting between Trump and Kim Jong-un
Show all 20
Mr Trump was in Singapore this week where he became the first sitting US president to meet with Mr Kim or anybody in his family, which has ruled over North Korea for decades.
The two countries parted way after a day of negotiations there, and Mr Trump has touted those efforts and a joint statement they produced as showing his deal making abilities and diplomatic prowess.
But, observers have argued that the outcome of the negotiations display Mr Trump's penchant for showmanship more than they show his ability to strike tough, unprecedented deals with international leaders, including the reclusive Mr Kim.
That's because, while the deal indicates that Mr Kim's regime is willing to disarm in exchange for relaxed sanctions and greater international acceptance and cooperation, the actual language of the deal appeared to show more concessions from Mr Trump — he indicated that he plans on ending joint military exercises on the Korean peninsula that have regularly been performed with South Korea — than from the North Korean.
Just after the summit in Singapore, US secretary of state Mike Pompeo flew to South Korea to discuss the meetings that had been held with Mr Kim and his regime, and told reporters that there was a lot more discussed and loosely agreed to than was included in a joint statement following the summit.
Mr Pompeo indicated that the two sides plan on re-engaging diplomatically soon, though it was not immediately clear when that would be.
The Norwegian Nobel Peace Prize nominations are not the first time that people have indicated Mr Trump should receive the honour for his work with North Korea.
The president of South Korea, Moon Jae-in, and Republicans in Congress have also said they think the US president should be considered.
Join our commenting forum
Join thought-provoking conversations, follow other Independent readers and see their replies