Theresa May rebukes Donald Trump for pulling out of Paris Agreement
Attack comes after US President triggered a furious backlash by announcing America would pull out of landmark accord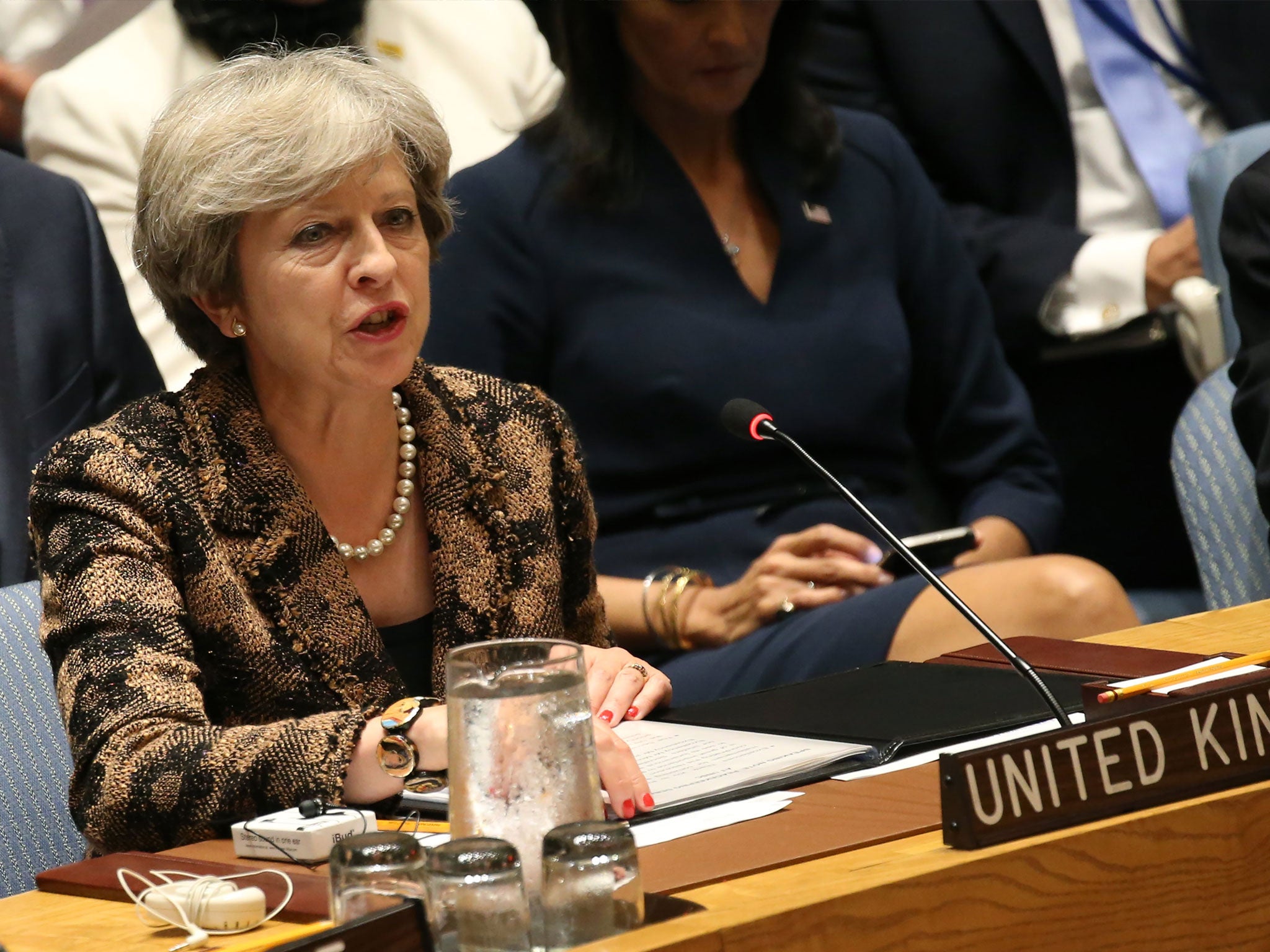 Theresa May has publicly rebuked Donald Trump for pulling out of the Paris climate change deal, criticising world leaders who are "deliberately flouting" international rules.
In her flagship address to the UN's General Assembly in New York, the Prime Minister broke with the President by including the US on a list of states turning their backs on "global cooperation".
Extraordinarily, the attack came – in a speech to scores of world leaders – just hours ahead of a face-to-face meeting with Mr Trump, only their second encounter.
Earlier this year, when the President triggered a furious backlash by announcing the US would pull out of the landmark Paris agreement to curb carbon emissions, Ms May refused to directly criticise him.
But speaking to the UN she included climate change on a list of crisis that required countries to "act together in our shared interest".
Ms May said: "As the global system struggles to adapt, we are confronted by states deliberately flouting – for their own gain – the rules and standards that have secured our collective prosperity and security.
And she added: "It is the fundamental values that we share – values of fairness, justice and human rights – that have created the common cause between nations to act together in our shared interest and form the multilateral system.
"And it is this rules-based system which we have developed – including the institutions, the international frameworks of free and fair trade; agreements such as the Paris Climate Change accord; and laws and conventions like the Non-Proliferation Treaty – which enables the global cooperation through which we can protect those values."
Donald Trump urges reform in United Nations debut
Strikingly, Ms May listed Syria's use of chemical weapons and North Korea's nuclear weapons tests as other examples of countries "deliberately flouting – for their own gain – the rules and standards that have secured our collective prosperity and security".
She did not mention Mr Trump by name, but her target on climate change appeared clear – with the US the only major country to have rejected the Paris accord.
Climate change was "depleting and degrading the planet we leave to our children", she told the gathering.
But in the speech the Prime Minister also threatened to stop sending tens of millions of pounds to the UN unless it "wins our trust" with significant reform.
She revealed she would "set aside 30 per cent to be paid only to those parts of the UN that achieve sufficient results".
Ms May did not set out explicitly how much money could be withheld, or how she would apply the test of whether the organisation was achieving results.
However, aides suggested a 30 per cent slice of the UK's annual core contribution could be held back – which would amount to £27m.
Britain will be seeking firmer evidence that the UN is truly helping the world's most vulnerable people in war zones and after natural emergencies.
Ministers have become increasingly frustrated at what they see as the UN's inefficiency, leading to different agencies competing for resources and fighting "turf wars".
Ms May said: "When the need for multilateral action has never been greater, the shortcomings of the UN and its institutions risk undermining the confidence of states as members and donors.
"Even more importantly, they risk the confidence and faith of those who rely upon the blue helmets; who rely upon that sign I stand in front of today coming to their aid in the darkest of hours."
The Prime Minister also turned her fire on Russia for repeatedly blocking UN action against the murderous Assad regime in Syria.
"I am proud that we have used the full weight of our diplomacy to ensure that we have not had to exercise our veto in a generation, seeking to foster international cooperation, not frustrate it," she said.
"But others have not done so. One country in particular has used its veto as many times in the last five years as in the whole of the second half of the Cold War.
"And in so doing they have prevented action against a despicable regime that has murdered its own people with chemical weapons.
"As a result, in Syria, the United Nations has been blocked. This has undermined the values that we hold dear, and the international rules based system that is the basis of security and prosperity around the world."
Join our commenting forum
Join thought-provoking conversations, follow other Independent readers and see their replies