UK backs bid to overturn ban on cluster bombs
Campaigners say US-led proposals to water down global ban give a 'green light' to use the weapons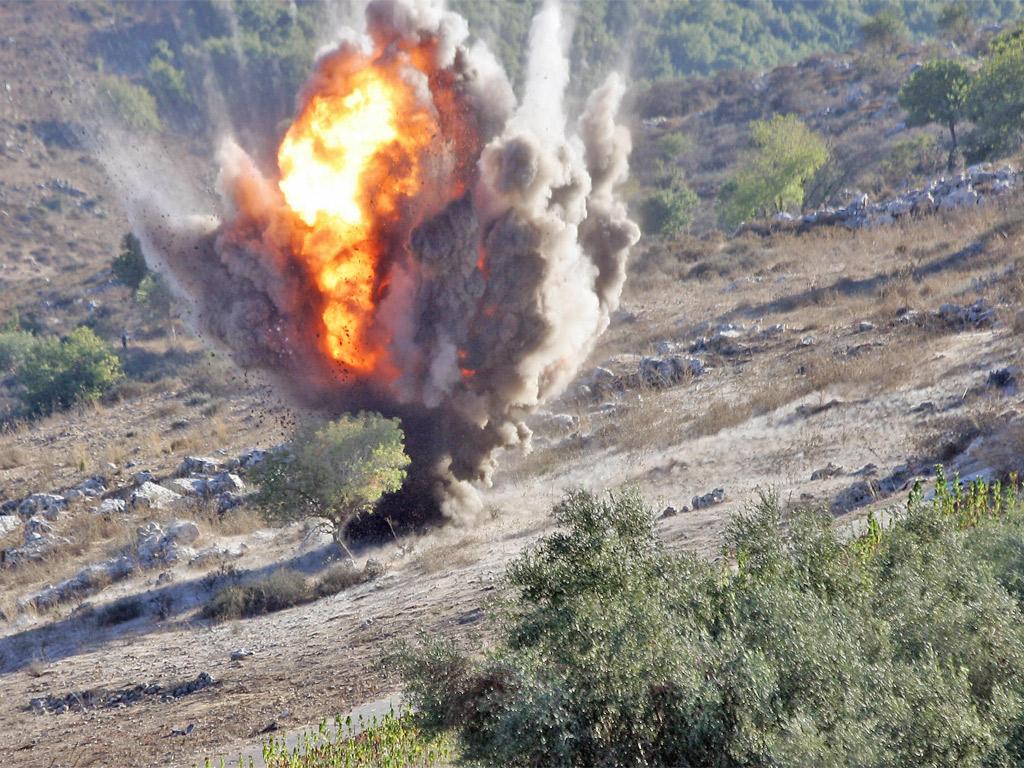 Britain is backing a US-led plan to torpedo the global ban on cluster bombs, in what MPs and arms campaigners fear is an attempt to legitimise the use of weapons that are widely deemed to be inherently indiscriminate.
In recent years, the UK has played a leading role in trying to rid the world of cluster bombs. It is one of 111 countries that have signed up to the Convention on Cluster Munitions, is on target to destroy its own stockpile, and has ordered the US military to remove any submunitions it holds on British soil.
But The Independent has learnt that the UK Government is supporting a Washington-led proposal that would permit the use of cluster bombs as long as they were manufactured after 1980 and had a failure rate of less than one per cent. Arms campaigners say the 1980 cut-off point is arbitrary, and that many modern cluster bombs have far higher failure rates on the field of battle than manufacturers claim.
The international community is gathering in Geneva next week to discuss the proposal, which will be tabled as a new protocol for the Convention on Certain Conventional Weapons – a UN treaty from the early 1980s that forbids the use of "excessively injurious" weapons such as mines, booby traps, incendiary devices and blinding lasers.
The world's major cluster bomb manufacturers – which include the US, Israel, Russia, China, South Korea, India and Pakistan – have all refused to sign up to the Convention on Cluster Munitions. They plan to push through a less restrictive treaty in Geneva next week.
Arms campaigners say the draft proposal would effectively legalise almost all cluster bombs and be a nail in the coffin of the hard-won cluster bomb ban, which is all but two years old. Austria, Norway and Mexico are leading opposition to the American-led proposal.
Peers and cross-party MPs met Alistair Burt, Parliamentary Under-Secretary of State at the Foreign Office, on Monday night to express their concerns. The Labour MP Martin Caton is planning to hold an adjournment debate in Parliament tonight on the issue.
"The Government's view appears to be that it is better to get America, China and Russia to sign up to something, rather than nothing," Mr Caton said. "But if this goes ahead, it will give the green light to some of the worst cluster munitions in these countries' arsenals."
Conservative MP Pauline Latham added: "The UK's role in securing an international ban on cluster bombs in 2008 showed the best of what Britain can do in the world. We must not allow this ban to be undermined by pressure from nations that are not ready to abandon illegal and indiscriminate weapons."
A spokesperson for the Foreign Office said Britain would need to be satisfied that any new agreement in Geneva "was both complimentary and compatible with the Convention on Cluster Munitions"
"The CCM remains the "gold standard" and the standard that all states should aspire to and the standard that we will continue to promote," the spokesperson said. "However reliable estimates suggest around 85-90 per cent of the world's stockpiles of cluster munitions are held by non-CCM States Parties. Negotiations in Geneva are aimed at bringing the world's major suppliers, producers and users of cluster munitions under international regulation."
In a briefing paper, the Cluster Munition Coalition – which campaigns against the weapons – said that every recorded incident of cluster bomb use since 2008 had involved submunitions that were manufactured after 1980.
Amy Little, campaign manager at the organisation, said: "We fail to see why countries are negotiating a dangerous piece of law when a treaty banning cluster munitions already exists."
Civilian threat: Deployment and failure rate
Lebanon and Libya:
If the Washington-led plans are accepted in Geneva next week, both the Israeli-made M85 cluster bombs and Spanish built MAT-120 mortar rounds would be permissible.
The M85 – used by British forces in Basra – has been singled out as a particularly pernicious cluster round. Billed as one of the most advanced submunitions on the market, its manufacturers claim it has a 1 per cent failure rate in tests.
After Israel dropped more than four million bomblets on southern Lebanon in July 2006 - some of which were M85s - Norwegian experts used the opportunity to test these claims. They discovered that on the field of battle the M85 had a failure rate closer to 10 per cent.
Libya, meanwhile, revealed how readily some nations resort to cluster bombs when troops loyal to Gaddafi used MAT-120 rounds against rebels in Misrata. Scores of civilians were treated for injuries caused by the projectiles, which split into 21 bomblets before hitting the ground.
When this article was first published we wrote that Israel dropped four million primarily M85 bomblets on southern Lebanon in July 2006. Israel did drop four million bomblets but the majority were older submunitions with already high failure rates. A smaller proportion were M85s, which are marketed as one of the most advanced submunitions with a less than one percent failure rate. In Lebanon, however, the failure rate was closer to 10 per cent.
Join our commenting forum
Join thought-provoking conversations, follow other Independent readers and see their replies