Nine members of the UN Human Rights Council accused of violating human rights
A new report details violations against people in those working with the UN on human rights issues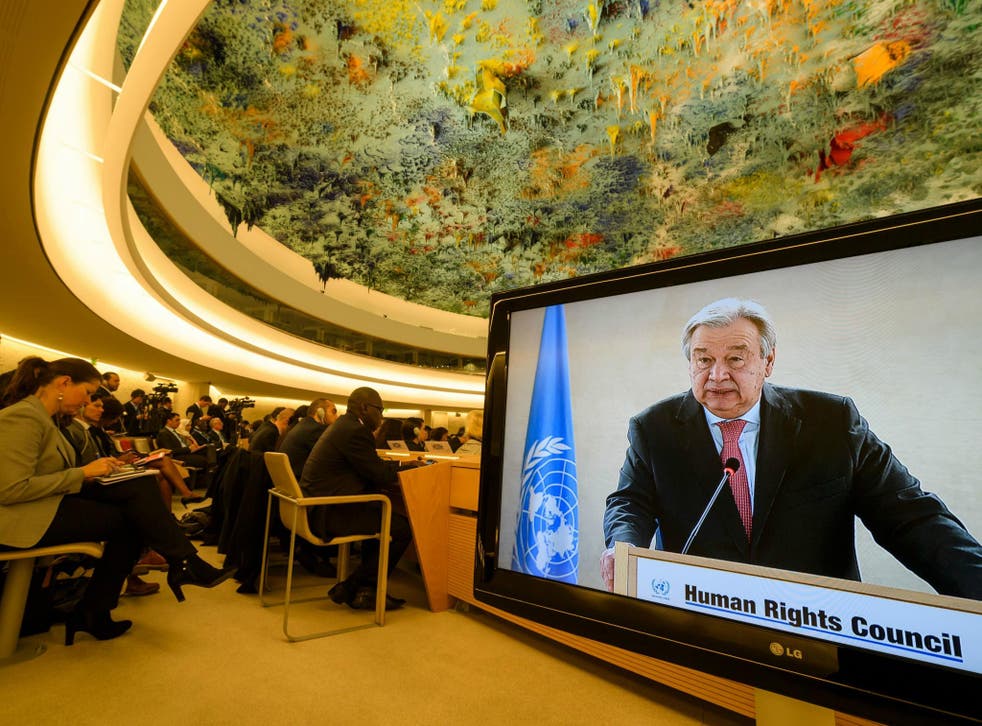 Twenty-nine countries are said to retaliate against citizens that help the United Nations with its human rights work in those countries, according to a new UN report.
In previous reports, an average of 15 countries were listed, and never more than 20. This is a record.
The Office of the High Commissioner on Human Rights (OHCHR) issued the eighth annual report about the condition of the people working with it to identify human rights violations around the world.
It was reported to OHCHR that these people had been abducted, detained, held incommunicado, or had disappeared, according to Andrew Gilmour, the Assistant Secretary-General for Human Rights.
Other victims lost their jobs, had their homes or offices raided, were targeted by travel bans and asset freezes, as well as being forced to undergo unwanted psychiatric "treatment." Many cases involved arbitrary detention and torture, sometimes by sexual assault or rape.
Nine of the 29 countries listed are actually members of the Human Rights Council, a Geneva-based group made up of 47 UN member countries. These are Burundi, Egypt, Rwanda, Cuba, Venezuela, China, India, Saudi Arabia and the United Arab Emirates.
Mr Gilmour said: "It is frankly nothing short of abhorrent that, year after year, we are compelled to present cases of intimidation and reprisals carried out against people whose crime – in the eyes of their Governments – was to cooperate with UN institutions and mechanisms." .
World news in pictures

Show all 50
China and Saudi Arabia have been on the list six out of eight years.
Mr Gilmour said it was "grotesque and entirely contrary to the Charter and spirit of the United Nations and particularly this Council" that people were punished for helping the UN.
None of the countries in question that were contacted for comment have responded as yet.
The report, though extensive, does not report on all incidents revealed to the OHCHR for confidentiality and safety reasons.
It also only covers people who were actively working with the UN and Mr Gilmour warned the report only "represent[ed] only a small portion of a far more generalised backlash against civil society."
As Mr Gilmour noted, however, many of the offending countries "justified" actions against activists by labelling them as terrorists or threats to the state for cooperating with a foreign entity, even though that entity is the UN.
"I think we should see these individuals as the canary in the coal-mine, bravely singing until they are silenced by this toxic backlash against people, rights and dignity – as a dark warning to us all."
The other 20 countries in the report were Algeria, Bahrain, Eritrea, Honduras, Iran, Israel, Mauritania, Mexico, Morocco, Burma, Oman, Pakistan, South Sudan, Sri Lanka, Sudan, Tajikistan, Thailand, Turkey, Turkmenistan, and Uzbekistan.
This week is the annual United Nations General Assembly meeting where 193 countries' leaders converge.
Agencies contributed to this report
Register for free to continue reading
Registration is a free and easy way to support our truly independent journalism
By registering, you will also enjoy limited access to Premium articles, exclusive newsletters, commenting, and virtual events with our leading journalists
Already have an account? sign in
Register for free to continue reading
Registration is a free and easy way to support our truly independent journalism
By registering, you will also enjoy limited access to Premium articles, exclusive newsletters, commenting, and virtual events with our leading journalists
Already have an account? sign in
Join our new commenting forum
Join thought-provoking conversations, follow other Independent readers and see their replies