UN security men in brawl with Erdogan bodyguards
The Turks say Erdogan himself was jostled. The UN guards insist the delegation was taking the wrong route into the hall. Mr Ban's spokesman refused to comment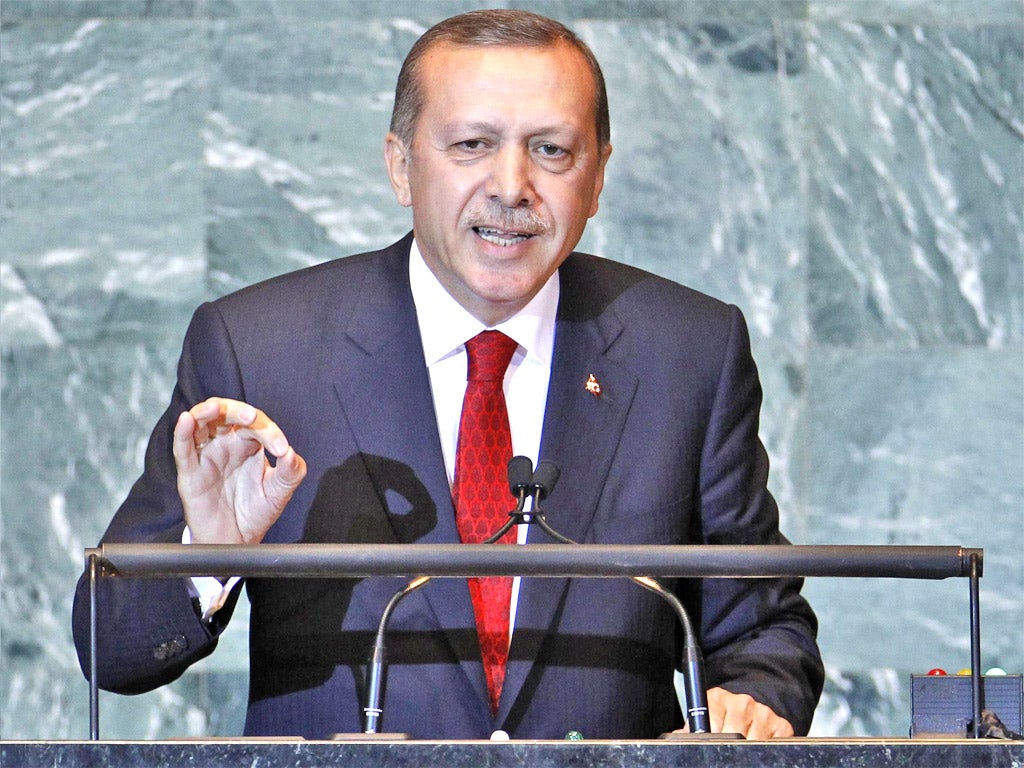 When the Palestinian President Mahmoud Abbas stood to speak at the United Nations General Assembly last week, diplomats were concerned mainly with heading off a fight over Palestinian statehood. As it happened, a much more damaging – physically damaging – fight was happening right outside.
Protection officers accompanying RecepTayyip Erdogan were involved in a brawl with the UN's own security officials as the Turkish Prime Minister tried to enter the hall to listen to Mr Abbas's speech, it has emerged.
One of the UN security officers was reportedly taken to hospital after the two sides traded blows, and the incident continued in a second confrontation later in the afternoon.
The fall-out was still continuing yesterday, as representatives for UN security guards accused the Turkish delegation of bullying and expressed disappointment in the UN Secretary-General Ban Ki-moon after hearing that he had apologised to Turkish diplomats for the incident.
Because of the sensitivity, Mr Ban's office was keeping tight-lipped about details of the incident, despite lurid accounts appearing on unofficial UN blogs. Guards were told by their staff union to take pictures of their injuries, one of their number having suffered bruised ribs. An email from the UN staff union's Timothy Kennedy to the UN's head of security Gregory Starr, published on the Turtle Bay blog, said that the "entire Security and Safety Service has been dealing with the aggressive nature of the security apparatus of this particular detail all week long.
"It has shoved many officers, fraudulently utilised ministerial ID's for access, and assaulted at least one of our officers (previously, as well as today). I have advised our officers who've been injured and/or assaulted to make police reports to the 17th [precinct], and have themselves checked at the hospital."
The fighting broke out as Mr Erdogan rushed from a meeting in order to be in the General Assembly hall for Mr Abbas's landmark speech demanding recognition of Palestinian statehood. His path through one door was blocked by UN security guards, but the delegation insisted on pressing through, and the two sides began scuffling. The Turkish side says Mr Erdogan himself was jostled. The UN guards insist the delegation was taking the wrong route into the hall.
Mr Ban's spokesman, Martin Nesirky, refused to comment on the details of the incident, or on whether the Secretary-General had apologised. He said there would be a review of security procedures.
"There were some unfortunate misunderstandings involving security between UN uniformed officials and security officials of member delegations," he said. "We believe these have been satisfactorily resolved, and that prompt action was taken. Necessary action is also being taken to prevent such misunderstandings in the future."
Join our commenting forum
Join thought-provoking conversations, follow other Independent readers and see their replies