UN: World faces largest refugee crisis in decades
Aid agencies are stretched to breaking point, claims UN refugee commissioner
Chris Green
Tuesday 04 November 2014 19:05 Comments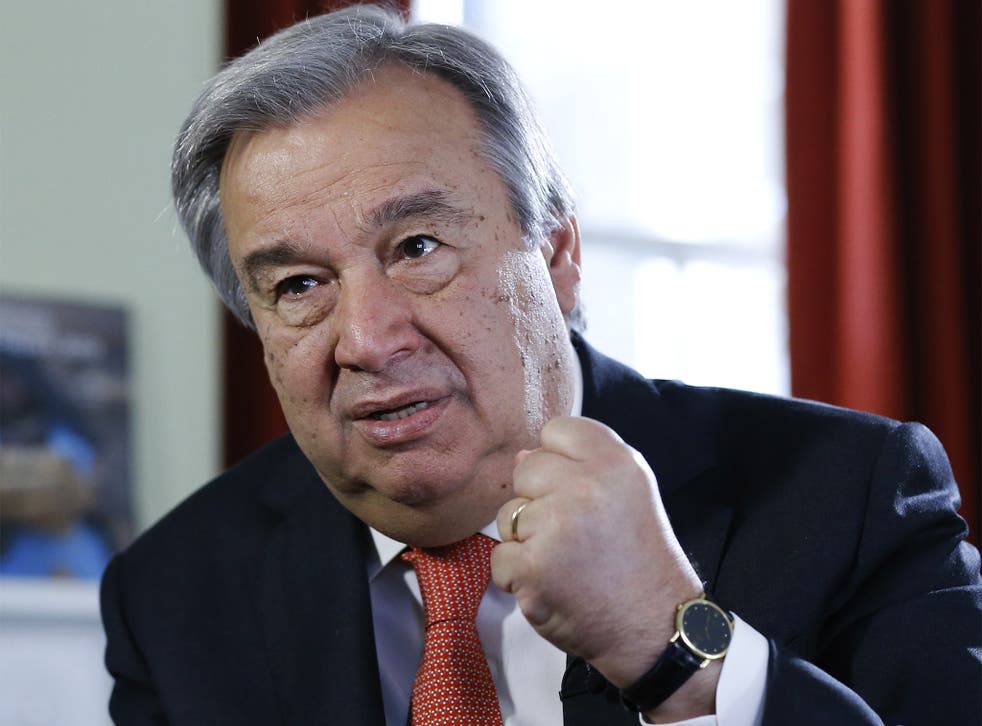 The world's humanitarian community has "reached its limit" and is no longer able to cope with a massive rise in the number of refugees being forced out of their homes by global conflicts, a top UN official has warned.
Antonio Guterres, the UN's High Commissioner for Refugees, said the spike in the number of people being displaced by wars indicated that global peace and security was facing "the worst crisis of the last decades". Already overstretched aid agencies will soon be "totally unable even to provide the minimum support to the victims", he warned.
Speaking to The Independent, Mr Guterres said the world was facing an unprecedented "multiplication of conflicts" which had overwhelmed aid agencies, citing the situations in Syria, Iraq, Libya, Yemen, South Sudan and the Central African Republic as examples.
"I think it's fair to say that the humanitarian community has reached its limit," he said. "The funding available is no longer enough, the capacity to respond is completely overstretched. If you combine these [conflicts] with the impacts of climate change, with the multiplication of natural disasters, population growth, food insecurity, water scarcity – all this is creating a situation where humanitarian needs are growing exponentially and the capacity to respond is not able to match."
Citing official UN data, Mr Guterres said that in 2011, 14,000 people across the world were displaced by conflict every day – a figure which rose to 23,000 in 2012 and 32,000 last year. The numbers for 2014 have not yet been calculated but are likely to be higher, he predicted. "What we are witnessing is a dramatic increase in people being forced to flee," he said. "The world has apparently lost its capacity to prevent conflicts and to try and resolve them."
In pictures: Global refugee crisis

Show all 45
Mr Guterres suggested that the lack of a single dominant global superpower meant that some countries were able to start conflicts with relative impunity. "Everybody, apparently, is able to trigger a conflict anywhere in the world – and those conflicts, once triggered, go on and on," he said.
"Some political leaders believe that they can trigger conflicts because then the humanitarians will come and clean up the mess. We are no longer able to clean up the mess, to pick up the pieces. So the tragedies that we are witnessing are going to have much worse consequences for people's lives, and the levels of suffering will be worse and worse in the near future."
Mr Guterres, the former prime minister of Portugal, was in London today to launch a global UN drive against "statelessness" – a phenomenon by which a person is not recognised as a national by any country. More than 10 million people worldwide are estimated to fall into this category, which leaves them without any basic rights and often in legal limbo.
Statelessness can be caused by conflict, the arbitrary redrawing of state boundaries or simple discrimination against minorities. In 27 countries, women are denied the right to pass on their nationality to their children on the same basis as men, meaning that statelessness is passed from generation to generation. The UN wants to eradicate it totally within 10 years.
"To be stateless in some parts of the world is a daily torture," Mr Guterres said. "We believe that it is an unacceptable anomaly in the 21st century to still have people in this situation, and we feel the international community has a moral obligation to end this plight."
Mr Guterres also appealed to the UK Government to accept more Syrian refugees from next year. In June, it emerged that only 24 extremely vulnerable Syrians made homeless by the civil war had been allowed to come to Britain by meeting the Government's strict criteria, after it declined to participate in the broader UN-administered resettlement programme.
"Our appeal to all countries, including the UK, is to increase for next year the numbers of Syrian refugees resettled," he said. "The British decision was relating to very vulnerable people, people with very difficult conditions. Whatever can be done to increase its dimension would be very much welcome."
Register for free to continue reading
Registration is a free and easy way to support our truly independent journalism
By registering, you will also enjoy limited access to Premium articles, exclusive newsletters, commenting, and virtual events with our leading journalists
Already have an account? sign in
Join our new commenting forum
Join thought-provoking conversations, follow other Independent readers and see their replies