Which country executes the most people? Map reveals China and Iran put more people to death than anybody else
China executes almost four times as many people each year than anybody else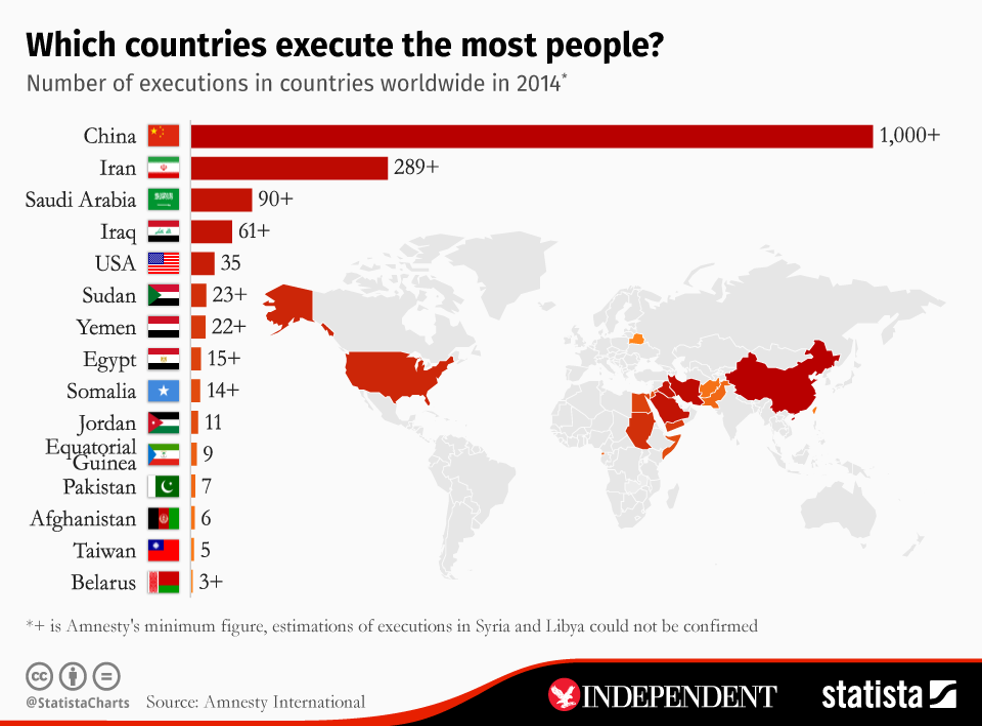 The number of executions carried out by countries around the world has been revealed in a chilling new map.
While Saudi Arabia's brutal mass beheading of 47 people continues to dominate headlines and outrage opponents of capital punishment around the world, it may come as something of a surprise to learn that the Sunni kingdom doesn't even come close to topping the global execution chart.
With more than 1,000 state-organised executions in 2014 alone, China puts almost four times as many people to death each year than its nearest challenger Iran.
While the shock of China's extraordinary execution figures may be dampened somewhat when its population of 1.3 billion people is taken into account, Iran is only the 16th most populous country in the world – making the 289 plus executions there in 2014 totally disproportionate to its population.
Ironically Iran has also led global outrage of the recent Saudi executions – largely because the controversial Shia cleric Nimr al-Nimr was among those killed. When it comes to its own executions, however, Iran has defiantly resisted requests to introduce more lenient punishments.
With more than 90 state executions in 2014, Saudi Arabia comes in at number three on the list, closely followed by Iraq, where at least 61 people were killed. The figures only relate to officially recorded, state-organised executions, however, meaning there are no reliable figures for those "executed" by territory-holding militant groups such as Al Qaeda, Islamic State or Boko Haram, or for those executed amid the chaos of the Syrian and Libyan civil wars.
In fifth position on the chart is the United States, where 35 people were sent to their deaths by the government in 2014. That news is made all the more remarkable when you realise the American government executes more people every year than Somalia, Pakistan and Afghanistan combined.
Sixth, seventh and eighth positions are held by Sudan, Yemen and Egypt respectively, while the only European nation to retain capital punishment is Belarus, where three people were put to death in 2014, according to the Amnesty International figures.
Where most executions were carried out in 2014

Show all 10
While Saudi Arabia may not top the global execution chart, figures show the number of executions in the country have risen steadily over the past five years having declined throughout the 2000s.
While the 102 people executed in 2015 pales in comparison with the 143 plus put to death in 2007, it is worth noting that just 27 people faced capital punishment in 2010, rising dramatically to 82 the next year, followed by at least 79 in 2012 and 2013, and at least 90 in 2014.
Register for free to continue reading
Registration is a free and easy way to support our truly independent journalism
By registering, you will also enjoy limited access to Premium articles, exclusive newsletters, commenting, and virtual events with our leading journalists
Already have an account? sign in
Register for free to continue reading
Registration is a free and easy way to support our truly independent journalism
By registering, you will also enjoy limited access to Premium articles, exclusive newsletters, commenting, and virtual events with our leading journalists
Already have an account? sign in
Join our new commenting forum
Join thought-provoking conversations, follow other Independent readers and see their replies