Pope Francis asks for compassion to migrants in Christmas Eve Mass: 'None should have to feel there is no room for them on this earth'
'We see the tracks of millions of persons who do not choose to go away but, driven from their land, leave behind their dear ones'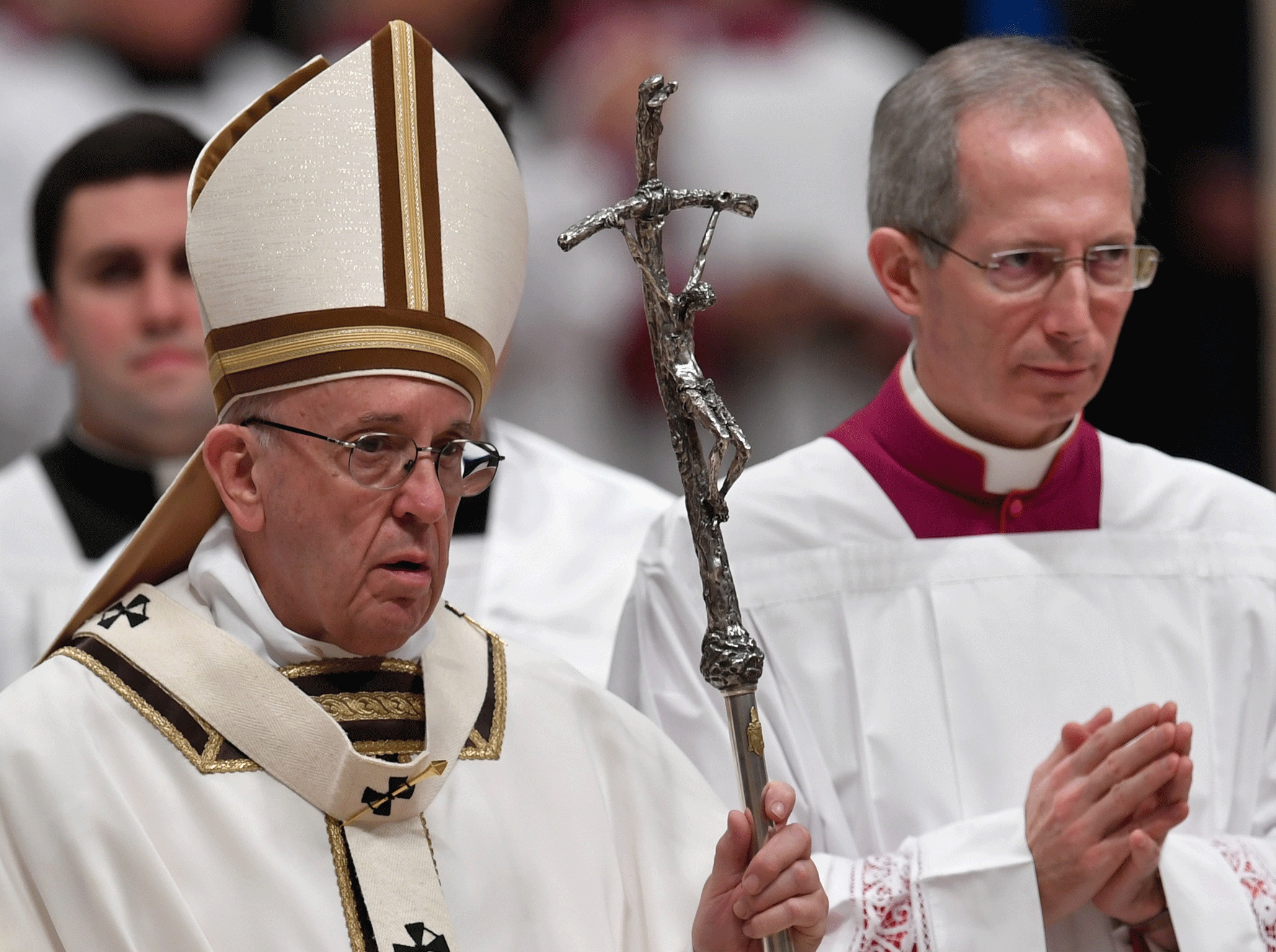 Pope Francis has likened Mary and Joseph's journey to Bethlehem to the migrations of millions of people today who are forced to leave their homelands for a better life.
The leader of the Catholic church said many migrants around the world were forced to flee from leaders who "see no problem in shedding innocent blood".
The 81-year-old Argentinian addressed worshippers in St Peter's Basilica in the Vatican City at the Christmas Eve vigil Mass, adding: "So many other footsteps are hidden in the footsteps of Joseph and Mary".
He used his homily to address similarities in the way in which Mary and Joseph travelled to Bethlehem with nowhere to stay, and the millions of migrants currently without homes.
"We see the tracks of millions of persons who do not choose to go away but, driven from their land, leave behind their dear ones," he said.
"In many cases this departure is filled with hope, hope for the future; yet for many this departure can only have one name: survival."
He said God is present in "the unwelcomed visitor, often unrecognisable, who walks through our cities and our neighbourhoods, who travels on our buses and knocks on our door". That perception of God should develop into "new forms of relationship, in which none have to feel that there is no room for them on this Earth," he said.
"Christmas is a time for turning the power of fear into the power of charity," Francis said.
At the start of the service, Francis bent over to kiss a statue of the baby Jesus in the basilica.
Francis, whose parents were Italian immigrants in Argentina, also called for a "new social imagination…in which none have to feel that there is no room for them on this earth."
The Pope has been a vocal supporter of the world's 22 million migrants, and in a letter to heads of state and government in November, he wrote: "Those who, for what may be political reasons, foment fear of migrants instead of building peace are sowing violence, racial discrimination and xenophobia."
Shelter - Homeless this Christmas

Show all 8
The Pope is set to deliver his 'Urbi et Orbi (to the city and to the world) Christmas address later today.
Additional reporting by agencies
Register for free to continue reading
Registration is a free and easy way to support our truly independent journalism
By registering, you will also enjoy limited access to Premium articles, exclusive newsletters, commenting, and virtual events with our leading journalists
Already have an account? sign in
Register for free to continue reading
Registration is a free and easy way to support our truly independent journalism
By registering, you will also enjoy limited access to Premium articles, exclusive newsletters, commenting, and virtual events with our leading journalists
Already have an account? sign in
Join our new commenting forum
Join thought-provoking conversations, follow other Independent readers and see their replies