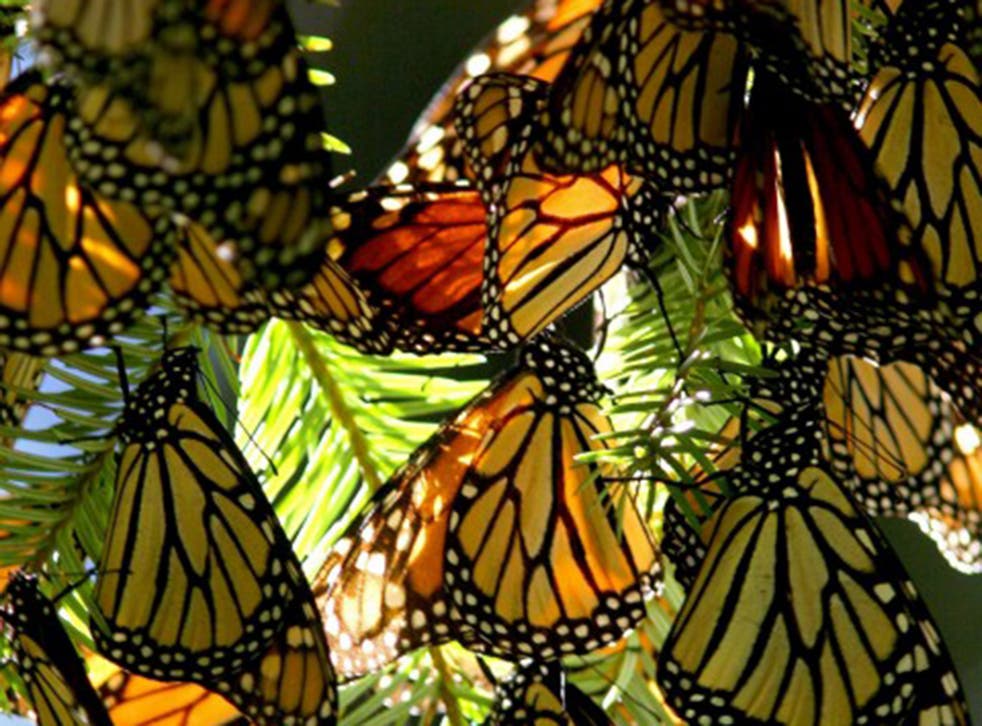 The Monarchs appear as soon as you start climbing the steep path through the ancient Oyamel fir forest, in the Mexican state of Michoacán. Even as the first few butterflies flutter past, you already know this is going to be special. But nothing, not even the vivid footage you've seen on nature programmes, can prepare you for the millions of big, bold, orange and black butterflies as you near the 3,300-metre mountain peak.
Up here, the endangered firs are covered in Monarchs huddled together for warmth. But as the sun breaks through and heats up the open passes, vast numbers fly lower down looking for sustenance. As they swarm past, tickling your face with their fragile wings, you are suddenly walking through a glorious butterfly storm. The sonic wave of fluttering is interrupted only by delightful bright green humming birds which also feed off juicy milkweed nectar.
Every year, millions of Monarchs fly down from Canada and northern United States to one of 19 known hibernation areas in Mexico. This year they are spread across 2.8 acres, compared with only 1.55 acres in 2014. Good news, but according to the World Wildlife Fund, pesticides, climate change and deforestation continues to threaten this phenomenon.
This year almost half the Monarchs ended up here in El Rosario, part of the stunning Sierra El Campanario reserve, 225km from Mexico City. It's a long drive, and a tough hike, but grab any chance you can to walk among the Monarchs. It's a sensory explosion you'll never forget.
Register for free to continue reading
Registration is a free and easy way to support our truly independent journalism
By registering, you will also enjoy limited access to Premium articles, exclusive newsletters, commenting, and virtual events with our leading journalists
Already have an account? sign in
Register for free to continue reading
Registration is a free and easy way to support our truly independent journalism
By registering, you will also enjoy limited access to Premium articles, exclusive newsletters, commenting, and virtual events with our leading journalists
Already have an account? sign in
Join our new commenting forum
Join thought-provoking conversations, follow other Independent readers and see their replies