The quest to preserve music made by inmates of Nazi concentration camps
Francesco Lotoro is one of a growing number of musicians, historians and academics seeking to collect and perform music composed and played by prisoner in the death camps. He speaks to Milton Esterow about plans for a major archive project in the Italian city of Barletta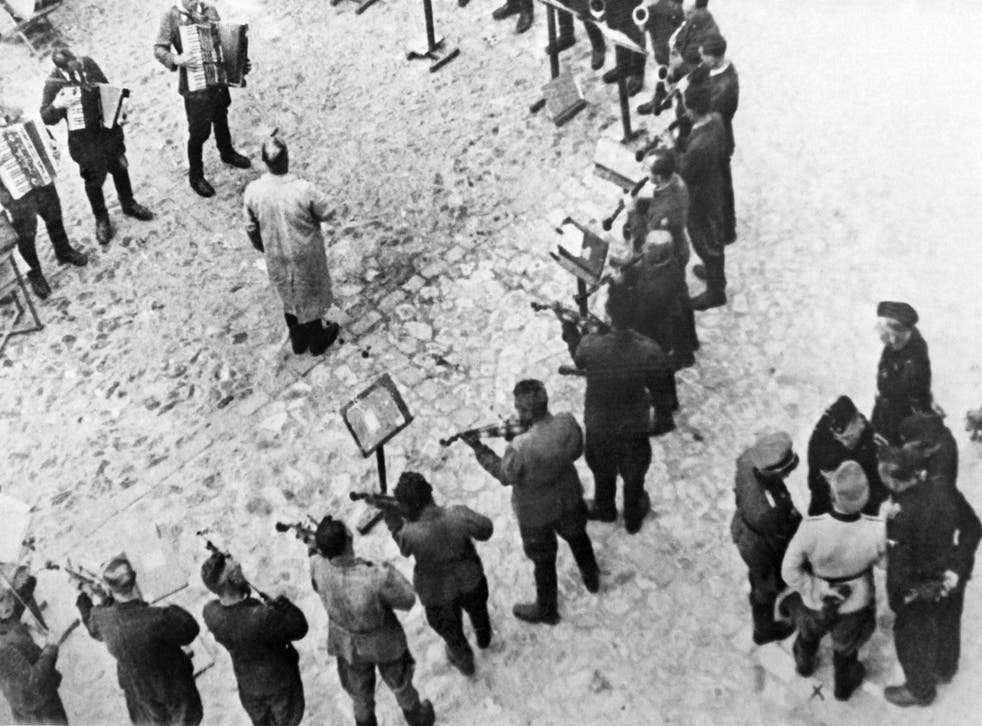 For months, Francesco Lotoro was forced to stay in his home, quarantined by a virus that ravaged his country, Italy, and slowed a project he has been working on since 2014. His dream is to build a study centre to house an archive of concentration camp music from the Second World War, a trove he has been collecting for 30 years.
Now he is back at work, raising money and reviewing plans for what he calls a citadel, one to be built in Barletta, a city by the Adriatic Sea in southeast Italy where he lives and was born 55 years ago.
"The main hurdles are raising the money and developing an international campaign to get it," he says in a telephone interview.
Lotoro, a composer and pianist, and his wife, Grazia, have collected and catalogued symphonies, operas, scores and songs that were composed and performed under conditions so horrible one imagines that music would have lost its ability to encourage and to soothe.
But to review Lotoro's archive – 8,000 items collected in trips around the world – is to understand how wrong it is to underestimate the power of song. Survivors saved the music, which in small ways saved them, and they or their families eventually found Lotoro in their homes, peering at a score, humming along.
It was on such a visit in Prague in 1990 that Lotoro discovered a five-act, fairy-tale opera, Three Hairs of the Wise Old Man, by Czech composer Rudolf Karel during a visit with the composer's son. Karel had died at Terezin, a camp 40 miles north of Prague that was disguised as a model Jewish community but actually was a place where the Nazis held prisoners before sending them off to death camps.
"He wrote with a pencil and medicinal charcoal on sheets of toilet paper, which were smuggled out of the camp," Lotoro says.
The passion to research and preserve the musical history of the Holocaust has only grown in recent years. Music was a buoy for those who played it and those who listened to it in the grim confines of places such as Auschwitz where the prisoner band – often nine violins, two clarinets, two saxophones, a cello, trombone, tuba and string bass – performed at Sunday concerts for the SS officers and visiting dignitaries.
"Music was a constant and crucial component of the everyday life in the Nazi-run camps," says Guido Fackler, a professor of museology at the University of Wurzburg, Germany, and an expert on concentration camp music.
"The music played, first and foremost, as directed by the SS, often while inmates marched to and from forced labour," Fackler says. "It was an element of the SS strategy of physical and psychological destruction."
This music, which Fackler calls command music, often left a bitter taste with the musicians who played it.
"However," he says, "when prisoners played music on their own initiative, unlike the command music, the music generally gave them consolation, support and confidence. It reminded them of their earlier lives."
In May, an ensemble from the University of Michigan School of Music, Theatre and Dance had been scheduled to perform a program of music from Auschwitz in New York at the Museum of Jewish Heritage, but the program had to be cancelled because of the coronavirus pandemic.
Adjoining the work to resurface and perform music made in the concentration camps are efforts to revisit music banned by the Nazis as "degenerate", much of which – though far from all – was composed by Jews.
In 2017, exil.arte, an organisation at Vienna's University of Music and Performing Arts, was created to recover and study the banned music. It has acquired the estates of 20 composers, mainly of classical music, and arranges performances, issues recordings and publishes books.
"Some composers who were banned are making their way into the mainstream of classical music," says Michael Haas, its co-founder.
James Conlon is also arranging performances of this music under the auspices of the Orel Foundation, an organisation he co-founded that seeks to build appreciation of the once-suppressed music. He conducts this music with symphony orchestras in many countries.
Also expanding is the hunt for musical instruments, books about music, and original or printed scores stolen by the Nazis. Nonprofit organisation Looted Music (Musique et Spoliations) was founded in Paris in 2017 to research and recover stolen music objects.
"Publications and conferences are taking place," says Carla Shapreau, senior fellow at the University of California, Berkeley, and an expert on looted music material. "Historical records with evidence of looting are being scanned for the first time and made available on the internet in many countries and in many languages."
And there are others who have joined Lotoro in the quest to bring the music made in concentration camps back to life. In Boston, the Terezin Music Foundation, founded by Mark Ludwig, a former member of the Boston Symphony, sponsors concerts throughout the United States and Europe, focusing on music from Terezin. Yo-Yo Ma and Emanuel Ax are on its advisory board.
But Lotoro's vision is perhaps the most ambitious. His "citadel" – known formally as the Istituto di Letteratura Musicale Concentrazionaria – is to include a museum, a library and a theatre at a cost of roughly $45m.
Barletta, which is home to a Norman castle, a statue of a Roman emperor known as The Colossus, and some 95,000 people, has donated the two-acre site of an abandoned brandy distillery. The Italian government has provided $5m (£4m) in funds and Lotoro says he is hopeful of receiving as much as $36m more from the government by the end of the year. This would leave him with a gap of several million dollars to close through fundraising.
"There are a lot of people who want to help us in the United States and Canada and other countries, and I have to meet them," he says. "We are preparing a video on the citadel to show them."
The city is also providing an additional $2.7m for the construction of a 30-room hotel nearby for students, scholars and others to study the music.
"I want this project very strongly," Barletta's mayor, Cosimo Cannito, says in a telephone interview. "It will be a symbol to remember the cruel part of history and that it should not be repeated."
Lotoro says he first read about the music that had been written in the camps in 1988.
"I am a musician and I felt the music should be heard," he says. "I started to do research but I had no focus. And then it became a mission – to give back life to the music, not for me, but for everybody."
When he started interviewing Holocaust survivors, he says, he looked for music composed by Jews in Nazi concentration camps. But he later expanded it to include political or other religious prisoners in many countries, and music created by musicians "of any national, social or religious background".
Some years ago, Lotoro created K2Musik, a series of recordings consisting of songs, chamber music and other works composed in Nazi camps between 1933 and 1945.
Lotoro and his wife converted to Judaism in 2004. "My grandfather's grandfather was Jewish and converted to Christianity because to be a Jew was difficult at the time in Barletta," he says.
Although he has preserved the music of a particular space and time because of the power of its history, Lotoro says that he feels the time will come when the music will be judged on its own merits.
"The music written in camps is defined as concentrationary music," he says, "for the sole purposes of intellectual and geographical research. But one day it shall be called just music; mediocre, good, great as music in general."
© The New York Times
Join our new commenting forum
Join thought-provoking conversations, follow other Independent readers and see their replies