Seth Rich wasn't just another DC murder victim – he was a meme in the weirdest presidential election of our times
When Democratic National Committee employee Seth Rich was murdered during the weirdest election of our times, he, his family and co-workers became the target of online sleuthers convinced they could crack a conspiracy by solving his murder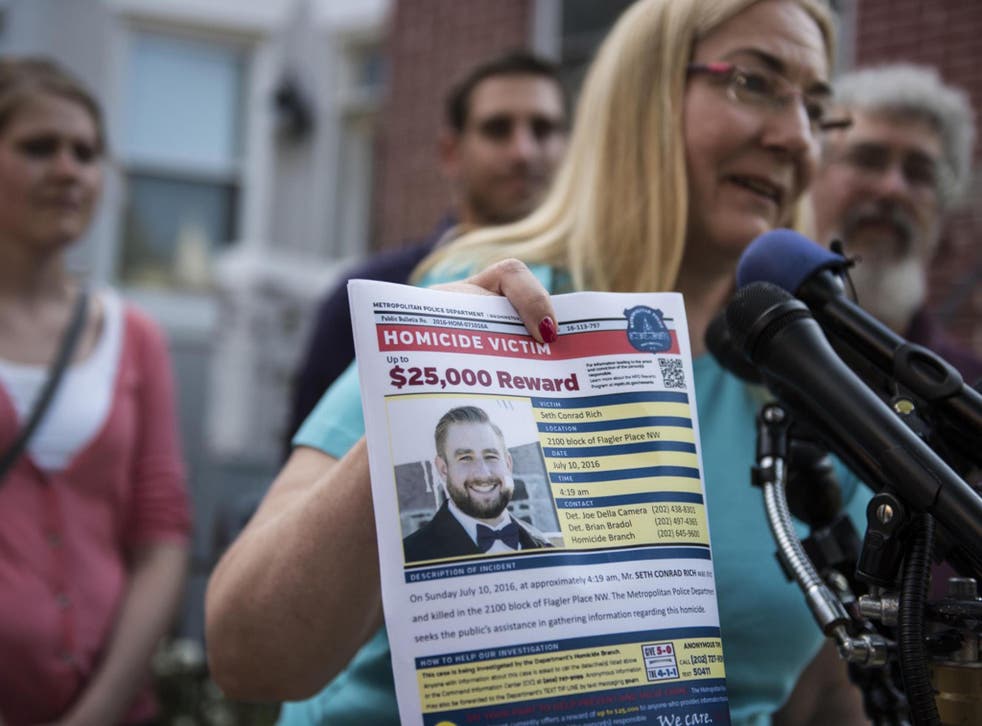 Joel Rich's first instinct was to fight. He'd call their bluff. Come out swinging.
"Prove it," he wanted to say, "prove my boy died because he was some kind of a mole, an email hacker, a cog in a conspiracy, a patsy in an international political intrigue.
"Prove it!"
But Joel Rich knew he wouldn't get anywhere trying to knock down each new internet rumour about the death of his son, Seth, this past summer.
"People don't care about the truth anymore," the father lamented.
Seth Rich, the 27-year-old Democratic National Committee staffer with the straw-coloured hair, American flag shirts and goofy grin, wasn't just another DC murder victim. No. He was a meme in the weirdest presidential election of our times.
Somehow the bullets that took Rich's life early that morning in July – two loud pops in the darkness – have continued to echo long after police officers found him bleeding in the streets of DC's Bloomingdale neighbourhood, chattering away but confused, unaware that his life was seeping away.
In an era of reckless information, this is what it's like when the fire hose gets turned on your family. Joel Rich wanted to move on to the next stage of grief, but it was too noisy out there, the allegations getting more and more far-fetched:
Seth was ordered killed by Hillary Clinton because he knew something about her email scandal.
Seth was killed by Russians posing as FBI agents investigating the Clintons.
Seth was killed because he slipped DNC emails to WikiLeaks.
What seems painfully obvious to his family is that Seth Rich was, instead, the victim of a botched holdup – one of a series of armed robberies in the neighbourhood around that time. Interviews with more than a dozen people who knew Rich well, including several who spoke to him in the final hours of his life fill in the blanks of that night – as does a previously unreported minute-by-minute log of Rich's phone calls. But they offer no hint that a conspiracy was at play.
Still, there are the curiosities – a nearly three-hour walk in the wee hours before his death, the valuables left untouched on his body, a surveillance tape that Rich's family says gives a glimpse of his possible killers' legs but that police have yet to show to the parents or the public. Enough to make people wonder.
Enough, too, to draw the interest of a DC-based Republican lobbyist, Jack Burkman, who has become a Rich family ally and is offering a $130,000 (£100,000) reward, bringing the total amount dangling out there to $175,000. Burkman has been canvassing the neighbourhood while asserting that the "police have no theory of the case" and that "you can effectively rule out attempted robbery."
For all the musing and speculation, the amateur sleuthing and the six-figure reward, the breathless news reports and the vitriol-soaked commentating, no one has been able to answer two basic questions – not the police, not his friends, not his neighbours, not his co-workers.
Who killed Seth Rich? And why?
Seth Rich didn't come from a politics-obsessed family. But growing up in Omaha, the son of parents who worked in sales, he watched C-SPAN for fun and volunteered for political campaigns as a teenager.
As a kid, Seth tried a bit of acting and did some fashion modelling. He excelled at debate. Seth Rich was a talker.
"When he decides to, he'll talk your ear off," his brother, Aaron Rich, said in an interview.
The Jewish kid from Nebraska chose to attend a Jesuit university, Creighton, because he liked its political science curriculum.
"He'd sometimes call himself a Jew with Jesuit values," his father said.
After graduation, there was little doubt that he was headed for Washington, DC. He landed a job at the polling and strategy firm Greenberg Quinlan Rosner. He worried that he wouldn't know anyone in the capital.
It wasn't long, though, before it was obvious to everyone that Washington was a perfect fit for him. He fell in with the swarm of twenty-somethings who populate the city. Wednesday night softball games. Weekend soccer. Nights playing the board game Settlers of Catan in shared rowhouses.
Rich was the outsize personality, the guy who showed up in panda suits, who went over-the-top with flag-themed clothing on the Fourth of July. A big American flag hung over his bed. He wanted to be everywhere all the time. Within just a few weeks of meeting Michael Cass-Antony, another young staffer at GQR, Rich was organising a big outing to a New York Giants football game to celebrate his brand-new friend's birthday. He tutored everyone in the proper rituals of the tailgate party, serving food from the boot of his car before the event began.
At the office, Rich was thriving, but restless. He worked as a programmer, sorting through data gathered in surveys. One of the underpinnings of the conspiracy theories about Rich is that he was some kind of technical whiz, capable of bypassing security systems.
But Andrew Therriault, a PhD data scientist who mentored Rich at Greenberg and later helped him get a job at the DNC, said his protege "wanted to learn more from a technical standpoint. But that wasn't his background."
At the DNC, Rich dove into a voter-expansion project aimed at making it easier for people to find their polling places. He felt like he'd arrived in the "big leagues," Cass-Antony recalled.
Rich had become a regular at Lou's City Bar, a sensory-overloading sports pub amid the big-box stores in a redeveloped section of Columbia Heights. From his usual corner seat, hard against a wooden pillar, Rich would banter about politics for hours over his favourite drink, Bell's Two-Hearted Ale. But he wouldn't budge when the bar manager, Joe Capone – who had become a good friend – tried to get him to reveal his favoured candidate.
The pressures of the job were taking a toll on his relationship with a young woman he'd met at Greenberg. But Rich was in love, and he wanted to make it work despite the rocky patches, Capone said.
Something else was bugging him, too.
In June, an explosive story made headlines: A cybersecurity firm had determined that hackers associated with Russian intelligence had broken into DNC computers.
"He was so upset," a person who was very close to Rich said on condition of anonymity for fear of being targeted by cyberbullies. "It was crazy. Especially for Seth. He said, 'Oh my God. We have a foreign entity trying to get involved in our elections?' That made him so angry."
On 9 July – less than a month after news of the DNC hack had broken – Seth Rich sat at his usual spot in Lou's. It was Saturday night, and his girlfriend was out of town. He was alone, but not really. The staff at the bar knew him well, and they'd slide him a Bell's from time to time on the house.
He wasn't the biggest drinker; sometimes he'd sit for long stretches nursing one ale and staring into a laptop. They knew him so well that when he ordered the chicken wings, he didn't have to tell them to hold the bleu cheese. They knew he was lactose intolerant. The bartender would yell out: "Do it Seth-style." When Capone was struggling to find the right wording for a portion of his daughter's college application, Rich helped with the rewrite.
Rich had a lot on his mind. He'd gotten another job opportunity: a position with the campaign of Hillary Clinton, who had by then won the Democratic nomination. There was only one problem: The job was in Brooklyn. The girlfriend was in DC. This was causing friction.
"He was having some problems with his girlfriend," Capone said. "Mostly about moving away and seeing if they could survive it. He was upset. He loved her."
Sometimes he'd join bartenders for drinks at after-hours places, but more often than not he'd walk the 1.8 miles home alone, using the time to catch up on phone calls because he got poor mobile reception in his house.
On the last night of his life, Rich stayed at Lou's until it closed around 1:30am, according to a bartender.
Two hours and 49 minutes later he would be lying on a sidewalk, dying.
A log of Rich's phone calls compiled by the family accounts for a large chunk of that time – about two hours 15 minutes. But it doesn't explain why he took so long to make a walk home that should have taken about 40 minutes.
There's been much speculation that Rich went to another bar, the Wonderland Ballroom, after leaving Lou's. But a person who spoke to him that night, and agreed to be interviewed on the condition of anonymity, said he did not.
Rich placed at least five calls and received two incoming calls, according to the log. The first three were placed before closing time – two to his father, who'd gone to bed early and didn't hear the ring, and one to a friend; they lasted only a minute.
Rich seems to have been on the phone with another friend, who had called him when the bar closed. That 12-minute call ended at 1:33am.
At 2:05am, he called his girlfriend, who was in her home state of Michigan. They spoke for 89 minutes. Then the call dropped. A few minutes later, he called her again, and they spoke for 43 more minutes.
At about 4:19am, Rich told his girlfriend he was almost home and said, "I gotta go," according to Rich's father, who has spoken with his girlfriend. (She asked not to be named or quoted because of continuing harassment of those connected to the case.)
Rich didn't sound alarmed. His girlfriend, according to a person familiar with the events of that night, went to bed thinking there was nothing amiss.
Later that morning, Joel Rich got a call from Washington police. Seth was dead.
The father learned his son was found around the corner from his house, at the intersection of Flagler Place and W Street NW – about 300 steps from his front door in a rapidly gentrifying area.
By Tuesday, barely 48 hours after Rich's death, his name was being spoken on the presidential campaign trail as Clinton referenced him while arguing for legal steps to limit the spread of guns.
Pieces of what might have happened were starting to come into focus as the family spoke to police, who suspected a botched robbery, and other emergency responders. The parents saw bruises on Rich's face when his body was sent home to Omaha to be buried. They surmised there'd been a struggle.
Police told the family, Joel Rich said, that a security camera from a small convenience store across the street captured a grainy image of their son collapsing, and the feet or legs of two other people – possibly his killers. Officials with DC police declined an interview request. A police spokesman would not confirm the existence of a video or reveal what Rich may have said after he was shot, saying that that information could compromise an ongoing investigation.
The Riches also learned that their son's watch and wallet had not been taken, although the watchband was damaged. There was something else that wasn't taken: an expensive Jewish chai pendant that Mary Rich had initially given to Joel, inscribed with the word "ditto," an inside joke from their courtship.
Officials told the Riches that their son, who died at a nearby hospital less than two hours after being shot, didn't know he'd been hit in the back by two bullets. He wasn't in pain, they were told. But he was confused. When Seth Rich was asked where he lived, he gave a previous address, Joel Rich said.
"They were very surprised he didn't make it," Aaron Rich said emergency responders told him. "He was very aware, very talkative. Yep, that was 100 per cent my brother."
For the next few weeks the investigation proceeded as normal – but suddenly, almost a month to the day since their son breathed his last, everyone wanted to talk to Joel and Mary Rich. Their voicemail was clogged with calls from reporters from all over the world.
The reason for the deluge was a tweet. WikiLeaks, the organisation that had published thousands of hacked DNC emails less than two weeks after Seth Rich was killed, had announced on Twitter that it was offering a $20,000 reward in the killing.
Julian Assange, the WikiLeaks editor, further stoked speculation that Rich might have been involved in the DNC hack by referencing the murder, unprompted, on a Dutch news program.
"Our whistleblowers go to significant efforts to get us material and often [face] very significant risks. A 27-year-old that works for the DNC was shot in the back, murdered just a few weeks ago for unknown reasons, as he was walking down the street in Washington, DC," Assange said.
Assange wasn't the only one spinning dark theories. Roger Stone, the Donald Trump confidant and self-proclaimed Nixon-era dirty trickster, took to Twitter to suggest Rich and three other men might have been murdered at the behest of Clinton.
"Four more dead bodies in the Clinton's wake. Coincidence? I think not. @ClintonsWar," Stone tweeted, beneath a photo of Rich and the other men.
Joel Rich felt overwhelmed.
"We're now in a different league," he said.
The family was referred to Brad Bauman, a Washington public-relations professional with a knack with experience as a "crisis manager," Joel Rich recalled.
This, he was certain, qualified as a crisis.
"How hurtful this is, to think that you're getting ready to go to the next phase of grieving and now they're going through the legacy and the integrity of our son," he said.
The father wanted to confront WikiLeaks, and others who speculated about Seth, to demand they back their claims.
Bauman, who would himself later become the object of conspiracy theorists claiming he was brought in by nefarious liberal factions to silence the family, gave Joel Rich a piece of advice: "Don't dare them."
While Joel seethed, Aaron Rich found solace in laughter. As the conspiracies became more and more elaborate, he chuckled. There was nothing else he could do.
"When facts aren't required, how are you supposed to counter any argument?" he said.
But everything had changed. The family started worrying about each word they uttered, fearful that even innocent-seeming remarks could be twisted.
They were getting phone calls from people claiming to be private investigators, offering help. But they didn't know who was legit and who was a fraud.
This fall, the Riches got a call from a Republican lobbyist and political strategist: Jack Burkman, who hosts a Newsmax cable program and has represented corporate clients in Washington for years. He might best be known for his failed crusade to ban gay men from playing in the NFL, a proposal that he made after the St Louis Rams signed a gay college player, Michael Sam.
"We were saying, 'What do we know about this guy?'" Joel Rich recalled. "He's Republican. He's been associated with at least one crazy amendment with the NFL and gays. So he may have his own agenda."
But Burkman, who says he's motivated by empathy for the Rich family, won them over. He has offered $130,000 of his own money as a reward, adding to the $25,000 offered by DC police and $20,000 from WikiLeaks. And he tugged at their hearts, telling them about how his mother used to warn him about safety on the streets of the district when he was a law student two decades ago.
On a recent afternoon, Burkman searched for clues, speed-walking among the Victorian-style rowhouses in the neighbourhood where a young man he had never met once lived.
"We're just desperate," Burkman told a federal worker who happened by.
The printing had been delayed for Burkman's fliers, and he'd forgotten to bring business cards. But, undaunted, he scribbled his phone number on the backs of blank envelopes he happened to have in his notepad, handing them out to people with quizzical looks on their faces.
He banged on a church door, thinking he heard someone inside. No one answered.
"We're in politics. We're campaigners," he said, bounding down the stairs. "We'll just keep shootin'."
© The Washington Post
Register for free to continue reading
Registration is a free and easy way to support our truly independent journalism
By registering, you will also enjoy limited access to Premium articles, exclusive newsletters, commenting, and virtual events with our leading journalists
Already have an account? sign in
Register for free to continue reading
Registration is a free and easy way to support our truly independent journalism
By registering, you will also enjoy limited access to Premium articles, exclusive newsletters, commenting, and virtual events with our leading journalists
Already have an account? sign in
Join our new commenting forum
Join thought-provoking conversations, follow other Independent readers and see their replies