Young women most at risk of global sanitation crisis and sexual violence when using unsafe toilets, report warns
'Open defecation means women and girls have to go away from a slum or a town. There is a risk of sexual violence when they are walking there and quite often women go in the dark for privacy,' says campaigner
Maya Oppenheim
Women's Correspondent
Friday 25 January 2019 18:39 Comments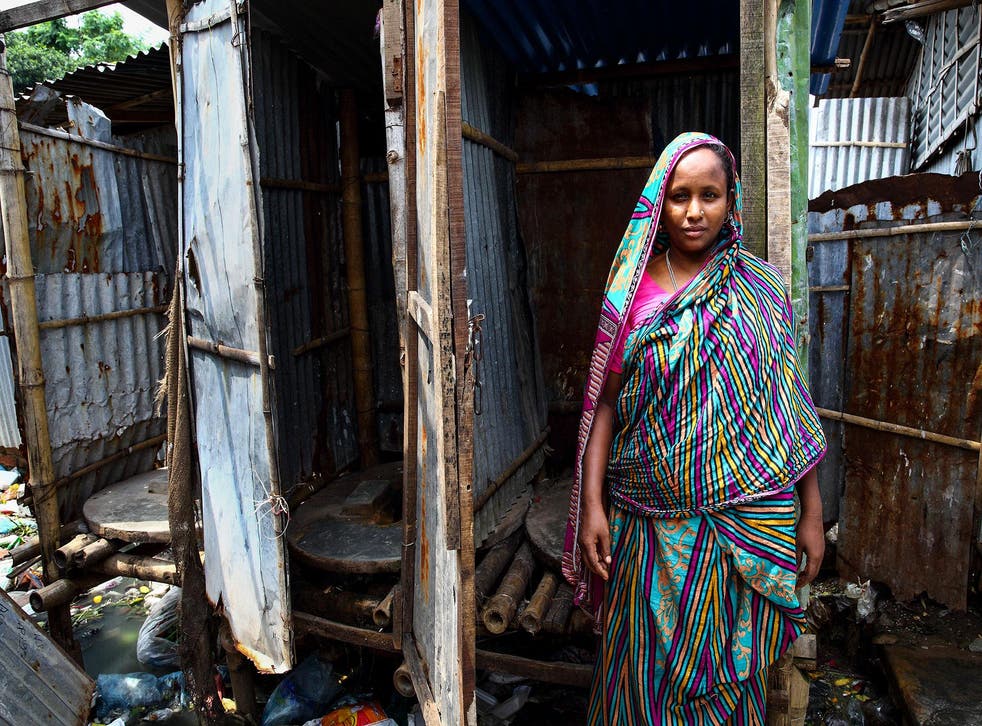 Young women are most at risk of the global sanitation crisis and girls are at particular risk of sexual violence when using unsafe toilet facilities at school, a report has warned.
The study, published by international NGO WaterAid, found that one in three schools around the world does not have basic sanitation.
The charity, which provides people with clean water, safe sanitation and hygiene education, found in Bangladesh alone, 40 per cent of girls miss an average of three days of school a month during their periods due to the lack of decent toilets.
Across South Asia, more than a third of girls miss school for between one and three days a month during their period.
The report warned that a dearth of safe and clean toilets is having a direct impact on millions of women and children across the globe.
Some 620 million children – 10 times the population of the UK – are compromised by the lack of decent school toilets. According to the study, every day 800 children die from diarrhoeal diseases caused by dirty water and poor sanitation.
World news in pictures

Show all 50
Savio Carvalho, Global Head of Campaigns at the charity which works with local organisations in 37 countries in Africa, Asia, Central America and the Pacific region, said: "Open defecation means women and girls have to go away from a slum or a town.
"There is a risk of sexual violence when they are walking there and quite often women go in the dark for privacy."
The campaigner said that schools with mixed toilets also posed a great danger to girls and made them vulnerable to being sexually harassed or assaulted.
"It puts them at risk of abuse. Some toilets also don't have a latch meaning that girls are afraid to go to the toilet. If there is a lack of decent sanitation, girls prefer not to go to school."
He noted periods also caused girls to miss school – saying they might study hard all year but then miss their exams if their period happens to clash with the tests.
Researchers say the global sanitation crisis affects 2.3bn people around the world – with the report finding that one in five primary schools and one in eight secondary schools globally do not have any toilets.
Guinea-Bissau on the coast of West Africa tops the table for worst in the world for school toilets, while Ethiopia remains the nation with the highest proportion of people without household toilets.
Tim Wainwright, WaterAid's Chief Executive, said it was unacceptable that one in three children around the world are being held back from fulfilling their potential because they don't have a decent toilet.
"All children need this basic essential at home and at school for their health, education and safety," he said.
"The world has promised toilets for all by 2030, but despite some progress, this ambitious target is a long way off from being met. If we are serious about all children and young people having clean water and sanitation, we must take decisive and inclusive action now."
Register for free to continue reading
Registration is a free and easy way to support our truly independent journalism
By registering, you will also enjoy limited access to Premium articles, exclusive newsletters, commenting, and virtual events with our leading journalists
Already have an account? sign in
Join our new commenting forum
Join thought-provoking conversations, follow other Independent readers and see their replies