Sochi Olympics sponsor Coca-Cola wants to share a Coke, but not with gay people
'Hetero' and 'Straight' are fine though
Christopher Hooton
Monday 27 January 2014 18:24 Comments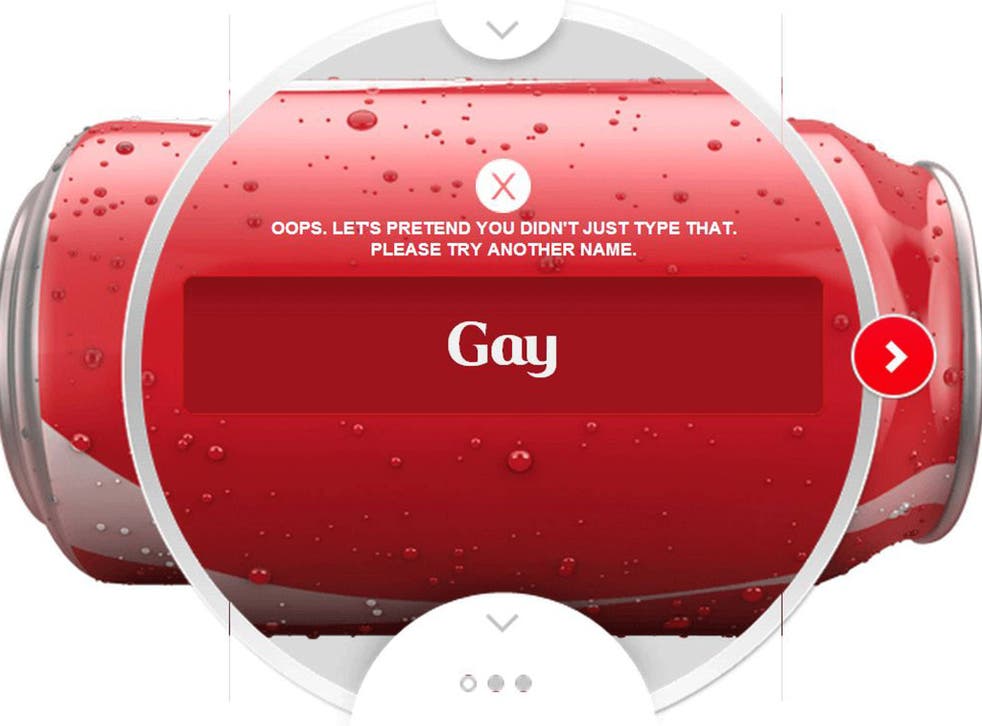 Coca-Cola's bid to downplay its sponsorship of the 2014 Sochi Winter Olympics took a blow this week, when it emerged that the word 'gay' is banned from its customisable 'share a Coke' function.
The brand's bid to make pouring a soda down your neck a more personal experience has been a huge success since it launched the naming promotion last summer, with customers encouraged to print their friend's name on a bottle.
Writing the word 'gay' into the service returns the error message "Oops. Let's pretend you didn't just type that. Please try another name," however, no doubt to the annoyance of the literally thousands of people whose first or last name is Gay.
Yes, it's clearly just an oversight and probably the result of one bored programmer's erroneous brainstorm of 'bad words', but the suggestion that the word gay is somehow not allowed could not come at a worse time for Coca-Cola.
The company are to be the sponsors for this year's Sochi Winter Olympics, where coverage of the protests and boycotts regarding Putin's anti-gay laws is set to outnumber that of Olympic curling about 1000 to one.
Update: Coca-Cola has since issued an apology, telling The Huffington Post it recognises the promotion "generated an unintended outcome".
"The digital version of the Share a Coke promotion did not properly limit the customisation to individuals' names," a spokesman said."As one of the world's most inclusive brands, we value and celebrate diversity. We have long been a strong supporter of the LGBT community and have advocated for inclusion, equality and diversity through both our policies and practices. Again we apologise for any offence this has caused."
The A-list opposing Russia's anti-gay laws

Show all 15
---
Register for free to continue reading
Registration is a free and easy way to support our truly independent journalism
By registering, you will also enjoy limited access to Premium articles, exclusive newsletters, commenting, and virtual events with our leading journalists
Already have an account? sign in
Join our new commenting forum
Join thought-provoking conversations, follow other Independent readers and see their replies