'Some days can be tough': The court monitors who track wildlife crime cases in Kenya to ensure poachers are jailed
We are working with charity Space for Giants to protect wildlife at risk from poachers due to the conservation funding crisis caused by Covid-19. Help is desperately needed to support wildlife rangers, local communities and law enforcement personnel to prevent wildlife crime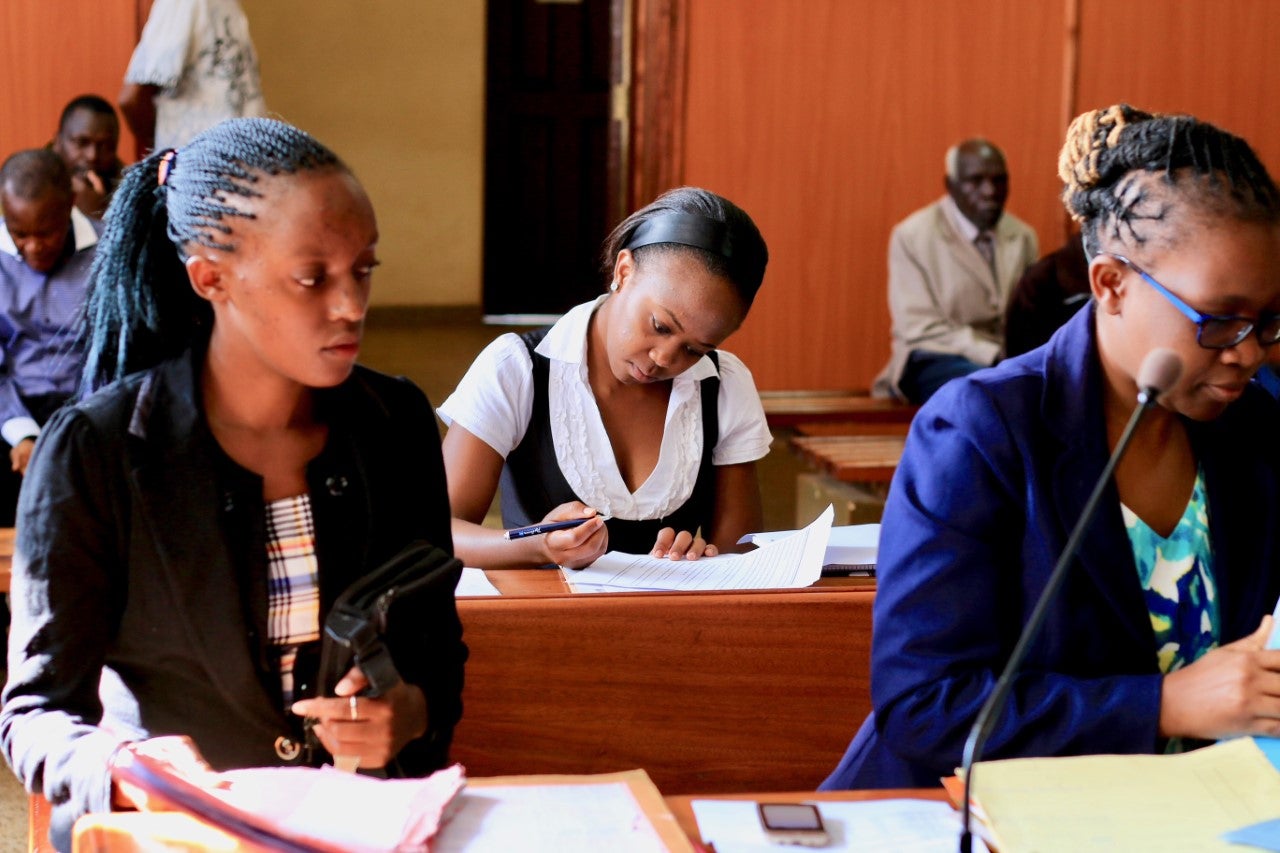 Observing trials, collecting data and travelling long hours across different parts of the country is all in a day's work for Harriet Njeri and Faith Maina - two court monitors helping tackle the rampant illegal wildlife crime that has fuelled the black market.
Notorious poachers and first time offenders in Kenya were let off with a "slap on the wrist" and "petty fines" before conservation organisation and the campaigns partner, Space for Giants, intervened and launched its court monitoring programme in 2016.
The approach which includes training prosecutors, conducting key surveys in courts to find errors and monitoring ongoing cases to evaluate progress has proven successful and in part it has helped improve conviction rates across African nations.
Among the most visible members of the community taking action against the illegal trade are court monitors but little is known about these driving forces behind some of the success that takes place inside the court rooms.
The Independent has spoken with two women at different stages of their frontline career to better understand what a day in the life of a court monitor really looks like.
What does a typical day look like for you?
Everyday is different, Harriet Njeri said over a three-way call with her colleague Faith Maina and The Independent.
The mother of one works in North central Kenya, monitoring and collecting data on all rhino horn, ivory and sandalwood cases taking place in courts near her.
She had previously worked as a litigation associate before arriving at Space for Giants offices in 2018 to work as a monitor.
"We are to be in court by 8:30am trying to liaise with the Kenyan Wildlife Services,  making sure the exhibits and the police files are brought to court and simply ensuring everything is in order before the trial.
"And if there are any issues that need to be addressed before trial we also look into them and maybe talk to the prosecutors before-hand," she said.
She added: "If there are witnesses we have to sit in and listen to their testimony and basically all days are different, some cases are quite challenging as we have a lot going on in them and we have to ensure we collect all the key details and then there are others which are quite straight forward."
As court monitors they are expected to spot any errors or weaknesses made in the court rooms and note them down or if possible correct them.
This ensures that criminals cannot get away with exploiting the judicial workers and the justice system.
Although Ms Njeri loves her work and the impact the organisation has made, she emphasised that the job is not always easy.
What are some of the challenges you experience as a court monitor?
Faith Maina who started working for the organisation when it first launched its court monitoring programme in July 2016 told The Independent that "some days are hard."
"Our challenges first stem from data collection when we go to the courts because this is where we might find uncooperative staff and registries where nobody is willing to retrieve the court files for you and you can not collect the data you need.
"Sometimes you really struggle to get that information," she said. 
Other challenges include the lack of space in rooms and registries which ultimately forces the monitors to stand while inputting data - leaving them tired before the day is done.
But the biggest challenge for the pair is the travel.
Ms Njeri and Ms Maina are the only court monitors working in Kenya for the organisation which means they must split the work-load between them - covering Nyahururu, Siakago, Gichugu, Embu courts rooms and others with some as far as four hours away.
"So some days can be really tough considering both Harriet and I are mothers with very young babies. You have to leave the house so early so you get to those court stations by 9am when the courts are starting which isn't easy.
"And then you have times when courts start so late like past the afternoon and they have a long cause list of about 30 matters and the Magistrate must handle all of these cases so we have to wait till late for our cases to be called out.  
"So we end up leaving those courts past hours because the magistrate is not in a hurry and we get home very late."
She added: "It's a great job with many rewards but of course like any other it does come with its own challenges especially as a team of two."
What are some of the success stories you've seen or experienced as a court monitor?
By 2018, Space for Giants had trained and mentored hundreds of prosecutors and monitored trials in 26 courts in three countries and four new court monitors were hired to work in Botswana.
By that year they had also monitored 51 cases across seven courts in Botswana and 59 cases in Kenya.
Ms Maina, said: "I'd first like to say that it's been a team effort. All the work that has been achieved by Space for Giants and all of us is because we worked collaboratively - from the Kenyan Wildlife Service, the Office of the Director of Public Prosecutions, the Judiciary to the National Police Service."
Asked what key differences she has noticed since she joined the programme 5 years ago, she said: "When we first started, we collected data on all the central courts in the country, we then started doing training through that data so we could find out what errors were being made in court files and using those as our point of training.
"We also trained the prosecutors on the new Acts - the 2014 Act that came with more strict penalties so they knew how to better present wildlife cases.
"So if we look at the cases before we started our court monitoring programme and then post 2016 there is a big improvement in the way the files are prepared, the way the evidence is collected and the way the cases are prosecuted.
"A general change has occurred in conviction patterns because we now have better and stronger cases and we know where our loopholes are so convictions started improving."
How will the new funding help?
Following The Independent's Wildlife campaign, highlighting the severity of the illegal wildlife trade, it was announced last week that Canadian business-woman and philanthropist, Julie-Anne Uggla, would be funding a new Space for Giants programme including hiring more court monitors.
The team will use Space for Giants' proven toolkits for justice reform to strengthen wildlife crime investigations, ensure adequate laws are put in place and that asset recovery and illicit finance investigations are used as part of the approach.
For Ms Maina, she hopes the extra funding will help ensure each court monitor is not over stretched and can share responsibilities.
She told The Independent that "if we hired more court monitors then on a daily basis, we would be able to pick a day we have a hearing in a different part of the country and another in a different area and split them up between us.
"We would then be able to ensure each of these cases are followed and are being monitored. It would allow us to work better I think."
Ms Njeri said: "If we get more funding we'll be able to get the first ever wildlife offenders database that can be shared with the prosecutors and the investigators and magistrates. So if someone has been charged we enter their name there so anyone can know.
"Prosecutors can have this information when they are doing their hearing so we don't have a person who has been charged here and they are walking free elsewhere.
"The funding would just allow us to expand all the work we've been doing and the Space for Giants team can help make more impact."
Join our commenting forum
Join thought-provoking conversations, follow other Independent readers and see their replies