American sign blown away by hurricane Sandy found washed up thousands of miles away in France
Sign described as "not in best shape after that crossing" by finder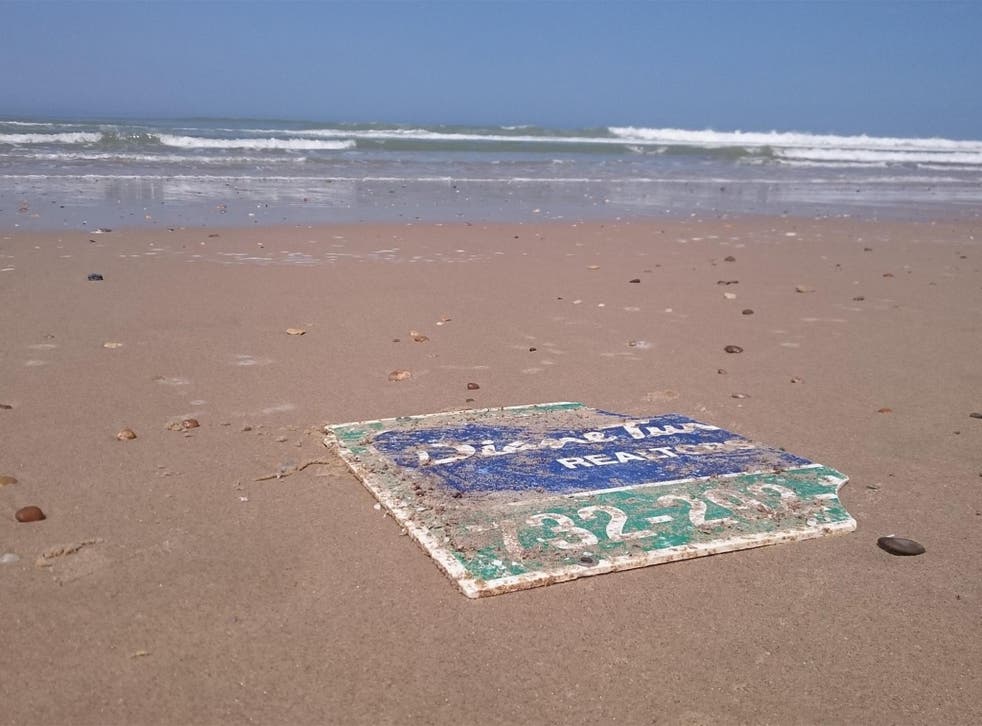 An estate agent's sign which was lost when the 2012 Hurricane Sandy hit New Jersey has washed ashore nearly 4,000 miles away on a French beach.
The sign, which belongs to New Jersey real estate agency Diane Turton Realtors had been at sea for more than five years before being found on Plage du Pin Sec near Bordeaux by 64-year-old Hannes Frank, who contacted the company to let them know about his discovery.
Mr Frank emailed the business, saying: "Just wanted to let you know that I found part of one of your signposts washed up on the beach near Bordeaux, France. Pictures available if wanted. Not in best shape after that crossing."
Perry Beneduce, who received the message from Mr Frank, told the New York Times he initially thought it was a 'prank'.
However Mr Beneduce was the manager of the agency's branch in Wall, New Jersey, and recalled a sign placed behind a house near an inlet which runs out to the Atlantic Ocean being unaccounted for after the storm.
"It was the only sign from that office that went missing," he said.
Oceanographer Curtis Ebbesmeyer told the New York Times the sign probably floated back and forth across the Atlantic three times before finally landing ashore.
World news in pictures

Show all 50
He said: "There is a great gyre of water that runs from New Jersey to northern Europe down to Spain and back to New Jersey and takes 3.3 years on average, and it takes about a year and a half to drift across the North Atlantic one way from New Jersey to France."
The real estate office now hopes to get the sign back to frame it as a memento.
Up to 233 people died when Hurricane Sandy tore a path through the Caribbean and America's east coast in 2012.
Before hitting New Jersey and New York the storm affected the Greater Antilles, the Bahamas and Bermuda.
Join our new commenting forum
Join thought-provoking conversations, follow other Independent readers and see their replies