Swedish prime minister lashes out after masked youth torch dozens of cars nationwide
Stefan Löfven said night of mayhem across Sweden was 'like a military operation'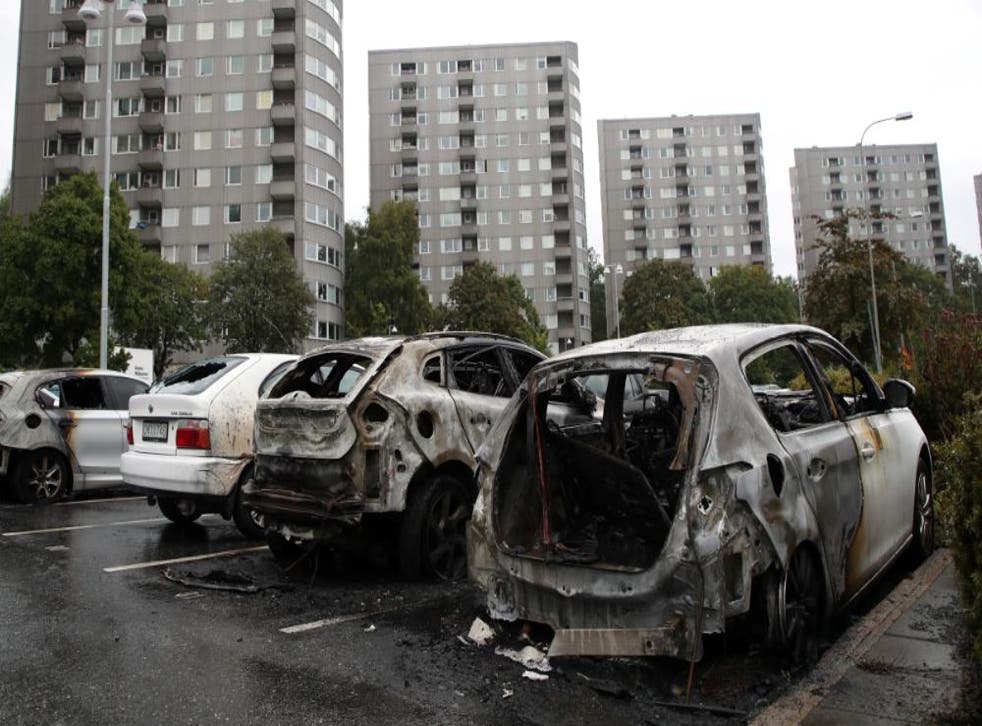 Swedish Prime Minster Stefan Lofven has voiced his anger after masked youths torched dozens of cars nationwide and attacked police in a night of mayhem.
The leader of the Scandinavian nation said he was "really getting mad" and vowed to come down hard on those responsible for what appeared to be an organised act of vandalism.
Around 80 vehicles were set alight by gangs clad in black, who broke car windows before pouring flammable liquids inside, the Swedish news agency TT said.
The majority of the cars targeted were in Sweden's second-largest city, Gothenburg, where police and fire services were alerted to the first blaze after 9pm, Photos posted by Swedish tabloid Aftonbladet showed hooligans torching cars in a parking lot.
Cars were also set ablaze in Stockholm, Trollhattan and Falkenberg to the south, as well as Malmo.
In Trollhatton, six cars were burned and the wayward vandals were also seen throwing stones at police officers.
According to police spokesman Hans Lippens, the fires started within a short period of time, and, he said: "We cannot exclude that there is a connection between the blazes".
Police said they had managed to identify several people believed to have been present at the scene of some of the fires.
Mr Lofven said the incidents, which occurred in cities up to 100km apart, appeared to be "very coordinated, almost like a military operation."
"I get pissed off for real," he said in an interview with Swedish radio, held ahead of upcoming 9 September election.
"Society will always act hard against this and we must continue to do so … We will do what needs to be done to take care of it and go in hard against this crime."
World news in pictures

Show all 50
Despite the damage to property, no injuries have been reported.
Addressing the culprits directly, Mr Lofven asked them: "What the hell are you doing?
"You destroy it for yourself. You destroy it for your parents, you destroy it for entire neighbourhoods, for your neighbours, and society must respond very hard."
Addition reporting from Associated Press
Join our new commenting forum
Join thought-provoking conversations, follow other Independent readers and see their replies