Sweden sword attack: 'Two dead' as police shoot masked sword-wielding man near school
Two students and a teacher are undergoing surgery following the attack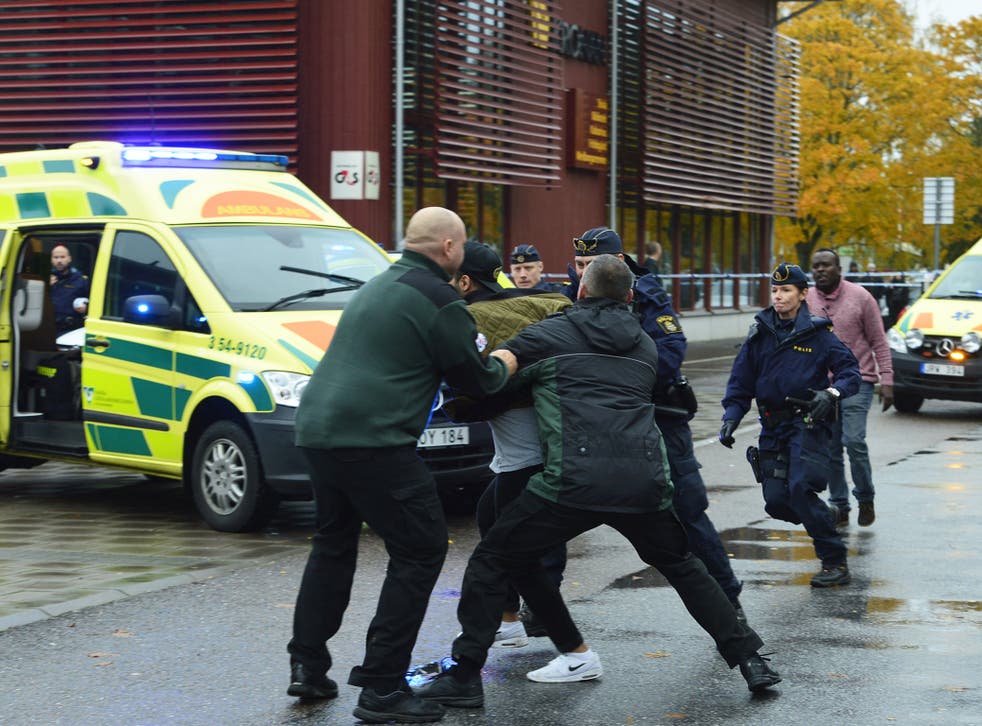 A child and a teacher have reportedly died and three others are injured after a masked man with a sword attacked a school in Trollhättan, Sweden.
Swedish police confirmed that a teacher and a student died after being attacked by the masked man.
Two students, aged 11 and 15, suffered serious wounds and are undergoing surgery.
Sword attack at Swedish school
Officials say the attaker, who was shot by police and identified as a local man in his 20s, has died.
A teacher is also being treated at hospital.
Students said they locked themselves in classrooms and cupboards to escape the attacker.
Some reports say the students initially thought the attacker was wearing a Star Wars mask and that it was a prank.
"When we first saw him, we thought it was a joke. He was wearing a mask and black clothes and [carrying] a long sword.
In pictures: Sweden school attack

Show all 5
"Some students warned to take their picture with him and feel the sword," a student told local media.
An eyewitness told The Local: "One of my classmates' sisters called her to warn her that there was a murderer at the school. So we locked the door to the classroom, but our teacher was still outside in the corridor.
"We wanted to warn him, so a few of us went outside and then I saw the murderer, he was wearing a mask and had a sword. Our teacher got stabbed.
"The murderer started chasing me, I ran into another classroom. If I had not run, I would have been murdered."
Register for free to continue reading
Registration is a free and easy way to support our truly independent journalism
By registering, you will also enjoy limited access to Premium articles, exclusive newsletters, commenting, and virtual events with our leading journalists
Already have an account? sign in
Register for free to continue reading
Registration is a free and easy way to support our truly independent journalism
By registering, you will also enjoy limited access to Premium articles, exclusive newsletters, commenting, and virtual events with our leading journalists
Already have an account? sign in
Join our new commenting forum
Join thought-provoking conversations, follow other Independent readers and see their replies