Taiwan earthquake: Woman found under body of dead husband as probe launched into collapsed building made of tin cans
 More than 100 people are believed to still be buried underneath the rubble of the high-rise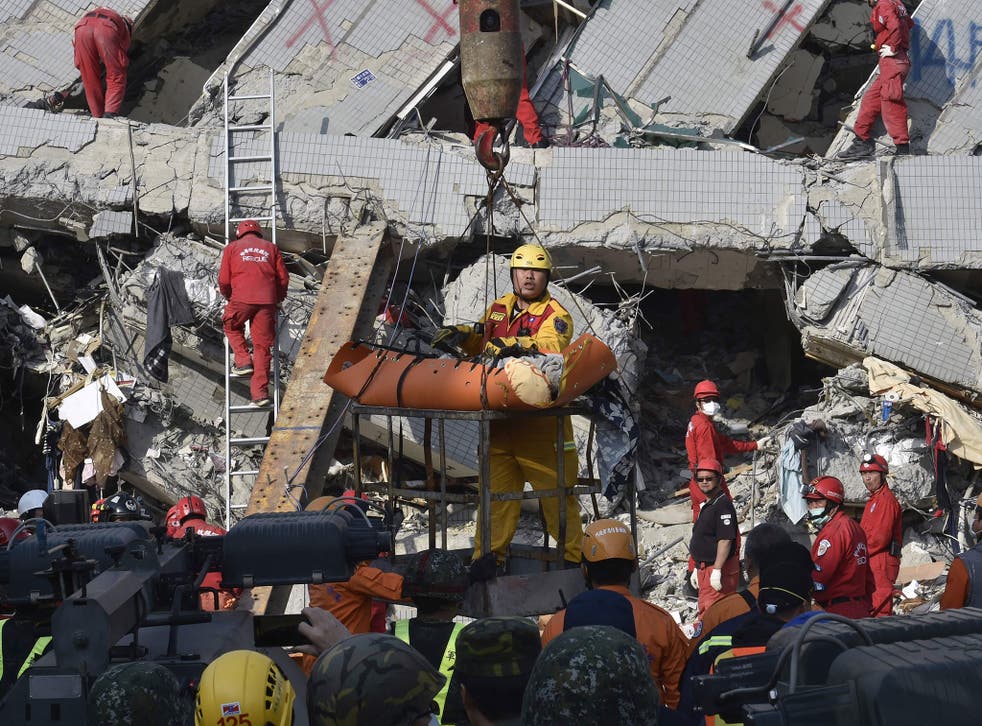 Taiwan's Government has ordered an investigation into the collapse of a high-rise building in an earthquake after it emerged tin cans had been used in its construction.
Rescue workers found the cans as they searched for survivors two days after the 6.4-magnitude earthquake that has killed at least 37 people.
It emerged as two more people – one found shielded under the body of her dead husband – were pulled from the rubble. Tsao Wei-Ling called out "here I am" as rescuers dug to find her.
Lee Tsung-tien, 42, a male survivor, was also pulled out unconscious of the sixth-floor section of the collapsed building.
Two more people showed signs of life but had not yet been pulled from the wreckage. A 28-year-old migrant worker and an eight-year-old girl were both said to be conscious but trapped on the fifth floor of the building.
More than 100 people are believed to still be buried underneath the high-rise building which claimed most of the victims in the city. Officials said the blue cans used in the construction of the collapsed building seemed to have been used as construction filler in beams.
The government has promised to launch a probe into the construction method, and Tainan mayor Lai Ching-te also promised to investigate the disaster.
However, an engineer speaking to Taiwanese TV news channel CNA explained how using cans in construction was not necessarily illegal: "For such purposes in construction, it was not illegal prior to September 1999, but since then styrofoam and formwork boards have been used instead."
More than 170 people had been rescued from the 17-storey building, the government announced. Of the 37 dead, 35 were inside the high-rise. A 15-year-old survivor told EBC television how the collapsed building looked like an accordion.
"It was all topsy-turvy," he said.
"You couldn't even tell where the ceiling was."
Survivors pulled from Taiwan earthquake wreckage

Show all 10
Chen Fu-Yuan, the chaiman of a Tainan engineer's association, speaking to CNN, said he believed the building may have collapsed because its foundations were built on loose earth or the construction materials were not of sufficient quality to support 17 floors.
The investigation into the collapsed building will start once the rescue operation has concluded.
Register for free to continue reading
Registration is a free and easy way to support our truly independent journalism
By registering, you will also enjoy limited access to Premium articles, exclusive newsletters, commenting, and virtual events with our leading journalists
Already have an account? sign in
Register for free to continue reading
Registration is a free and easy way to support our truly independent journalism
By registering, you will also enjoy limited access to Premium articles, exclusive newsletters, commenting, and virtual events with our leading journalists
Already have an account? sign in
Join our new commenting forum
Join thought-provoking conversations, follow other Independent readers and see their replies