Trump abandons 'invaluable brake on nuclear war' as US withdraws from Cold War weapons treaty with Russia
End of the INF treaty 'will likely heighten, not reduce, the threat posed by ballistic missiles,' says UN chief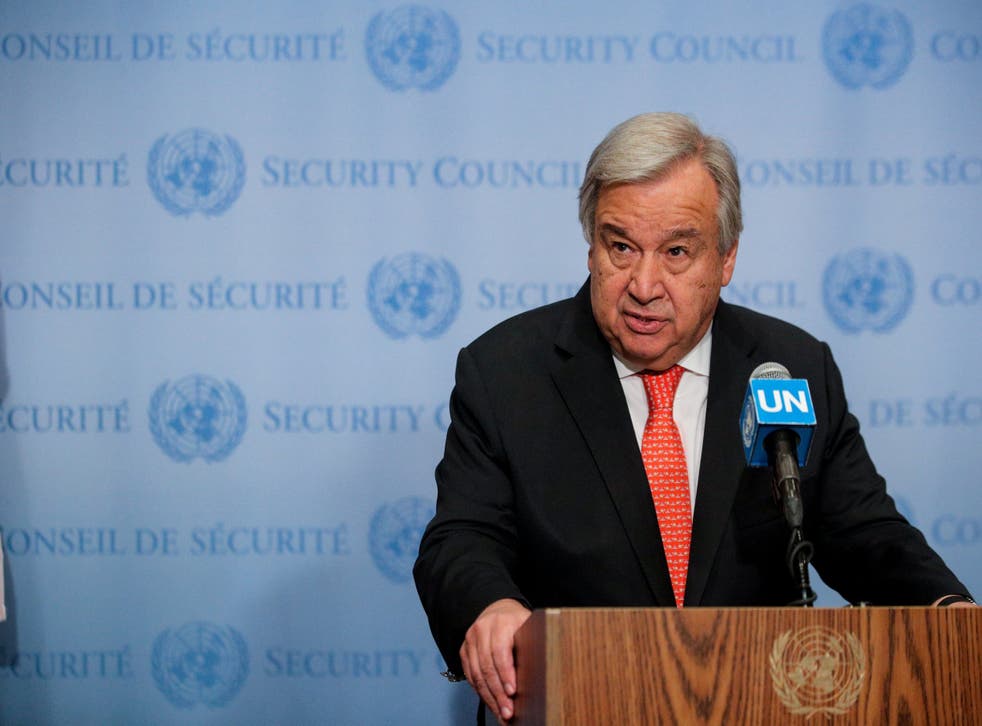 UN secretary-general Antonio Guterres says that "the world will lose an invaluable brake on nuclear war" as a landmark treaty between Moscow and Washington expired on Friday.
In February, the US began withdrawing from the 1987 Intermediate-Range Nuclear Forces treaty, which bans land-based, medium-range missiles in Europe, accusing Russia of developing missiles that do not comply with the pact.
It gave Russia until Friday to destroy those missiles, but Russia has denied any violation of the treaty. In July, President Vladimir Putin, issued his own edict to withdraw Russia from the provisions of the treaty.
Now, as the treaty expired with no resolution, the UN chief has urged the two nations "to avoid destabilizing developments" and agree on a new arms control path.
He also said they should extend another treaty, the new Strategic Arms Reduction Treaty (New Start), which is the last major US-Russia arms control pact and expires in 2021.
That bilateral treaty is an extension of the the original Start treaty, first signed between the United States and Russia on 31 July, 1991.
World news in pictures

Show all 50
On the INF treaty that expired on Friday, Mr Guterres described it as "a landmark agreement that helped stabilise Europe and end the Cold War.
Its end "will likely heighten, not reduce, the threat posed by ballistic missiles," he added.
In a statement, NATO said it had agreed ways to "deter" Russia from launching a new medium-range missile capable of a nuclear strike on Europe.
"Russia bears sole responsibility for the demise of the [INF] treaty," the NATO allies said.
The US-led alliance said Russia had breached the terms of the 1987 treaty by developing the the nuclear-capable Novator 9M729 cruise missile.
British foreign secretary Dominic Raab said the United Kingdom fully supported NATO's position.
"Russia has caused the INF Treaty to collapse by secretly developing and deploying a treaty-violating missile system which can target Europe's capitals," Raab said on Twitter.
"Their contempt for the rules-based international system threatens European security."
Washington is only considering conventional, not nuclear weapons, in any possible response, NATO diplomats insisted.
"NATO will respond in a measured and responsible way to the significant risks posed by the Russian 9M729 missile ... We have agreed a balanced, coordinated and defensive package of measures," they said.
NATO was also also "considering" more flights over Europe by U.S. nuclear-capable warplanes, more military training and the repositioning of U.S. sea-based missiles.
Within the next few weeks, the United States is also expected to test a ground-launched cruise missile. In November, the Pentagon will aim to test an intermediate-range ballistic missile.
NATO secretary-general Jens Stoltenberg told a news conference on Friday there would be "no rash moves" by the alliance and it "would not mirror what Russia does".
"We don't want a new arms race," he said.
Additional reporting by AP and Reuters
Join our new commenting forum
Join thought-provoking conversations, follow other Independent readers and see their replies