Tensions erupt between former allies as Mikheil Saakashvili challenges Petro Poroshenko for Ukrainian presidency
The pair fell out after Saakashvili started began scrutinising people close to the President  
Kim Sengupta
Kiev
Sunday 17 September 2017 16:28 Comments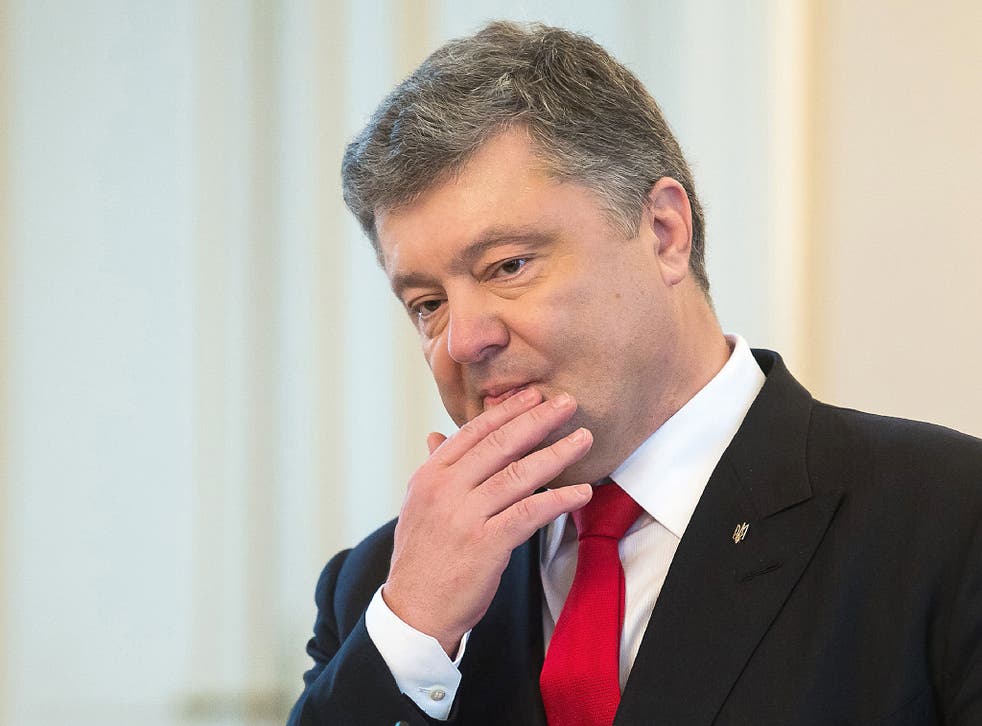 The Russians were carrying out massive war games across the border. International statesman had gathered for a conference in Kiev in which Ukraine's President Petro Poroshenko warned of a possible attack by Moscow. And, at the same time, in the background, another somewhat extraordinary invasion of the country was under way.
Mikheil Saakashvili, a fugitive from corruption charges in his native Georgia, of which he was once President, is holed up in western Ukraine after forcing his way in from Poland, and threatening a march on Kiev.
His original plan was to arrive in the capital this week while Poroshenko was in New York at the opening of the UN general assembly. But today Saakashvili, who has aspiration to the Ukrainian presidency, changed strategy and declared that he would be drumming up support across the country before descending on the capital next month.
This came after he had received an unexpected boost from, of all places, the prosecutor-general, Yuriy Lutsenko, who announced that the former Georgian leader would not be arrested whatever the wishes of President Poroshenko and was free to go wherever he chose.
This is the latest twist in a tale which is quite remarkable even by the often chaotic standards of Ukraine politics in the aftermath of the revolution four years ago and the civil war that followed. And, unsurprisingly for this country, the issue of corruption is a common theme.
Saakashvili, once the West's poster boy among the leaders of the former Soviet empire, was a valued ally of Poroshenko. The President gave him Ukrainian citizenship and appointed him governor of the Odessa region, lauding him as the man to lead the battle against the endemic corruption that continues to plague the country. He made enemies rapidly, among them the country's powerful interior minister, Arsen Avakov, who, in keeping with the robust form of public debate here, threw a glass of water over the former leader of Georgia after calling him "nothing but a circus act" in a less than friendly encounter.
Saakashvili then fell out with his benefactor, Poroshenko, claiming that the friction began after he began to scrutinise people close to the President. He resigned as Odessa governor after a spate of bitter mutual abuse and Poroshenko stripped him off his Ukrainian citizenship, rendering him stateless.
Saakashvili left Ukraine, vowing to return. And, to general surprise, he did so, arriving from Poland with a phalanx of supporters, some of them former bodyguards from Georgia, who brushed aside border guards who has been reinforced to block entry. A few days later he appeared in the city of Lviv with Yulia Tymoshenko, the golden braided former Prime Minister who was once imprisoned for alleged corruption, to denounce Poroshenko.
Government officials had been repeatedly asserting that Saakashvili would get his comeuppance with arrest and deportation to Georgia. But speaking at the Yalta European Strategy conference in Kiev on Saturday, Lutsenko announced that there will be no charges.
The prosecutor general, who had been himself jailed in the past on charges of embezzlement and abuse of office, said: "Saakashvili will not be arrested in this case, Saakashvili cannot be extradited from this country while he has a residence permit or other document that he has filed." He refused to give details of these documents which apparently provide such immunity.
Poroshenko will rail against supposed Russian aggression while at the United Nations and press the Trump administration for offensive heavy weaponry. Saakashvili's demise in Georgia began with the ill-fated war with Russia nine years ago. Vladimir Putin, who is said to loathe both the men, will no doubt be viewing what is taking place in Ukraine with some satisfaction.
Register for free to continue reading
Registration is a free and easy way to support our truly independent journalism
By registering, you will also enjoy limited access to Premium articles, exclusive newsletters, commenting, and virtual events with our leading journalists
Already have an account? sign in
Join our new commenting forum
Join thought-provoking conversations, follow other Independent readers and see their replies