Bernie Sanders wins Wyoming extending his winning streak against Hillary Clinton
Margin of victory is narrower than expected, but Ms Clinton's overall delegate lead is barely dented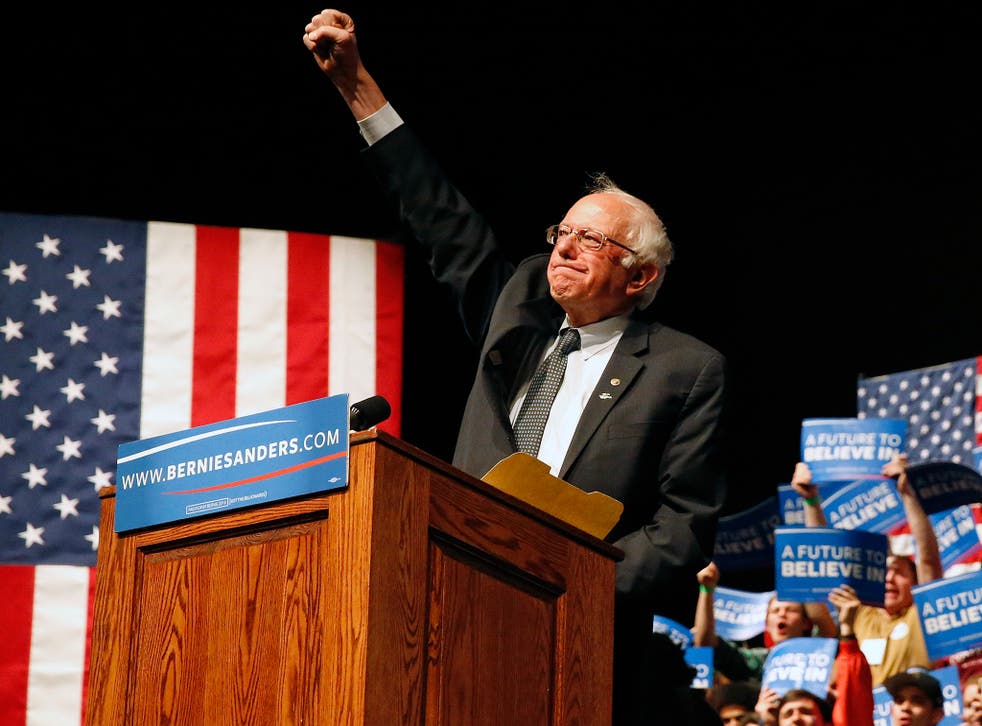 Senator Bernie Sanders just can't stop winning. Except he's still losing.
The latest state to show the Senator its love: Wyoming. After Democrats streamed into caucus meetings all across the state on Saturday – from Jackson Hole, to Gillette and Laramie – the numbers began to tell a familiar story. The wild-haired 74-year-old who calls himself a democratic socialist had prevailed once more, moving past the supposed frontrunner, Hillary Clinton, if not quite trampling her.
Team Sanders had reason for celebration. It can now boast of chalking up wins in eight of the last nine nominating contests, among them some key states like Wisconsin and Michigan. They will again say it demonstrates the shallowness of Ms Clinton's appeal and her shortcomings as a national candidate.
And yet. While the Associated Press and the US networks projected Mr Sanders the winner, early returns suggested his margin of victory would be barely in double digits, narrower than many had expected. That means that rather than taking all, or nearly all, of the fairly paltry haul of delegates offered by the state – just 14 – he may end up virtually splitting them with the former First Lady.
Mr Sanders will thus have lost the chance to make any fresh inroads into Ms Clinton's daunting 214-delegate lead, built up mostly in the early going of the primary season, when she crushed the senator in states with big African-American and Hispanic communities.
The former Secretary of State never in fact campaigned in the cowboy state – she sent her husband, former President Bill Clinton, to meet supporters there on her behalf - preferring to spend her time in New York, a far bigger prize, which will hold primary elections on 19 April. Brooklyn, where the Clinton campaign has its headquarters, has five times as many potential voters as all of Wyoming.
The American West is also the focus for the Republicans this weekend. In Colorado, Senator Ted Cruz was set to bring about 13 delegates into his column, in addition to 21 delegates awarded to him last week. These are potentially crucial gains as the senator tries to block Donald Trump from reaching the magic number of 1,237 delegates needed to automatically lock up the GOP nomination.
The Cruz campaign was able to build numbers in Colorado in part because of playing a more sophisticated ground game. The Trump campaign fired its Colorado state director last weekend and only found a replacement on Wednesday, far too late to mount a comeback against Mr Cruz.
For his part, Mr Trump spent a part of Saturday visiting Ground Zero in Manhattan, the site of the 9/11 attacks, in an effort to remind voters of Mr Cruz's remarks several weeks ago casting aspersions on so-called 'New York values'. Mr Trump cited the courage of New Yorkers post 9/11 in hopes the comments would boomerang on the Texas Senator.
Sanders supporters remain frustrated that even with his recent gains, he still seems unable to bite deeply enough into Ms Clinton's delegate lead, which is made even wider still if you add all the so-called 'super-delegates' - usually party officials from the various states - to her tally.
"Senator Sanders won these recent contests by large and impressive margins," Jeff Weaver, the Sanders campaign manager, said as the Wyoming caucuses got under way. "As a result, we have cut Secretary Clinton's delegate lead by 101 since March 15, which amounts to one-third of her then-total margin. That dramatic gain leaves us only 214 delegates behind - a margin we can and fully intend to surpass."
Register for free to continue reading
Registration is a free and easy way to support our truly independent journalism
By registering, you will also enjoy limited access to Premium articles, exclusive newsletters, commenting, and virtual events with our leading journalists
Already have an account? sign in
Register for free to continue reading
Registration is a free and easy way to support our truly independent journalism
By registering, you will also enjoy limited access to Premium articles, exclusive newsletters, commenting, and virtual events with our leading journalists
Already have an account? sign in
Join our new commenting forum
Join thought-provoking conversations, follow other Independent readers and see their replies