US army tanks arrive in Poland as Russia starts military drills on country's border
Armoured vehicles arrived for 'military rotation' as America's former Cold War enemy begins the 'Zapad' war games with its ally Belarus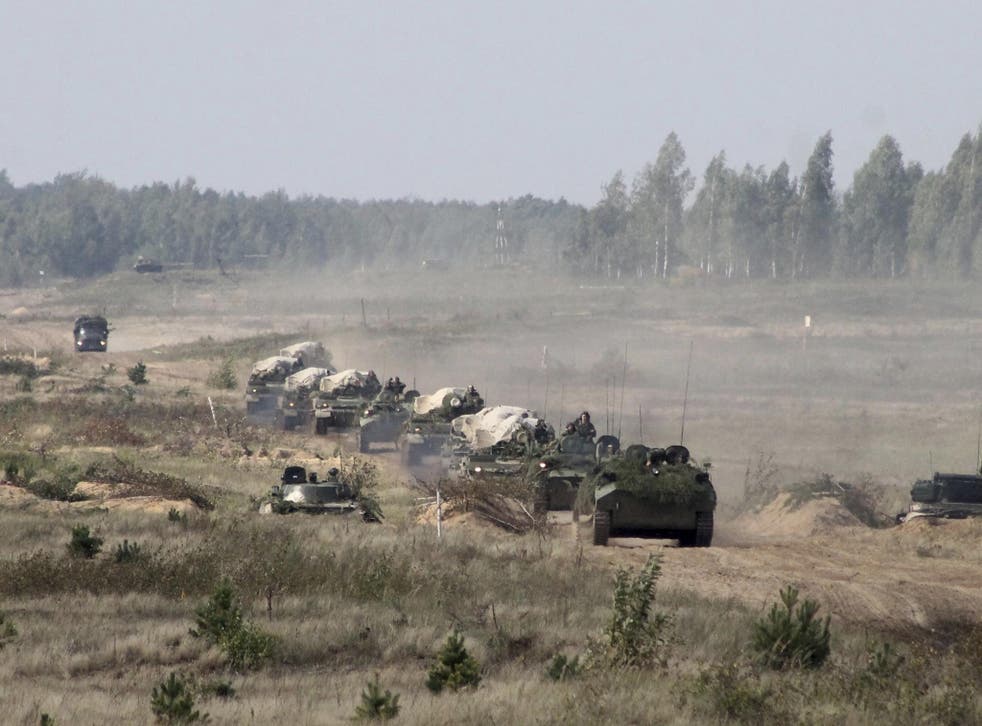 US tanks have arrived in Poland at the same time as Russia began military exercises on its western border, in what critics have dubbed "big war games".
Although the US hardware is there for a swap rather than action, it is the first time such vehicles have arrived in Poland directly by sea.
The rotation took place as America's former Cold War enemy began week-long military drills, called Zapad 2017. They are joint exercises with its ally and former Soviet Union state Belarus.
Soldiers and equipment from the second Armoured Brigade Combat Team, first Infantry Division from Fort Riley, Kansas, are replacing the third Armoured Brigade Combat Team, fourth Infantry Division that has been in Europe for nine months.
The replacement is part of what the US military calls a continuing "heel-to-toe" rotation to maintain an American armoured brigade in Europe.
The delivery reportedly includes 87 M1 Abrams tanks, 103 Bradley Fighting Vehicles, 18 Paladin self-propelled Howitzers, and other trucks and equipment, according to the US European Command (EUCOM).
Such tanks are typically shipped to Germany from Poland and then taken by rail or truck to their next location
Major General Steven Shapiro of the 21st Theatre Sustainment Command said using the Polish port of Gdansk "helps test the Army's capacity of the port, and to make sure that the Army knows how to operate inside Poland."
According to Russia, the drills by its forces involve fewer than 12,000 troops, just below the threshold that would require them to invite international observers.
The US and NATO dispute this, however, and claim the drills could involve as many as 100,000 troops, making it one of the largest Russian exercises since the Cold War.
Russian military activity in Crimea

Show all 11
The military exercises have caused jitters in some quarters over Moscow's recent military adventures, including in Ukraine, and recent tensions with the West.
The drills cover a vast area from the western borders of Russia and Belarus up into the Arctic and will see the two country's forces fake a battle.
The exercises, described as a variant of Soviet drills from the 1970s, were revived on a large scale by President Vladimir Putin in 2009. Since then, they take place every four years and have been viewed as relatively routine.
But perspectives have shifted since Russia's covert annexation of Crimea in 2014,which took place under the initial guise of a military drill.
"People are worried this is a Trojan horse," said US Army Lt General Ben Hodges, the commander of Army forces in Europe. "They say, 'We're just doing an exercise,' and then all of a sudden, they've moved all these people and capabilities somewhere."
Lt Gen Hodges and other US and European officials have stressed that the current exercises are most likely just drills.
War games are frequently conducted around the world, including by the US, which this summer helped lead a NATO exercise involving 25,000 troops in Eastern Europe that practicing for a Russian attack. Moscow criticized those exercises as a threat.
Register for free to continue reading
Registration is a free and easy way to support our truly independent journalism
By registering, you will also enjoy limited access to Premium articles, exclusive newsletters, commenting, and virtual events with our leading journalists
Already have an account? sign in
Register for free to continue reading
Registration is a free and easy way to support our truly independent journalism
By registering, you will also enjoy limited access to Premium articles, exclusive newsletters, commenting, and virtual events with our leading journalists
Already have an account? sign in
Join our new commenting forum
Join thought-provoking conversations, follow other Independent readers and see their replies