Attacks on children in war zones almost triple since 2010
Some 45 violations – including killings, maiming and sexual violence – carried out against youngsters every single day over last 10 years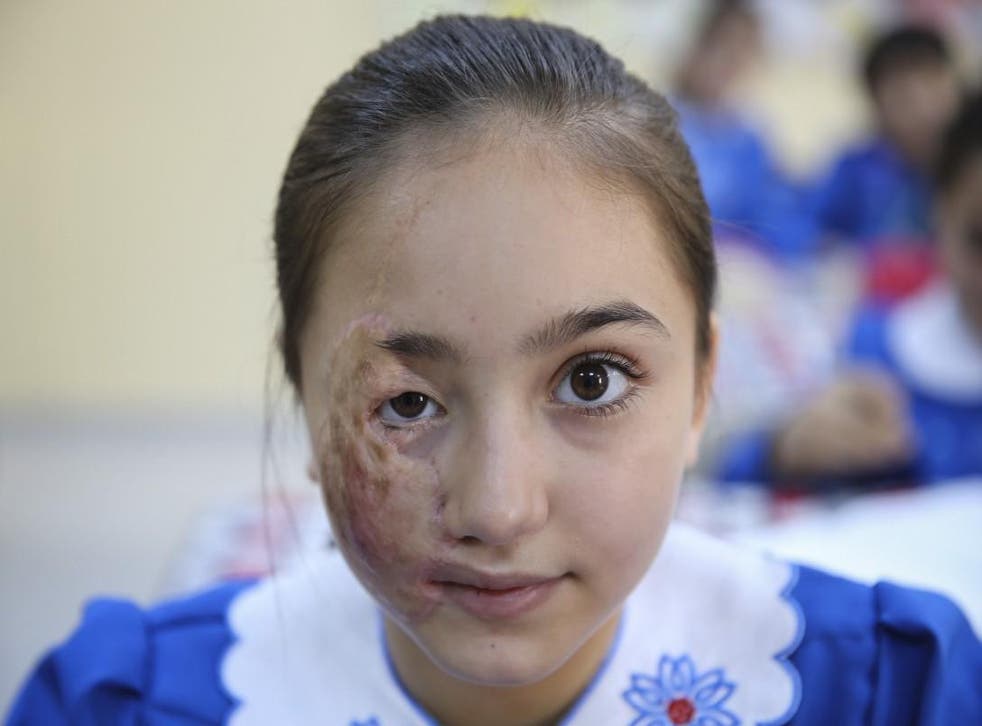 Attacks on children forced to live in conflict zones have almost tripled over the last decade, the United Nations has said.
Some 170,000 violations against youngsters – including killing, maiming, sexual violence and child recruitment – have been verified since 2010, Unicef reports.
The figure amounts to the equivalent of 45 abuses every single day for 10 years.
But even that may be just the tip of the iceberg, it is said: many thousands more attacks are thought to have gone unreported.
"Conflicts around the world are lasting longer, causing more bloodshed and claiming more young lives," Henrietta Fore, executive director of Unicef, said. "Attacks on children continue unabated as warring parties flout one of the most basic rules of war: the protection of children."
World news in pictures

Show all 50
In 2018, the last year for which full figures are available, the UN verified more than 24,000 violations – almost three times higher than the corresponding figure collated in 2010.
Children in Syria, Yemen and Afghanistan have been particularly at risk, Ms Fore added. But despicable attacks have also happened in Nigeria, where teenagers were used as suicide bombers, and in Myanmar where Muslim children in Rakhine State were reported to have been killed by government soldiers.
Airstrikes against schools and the use of youngsters as human shields has also added to the tally.
The shock figure comes as new analysis also revealed an estimated 6.9 million children across Europe and Asia are currently facing winter in temporary shelters, having been displaced by war.
That includes 2.5 million youngsters who have fled Syria and 300,000 who have left homes in eastern Ukraine, says Save The Children, which compiled the figure.
The charity identified 12 countries struggling with high numbers of these displaced youngsters where temperatures regularly hit freezing at this time of year.
Many such children, it said, are facing a fight for survival as they live in camps, squat in disused buildings or are housed in bare containers.
Rachael Cummings, director of humanitarian public health at the organisation, said: "Millions have escaped vicious conflict or turmoil in search of safety. Yet for some the bitter winter could be as dangerous as the threats they left behind.
"Last winter in a matter of weeks freezing temperatures and harsh conditions in Syria killed 15 children who had fled conflict. Sometimes canvas or plastic sheeting just millimetres thick, or crumbling walls of abandoned buildings, are all that separate shivering, exhausted children from the elements as temperatures plummet."
Register for free to continue reading
Registration is a free and easy way to support our truly independent journalism
By registering, you will also enjoy limited access to Premium articles, exclusive newsletters, commenting, and virtual events with our leading journalists
Already have an account? sign in
Register for free to continue reading
Registration is a free and easy way to support our truly independent journalism
By registering, you will also enjoy limited access to Premium articles, exclusive newsletters, commenting, and virtual events with our leading journalists
Already have an account? sign in
Join our new commenting forum
Join thought-provoking conversations, follow other Independent readers and see their replies