Battle of Waterloo bicentenary: Scots Greys to charge again in re-enactment to mark anniversary of Napoleon's final defeat
Two centuries after the battle in Belgium, one of Britain's most famous regiments is reforming
David Ryan
Sunday 01 February 2015 01:00 Comments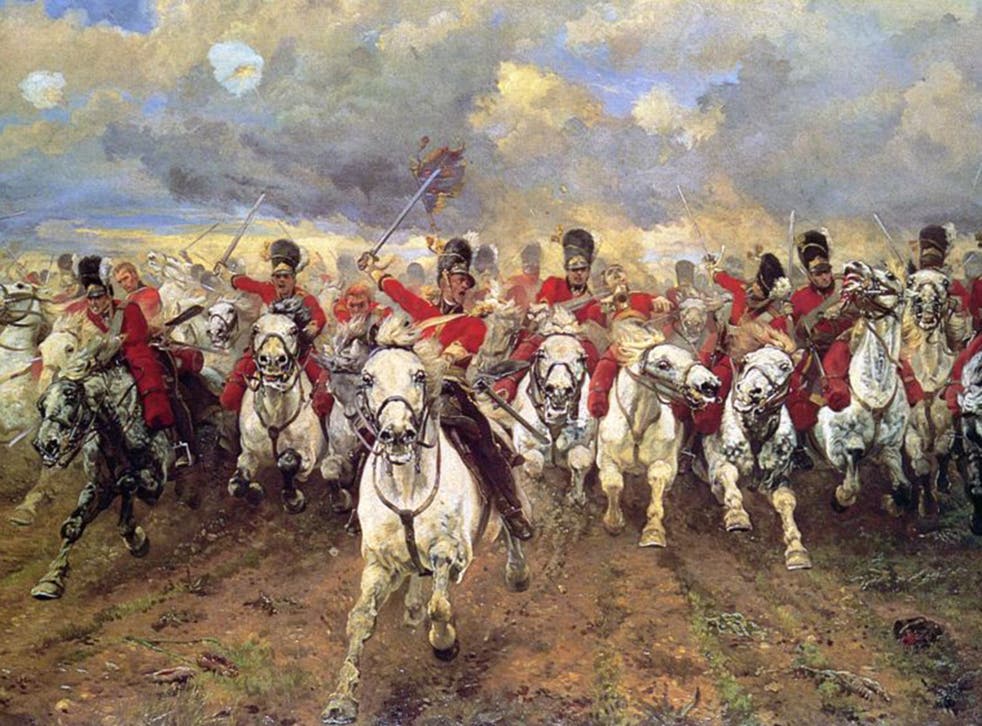 The depiction of their charge at the Battle of Waterloo in 1815 is one of the most famous images from the whole engagement. Now, 200 years on, the Royal Scots Greys may be set to ride again.
Plans are under way for a major re-enactment to mark the bicentenary of French Emperor Napoleon's final defeat at the actual battle site in Belgium this summer. Their famous charge – which was carried out at more of a trot in reality – was immortalised in Lady Elizabeth Butler's 1881 painting Scotland Forever!, as well as the epic 1970 film starring Rod Steiger as Napoleon and Christopher Plummer as Wellington.
More than 5,000 living-history re-enactors, including 4,500 infantry, 300 cavalry and 100 cannon will come together from across Europe, North America and even Australia, to commemorate the battle near Brussels this June, cheered on by some 250,000 people, together with millions more watching on television.
The Greys & Glory campaign, if it can raise £140,000, is determined that the Scots Greys will be there to relive the day they halted a French column of 20,000 men and captured an Imperial Eagle standard, one of only two seized on the day – only, this time, Napoleon will be played by French lawyer Frank Sampson, 47.
Project organisers are hoping to field between 20 and 30 Scots Greys troopers in full kit and uniform and mounted on the grey steeds from which the regiment took its name. With the cost estimated at £7,000 for each fully kitted trooper, they are also hoping to raise additional funds for ABF, The Soldiers' Charity, and Scotty's Little Soldiers, which helps children of fallen soldiers.
Jonathan Findlay, the campaign's European project manager and a former captain in the Royal Scots Dragoon Guards, the regiment into which the Greys amalgamated in 1971, has a special interest in seeing the Greys charge again: "I have a relative on my mother's side, James Wemyss, who was a Greys officer at Waterloo. The Greys probably made about five charges at Waterloo and, by the end of the day, only about one in 16, including my ancestor, were still in the saddle."
In a letter home, Wemyss wrote afterwards: "My Dear Sister, I am happy to inform you that we have had a famous battle and licked the enemy heartily – I am one of six officers only that remained upon the field to the last and am happy to say unhurt, although I have had two horses shot under me and balls about several parts of my dress. Our Regiment has suffered very severely. We have only about twenty-six men, including officers, remaining on the field."
Register for free to continue reading
Registration is a free and easy way to support our truly independent journalism
By registering, you will also enjoy limited access to Premium articles, exclusive newsletters, commenting, and virtual events with our leading journalists
Already have an account? sign in
Join our new commenting forum
Join thought-provoking conversations, follow other Independent readers and see their replies