A History of the First World War in 100 Moments: Carnage in the Carpathians - 'I thought he was dead. I was stepping over him when I felt a tug at my cloak ...'
Novelist and poet Hans Carossa on being a German medical officer during the defeat of the Romanians at Turnu Rosu Pass
Hans Carossa
Saturday 31 May 2014 23:44 Comments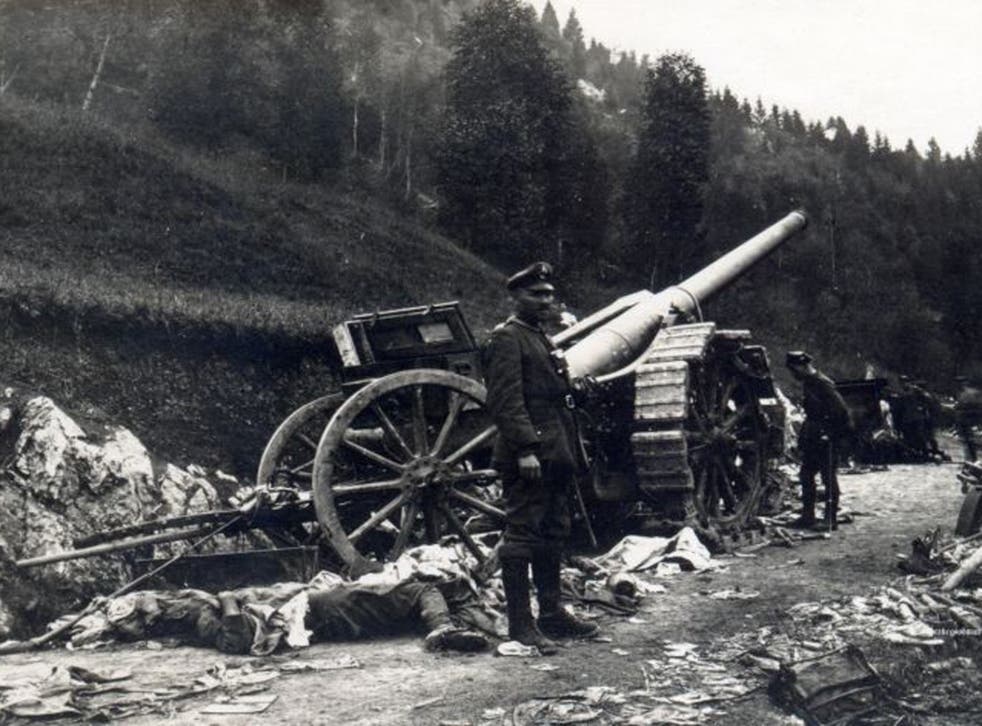 'Our road was now continuously uphill. The adjutant said it was only about 10 miles to the trenches, but we heard no firing. The pine trees became sparser, and juniper, rich with violet-green berries, grew luxuriantly among the crags. We came upon rows of graves which from the inscriptions could only have been five days old. Carp, a Romanian lieutenant, was the name on one of the wooden crosses. Towards two o'clock we traversed a bare hollow streaked with mist, and saw a terrible and bewildering spectacle.
Where a solitary house in the middle had been burned down, the embers were still smoking. The blackened walls were still standing, and one could see that they had been of the usual blue; but nothing was left of the roof save its charred ribs.
Behind a wooden shed untouched by the fire lay two graves without crosses but decked with juniper; and a tall, very old woman, naked to the waist, with Magyar features, her grey hair wild and filthy, glided round and round the two hummocks talking confidentially to an invisible something. As we came nearer she drew herself up and made a forbidding gesture with her hand as if to warn us from the place. Then she suddenly turned away and wrung her hands towards the east with a piercing wail.
In pictures: A history of the First World War in 100 moments

Show all 149
Trusting to his smattering of Hungarian, Lieutenant F tried to speak to her, but she bent down, gathered a handful of earth from the nearest grave and flung it at him, more as an exorcism and a warning than as a hostile act. Half in vexation, half in horror, Lieutenant F started back and returned to the column. None of the other officers or men halted. They did, indeed, wonder aloud what could have happened to the old woman; but most of them felt that here a tragedy had taken place which no facile sympathy could alleviate, and went on marching silently into the mists which soon blotted out the terrible grandeur of the scene.
The mountain we climbed was a mountain of blindness and death. From the eastern slope, where the battle was not yet decided, wild cries rang through the rattle of the musketry; and up here, in the position we had captured, the enemy were wreaking their vengeance on the conquerors. Like a swarm of hornets the shells dashed against the rocks, tearing the flesh from the limbs of the living and the dead. Sometimes German wounded called to us, sometimes Romanian, who were now being mutilated for a second time by the fire of their comrades.
Some of them suffered in silence; others twisted like wounded snakes. Through the zone of death we saw Germans lightly wounded descending the mountain, a few white and shaken, but others walking jauntily, dressed up as if for a fancy-dress ball in the gay-coloured belts, jackets and military decorations of their dead enemies.
One had brought back a gramophone with him from the Romanian lines; now an idea suddenly struck him, he placed it on a stone and set it going, the page in "Figaro" began to sing, and like the voice of a mad soul, Mozart's music rose in a world of ruin. The despatch orderly, Glavina, was leaning against a granite block near the commander's dug-out; he was still breathing, but on his face was already the prescient look of the dead. We could see no trace of blood. Fighting down our sorrow and apprehension, we searched for the wound and found at last a tiny splinter driven into the nape of the neck. Soon his breathing ceased. A few closely written sheets of paper, which must have fallen out of his pocket, I took with me to hand over to the adjutant; but I noticed on the way back that they did not contain anything official, so I kept them beside me for the time being. We told the major that the Bosnian stretcher-bearers who had been arranged for had not yet come; he promised to communicate with the division and sent us back to Hallesul.
Meanwhile, the sky had darkened; snow began to fall. A flowing, white veil shut off the guns from the targets they were firing at; one after another they fell silent, and we descended almost in safety. A Romanian stretched between two birch trunks lay across my path; I thought he was dead and was stepping over him, when I heard a groan and felt a feeble ... tug at my cloak.
Turning round, I looked down on the dying face of a man of about 30; his eyes were closed, his mouth terribly twisted with pain. His fingers still clutched fast the hem of my cloak. Through a grey cape which covered his breast a slight vapour was rising. R threw it back; under his torn ribs, his lungs and heart lay exposed, the heart beating sluggishly. A number of silver and copper medals of saints, which he had been wearing on a black ribbon round his neck, were driven deep into his flesh, some of them much bent. We covered him up again. The man half-opened his eyes, his lips moved. Simply for the sake of doing something I filled my morphia syringe, and then I saw that this was what he seemed to want: he pushed the cloak aside and tried to stretch out his arm to me in readiness – behaviour hard to account for in a man already almost dead! But perhaps there is an infinitely poignant anguish which a man conscious of approaching death desires to be rid of at any price, because it holds him fast to life in burning pain and hinders a free and clean parting: who knows? After the injection he laid his head back against the birch almost in comfort and closed his eyes, in whose deep sockets large snowflakes were already beginning to fall.
At daybreak rifle-firing, which soon fell silent. After sunrise the overcast sky cleared; one could see behind a transparent veil of cloud the waning moon like an embryonic golden shape.
The stretcher-bearers have come, and in relays all the wounded are being carried away. Pirkl must remain here; his pulse is almost imperceptible and he would most probably reach Oitoz as a corpse. His brother had obtained an hour's leave to visit him.
As Pirkl cannot speak any longer his brother is employing his time in digging a grave for the still living man, and carving a cross, on which he is very carefully printing in blue pencil the name of the fallen ….
Originally published in "A Romanian Diary", by Hans Carossa (Martin Secker, 1929). © Eva Kampmann-Carossa
Tomorrow: The last night of leave.
The '100 Moments' already published can be seen at: independent.co.uk/greatwar
Register for free to continue reading
Registration is a free and easy way to support our truly independent journalism
By registering, you will also enjoy limited access to Premium articles, exclusive newsletters, commenting, and virtual events with our leading journalists
Already have an account? sign in
Join our new commenting forum
Join thought-provoking conversations, follow other Independent readers and see their replies