A History of the First World War in 100 Moments: 'Dearest Win, I have a feeling that I shall not come back again'
Frank Bracey, of the Royal Garrison Artillery, was on leave and staying with his mother when he wrote this letter – to be opened in the event of his death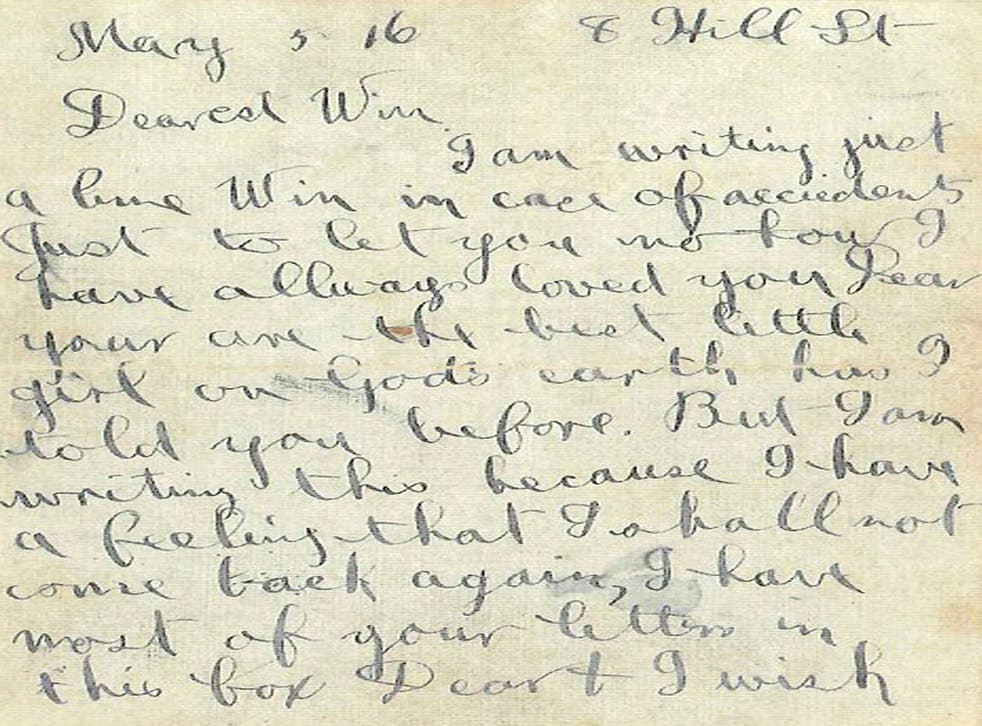 Dearest Win,
I am writing just a line, Win, in case of accidents. Just to let you know how I have always loved you, Dear. You are the best little girl on God's earth, have I told you before?
But I am writing this because I have a feeling that I shall not come back again. I have most of your letters in this box, Dear, and I wish you to have them and the cards. You may think I am a bit taped writing this, Dear, but I cannot help it.
If I do come back, Dearest, you will never see this letter, but I have a strong feeling that I shall never see England again. In case I do pop under the earth, I want you to be happy and look out for a worthier chap than your Humble, you have been every thing to me, Win. I know your love is mine forever, Dearest, but if I do not come back I wish you the best of happiness and a good husband. I know you told me what you would do for yourself if I did not return but Win, for the sake of our love, I wish you to be brave, it would be hard for you, little girl, I know, but do nothing of the kind.
In pictures: A history of the First World War in 100 moments

Show all 149
My last wish is that you marry a good man and to be happy and to think of your Humble now and then. I felt I must write these few lines, Win, but whatever happens, Dear, just keep a stout heart and think that your Frank did his bit for the women of this little isle. I expect you will think your Humble crazy but I was never saner than I am now.
Frank
Gunner Frank Bracey, of the 103rd Siege Battery, Royal Garrison Artillery, was killed in Pas-de-Calais on 3 August 1916. He is buried at the British military cemetery at Saint-Amand
Tomorrow the corpse in the crater
The '100 Moments' already published can be seen at: independent.co.uk/greatwar
Join our new commenting forum
Join thought-provoking conversations, follow other Independent readers and see their replies