A History of the First World War in 100 Moments: The first British fatality
In the third part of a 100-day series marking the centenary of the outbreak of the Great War, John Lichfield tells the moving story of Private John Parr, the first of a million soldiers fighting for Britain to die in the first industrialised conflict
John Lichfield
Saturday 05 April 2014 22:35 Comments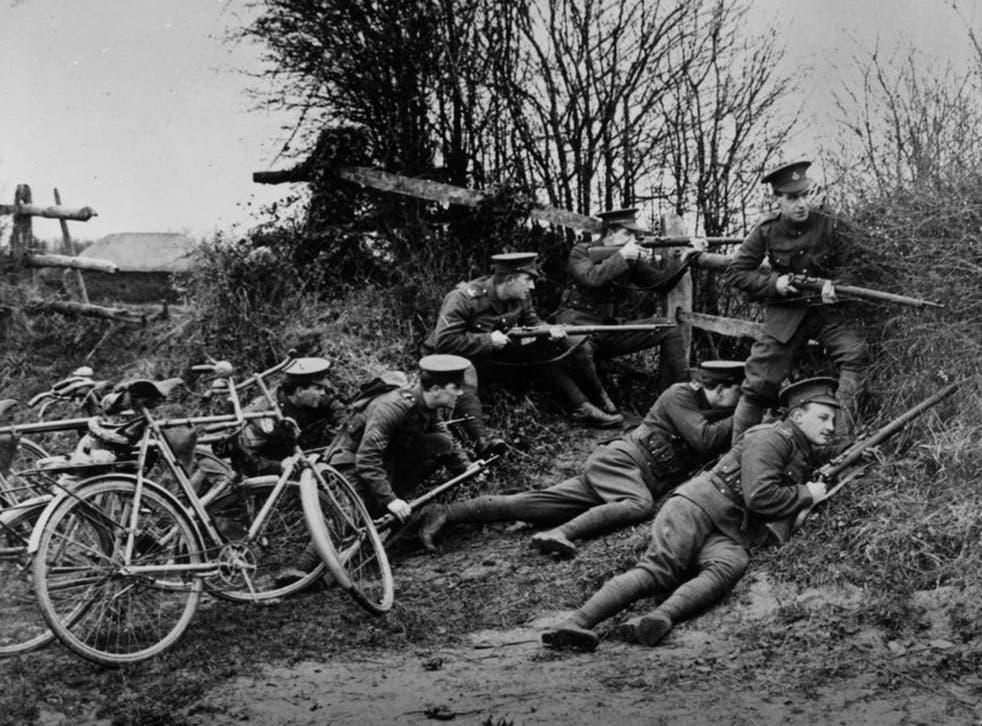 No one can be really sure what happened to Private John Parr. He was part of a screen of bicycle scouts who were sent ahead of the British Army as it moved cautiously into southern Belgium on 21 August 1914.
What a lark it must have been for the young men in khaki as they bumped over the cobbles of the dreary mining villages north of Mons. What a shock they must have had when they ran into the grey ranks of General Alexander von Kluck's German First Army. The British top brass knew that the Germans were approaching but had no idea that they had moved so far and so fast.
And what a shock it must have been to the Germans that evening when they collided with John Parr and his mates. Despite the existence of military aeroplanes and the telegraph, and even the telephone, the German top brass had no idea that the British Army was already in northern France, let alone Belgium.
German army headquarters in Koblenz had telegraphed a message to General Kluck the day before: "The opinion here is that large English disembarkations have not yet taken place."
John Parr, from Finchley, north London, is believed to have dismounted from his bike to cover his comrades as they pedalled away to warn the British that the Germans were coming. His mates never saw him again.
Private Parr, of Fourth Battalion the Middlesex Regiment, is generally accepted to have been the first British Empire combat casualty of the world's first industrial war – the first of more than a million British Empire deaths; of these, more than 700,000 servicemen came from the British Isles. He was 16. He had lied about his age when he left his job as a golf caddy at the North Middlesex Golf Course in Friern Barnet Lane, north London, and joined the regiment in the summer of 1913.
John Parr was also the first British combat casualty in western Europe since the battle of Waterloo, fought 30 miles away, 99 years and two months earlier. Parr's story, such as we know of it, helps us to understand the nature of the early fighting in August 1914. It reminds us that the first battles – and in some respects the whole war – were fought in a No Man's Land between two ages.
In pictures: First World War

Show all 30
The first weeks of fighting were an extraordinary mish-mash of 19th-century and 20th-century warfare – cavalry charges mixed up with machine guns; the fog of war partially dispelled by aeroplanes and telephones; bicycles and trucks alongside horses and carts; armies mobilised by railway carriage, trucks, taxis, and old-fashioned foot-tramping.
By a quirk of fate, which will be explained later, Parr's death also casts an eerie shadow forward over the four years of industrial slaughter on four continents that were to follow, killing some 10 million combatants and nearly 8 million civilians before 11 November 1918.
John Parr never knew the Great War of barbed wire, mud, poison gas, or tanks. He never experienced the trench fighting in which 29,000 British soldiers could be killed in one day (the first day of theBattle of the Somme on 1 July 1916). He never even wore a tin helmet, first issued to British troops in September 1915.
Much the same could also be said of the tens of thousands of Belgian, German, Russian, Austrian and Serbian soldiers who had already died in August 1914 before Parr was killed by Von Kluck's First Army. French soldiers fell like windrows of wheat before German machine guns, in attacks that month in the Ardennes or Alsace. They were wearing the same blue jackets, red trousers and, in the case of officers only, white gloves that their grandfathers had worn in the Franco-Prussian war in 1870. They were trained in the doctrine of "total attack".
In a sense, like John Parr, they were 19th-century casualties at the start of a 20th-century war. But there were no bicycles at Waterloo and no machine guns. Private Parr's innocent bike is a reminder that this would rapidly become a war of mechanised slaughter on an unimagined scale.
In August 1914, generals on all sides were shocked to discover the destructive power of magazine rifles, shrapnel-firing artillery, and machine guns, which could destroy whole battalions in open country from concealed positions one mile away.
They should have known better. None of these things were new. Rudimentary machine guns had been used at the end of the American Civil War in the 1860s. Within two years of John Parr's death the ingenious arsenal of modern butchery would be joined by poison gas, tanks, flame-throwers, fighter aircraft, and bomb-laden Zeppelin airships.
Generals and politicians who had stumbled or ambled into the conflict were also astonished (with some exceptions) to discover that modern states and industrial economies could mobilise, equip, and feed vast armies for years, not weeks. This was to be a war fought, not solely with modern weapons, but with railways and tinned food, income taxes, telephones, and mass media.
Until close to the end, military tactics failed to come to terms with the new technology of destruction. The last British cavalry charge in Europe was not at Waterloo or at Balaclava, but at the Battle of Cambrai in 1917, a year after tanks had first been used on the Somme.
The new defensive weaponry could prolong the fighting indefinitely. The organisational, economic, industrial, and propaganda power of modern states meant that battles that had once lasted for two or three days could last for four months (the Somme) or 10 months (Verdun). Newer offensive weaponry – tanks and planes – began to make a difference only in the summer of 1918.
In a few days in August 1914, Britain shipped 80,000 men to the Continent, including John Parr. By that time, the Germans had mobilised two million men; the French more than a million. Did Kaiser Wilhelm really refer to Sir John French's British Expeditionary Force as a "contemptible little army"? No, it was probably a British propaganda invention. But there is no doubt that the original BEF was "little". Von Kluck's army which fought the British at Mons on 22-23 August was more than double the size of the BEF. It was just one of seven German armies menacing France in August 1914; and one of 10 mobilised within days on the eastern and western fronts.
By the end of the war, Britain, which had never previously been a military power on land, had joined the mass mobilisation. More than five million British and Empire soldiers served in France at some time – over two million at the peak.
Generals on all sides, steeped in 19th century strategy, unused to war on such scale, made extraordinary gaffes and misjudgement in 1914. The French miscalculated Germany's ability to mobilise, and deliver to the battlefield whole armies of reserves as well as regular soldiers.
The Germans failed to build on their own early success, partly because the technology and real-time intelligence of 1914 was not yet able to deliver the kind of Blitzkrieg warfare which Germany successfully executed in 1940. As a result, as several senior Germans recognised, they had effectively lost the war by the end of August 1914. But they only admitted it in November 1918.
The confusion was general but also detailed. It extended to John Parr. For many months, the British Army failed to report that its first casualty was dead or even missing. His mother, Alice Parr, of 52 Lodge Lane, North Finchley, finally wrote a letter complaining that she had not heard from her son for months. The War Office replied curtly saying that it could not help. It was not until after the war that a soldier who had been on the same bicycle scouting mission finally confirmed the time and place of John Parr's death.
His extreme youth was exceptional, for this stage of the war. If you look down the lists of early British casualties, many of them are in their thirties. The BEF were mostly "old sweats", regular soldiers or territorial reservists, who had been in the army for years. A more typical example of a BEF soldier would be George Ellison, a former miner from Leeds. He was 36, and had been a regular soldier for more than a decade, when he was sent to France with the Royal Irish Lancers in August 1914.
After the early battles of 1915, very few of that original British force survived (if you leave aside the wounded and the senior officers). George Ellison was an exception.
He survived to take part in the sometimes chaotic, sometimes heroic British retreat to the Marne, where the French and British finally blocked the German advance. He was among the first British troops to fight in trenches in late 1914.
He may have witnessed the first use of poison gas by the Germans near Ypres in April 1915. He fought in the Battle of the Somme, in which the first tanks were used, in July to November 1916. He is believed to have been wounded at least once but recovered to take part in Allied advance to the Belgian border in the summer and autumn of 1918.
At 9.30am on 11 November 1918, George Ellison was shot through the head by a sniper while scouting on the edge of Mons – very close to where the BEF started the war. The armistice took effect 90 minutes later. John Parr was the first British soldier to be killed; Ellison was the last.
By a chilling accident of fate, they are buried opposite one another. Their graves are separated by seven yards of lawn and, chronologically and metaphorically, by 700,000 other dead British servicemen. This was not a deliberate choice by the Commonwealth War Graves Commission. When they were buried, their "first" and "last" status was unknown.
The place where they lie, the Saint Symphorien cemetery just north of Mons, is unique in having almost equal numbers of old enemies buried together: 284 Germans and 229 who fought for Britain, including many Irish and Canadian soldiers.
On 4 August this year, the centenary of Britain's declaration of war, the cemetery will be the scene of a ceremony of reconciliation. The German Chancellor, Angela Merkel, David Cameron, and members of the British and Belgian royal families are expected to attend. One of them, at least, should bring a bicycle.
'A History of the Great War in 100 Moments' continues daily, in The Independent and in The Independent on Sunday, until 12 July. Tomorrow in The Independent: the Germans in Belgium. Each account can be read at independent.co.uk/greatwar after it has been published
Register for free to continue reading
Registration is a free and easy way to support our truly independent journalism
By registering, you will also enjoy limited access to Premium articles, exclusive newsletters, commenting, and virtual events with our leading journalists
Already have an account? sign in
Join our new commenting forum
Join thought-provoking conversations, follow other Independent readers and see their replies