Waterloo bicentenary: A miniature re-creation of the battle that Wellington never wanted made is being restored to mark the 200th anniversary
The Duke felt impertinent model-maker William Siborne was 'prying' into his victories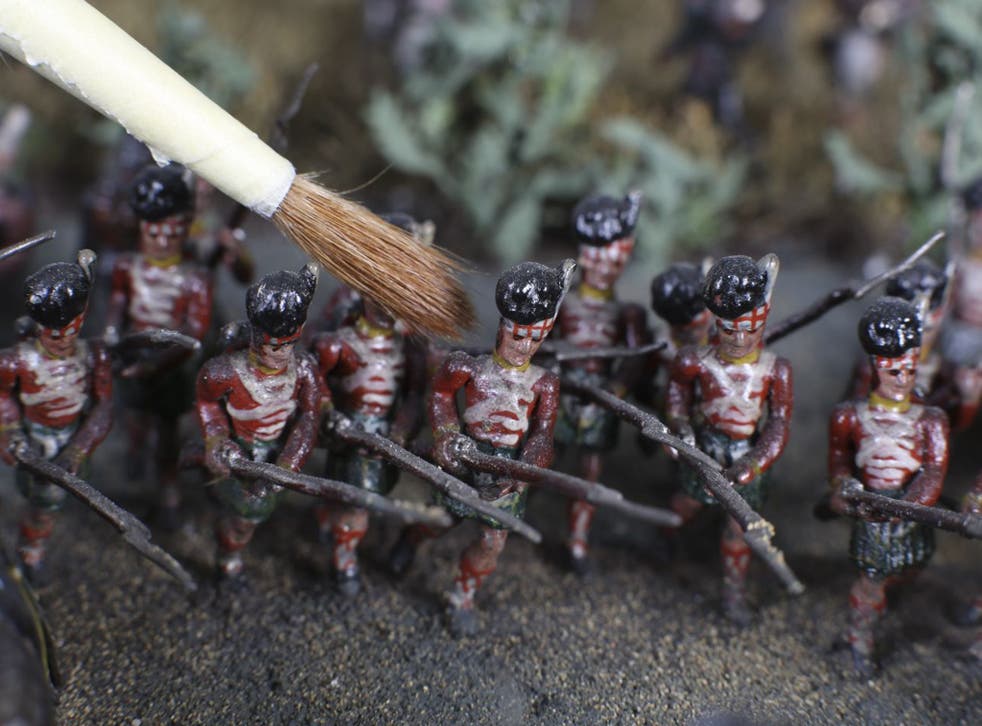 At 2pm on 18 June 1815, Marshal Ney, one of Napoleon's senior commanders, sensed an opportunity to strike a decisive blow against the English forces arrayed against them at Waterloo.
Ney ordered a cavalry charge he hoped would penetrate the British ranks and hand victory to the French. But instead of fleeing, the Duke of Wellington's infantry stood its ground and cut the French horsemen to pieces.
"The devils kept firing with grapeshot which mowed us down like grass," wrote one French cavalryman in an account of the pivotal battle that marked the beginning of the end for Napoleon.
The decisive moment is captured in forensic detail by a giant model being restored at the Royal Armouries in Leeds. It will go on display at the end of May to mark the 200th anniversary of the conflict.
The model, measuring 18ft 7in long by 7ft 9in wide, features around 3,000 tiny lead soldiers with movable heads, arms and weapons. It was designed and made by William Siborne – a British captain from 1842 to 1844. He had been a student at the Royal Military College at Sandhurst, where he had studied map-making and model- making, skills which made him an obvious candidate for the project.
Philip Abbott, archives and records manager at the Royal Armouries, said that Siborne's method of researching his diorama was radical: he sought testimony from English and French eyewitnesses, an approach that caused him to fall foul of Wellington who felt the impertinent model-maker was "prying" into his victories.
Mr Abbott said: "The Duke had never really wanted to talk about his victories and hadn't done so. When [Siborne] started to receive responses and look into the battle in much more depth, he started to uncover inaccuracies and inconsistencies."
10 historic moments to mark in 2015

Show all 10
The incident certainly appears to have taken its toll on Siborne's military career. Whether that was because there was little prospect of advancement in peacetime or a result of Wellington's displeasure is open to debate. What is certain is that Siborne ran into trouble financing his Waterloo model. The War Office withdrew its funding and the model-maker was forced to finance the creation himself.
"When [the War Office] realised what he would be doing and the fact that he would be questioning the official account, they withdrew support without really being seen to do it," said Mr Abbott. "They didn't want to be seen to be completely sabotaging the project."
The model is being restored by Cymbeline Storey, the museum's conservator. Its size and complexity have presented her with a string of challenges.
"The model is in 10 sections, and they're quite heavy, so it takes a team of about six people to move the model around," she said. "I'm also doing the conservation in front of museum visitors, so people have the opportunity to ask me questions while I'm working."
Ms Storey added that parts of the model's surface are lifting off and some of the tiny soldiers have become detached or corroded "quite severely". "I'm trying to stabilise it, treat it, clean it and make it look its best," she said.
Register for free to continue reading
Registration is a free and easy way to support our truly independent journalism
By registering, you will also enjoy limited access to Premium articles, exclusive newsletters, commenting, and virtual events with our leading journalists
Already have an account? sign in
Register for free to continue reading
Registration is a free and easy way to support our truly independent journalism
By registering, you will also enjoy limited access to Premium articles, exclusive newsletters, commenting, and virtual events with our leading journalists
Already have an account? sign in
Join our new commenting forum
Join thought-provoking conversations, follow other Independent readers and see their replies