Ferguson decision: What is tear gas and what does it do to your body?
Tear gas was recently used to disperse crowds in Ferguson, Missouri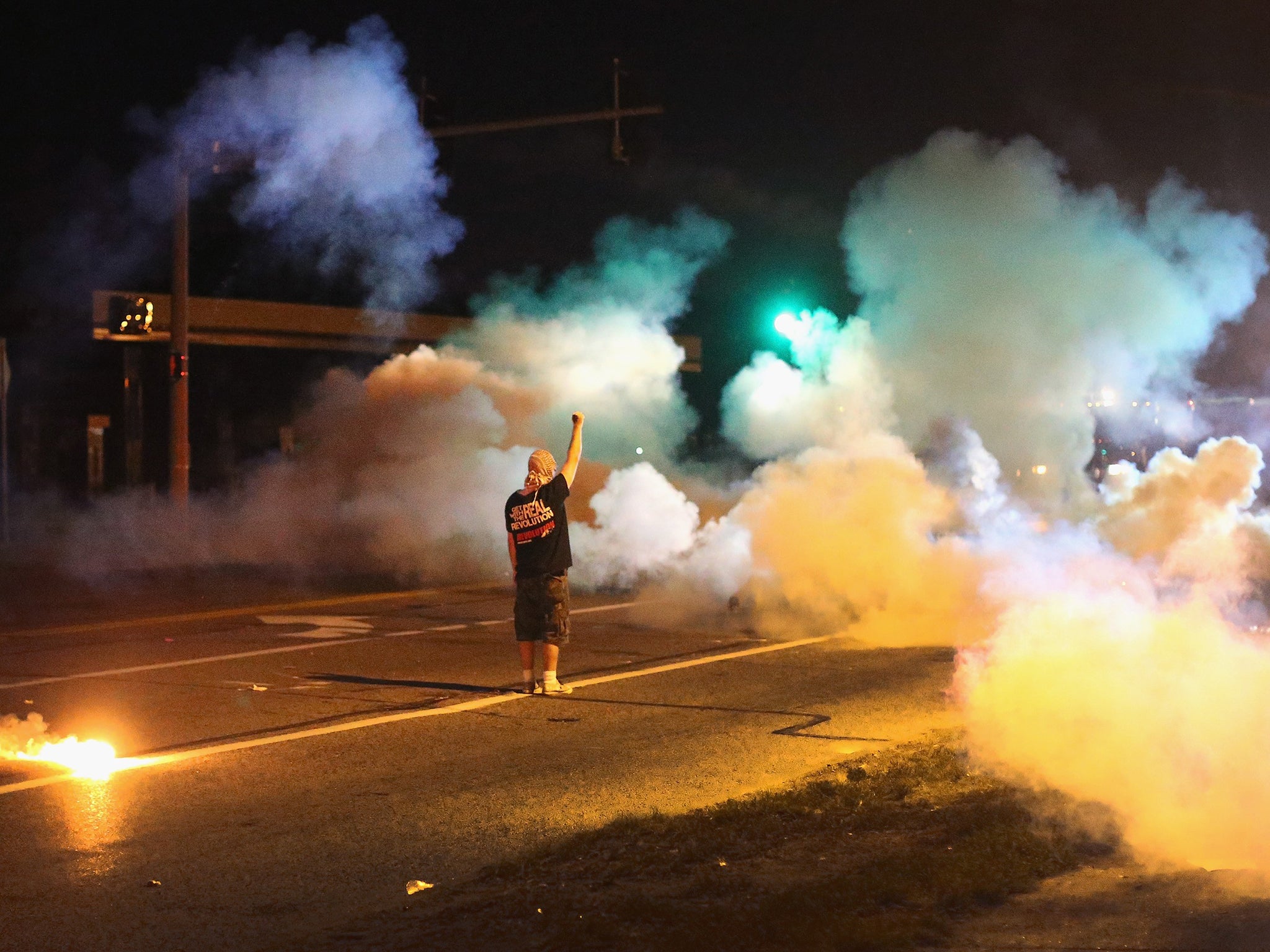 Tear gas is again filling the streets of Ferguson as police try to clear violent protests in the wake of a grand jury's decision not to bring charges against the officer who shot Michael Brown.
The unarmed black teenager was killed by Darren Wilson, who is white, on 9 August, sparking weeks of unrest including vandalism and looting.
Scenes on Monday night, when police cars were burned, buildings set alight and shots fired, were worse according to the chief of police.
From demonstrations in Ferguson to the Israeli-Palestinian conflict, the recent use of tear gas to quickly disperse crowds of people has caused controversy, particularly as it is banned in warfare but allowed to control civilian crowds.
Police in the town, in the US state of Missouri, have used tear gas, stun grenades and smoke bombs to disperse thousands of demonstrators over three months of protests over Mr Brown's death.
Similarly, Israeli soldiers fired tear gas and stun grenades to disperse pro-Palestinian protesters in the West Bank in mid-July.
Photographs from both scenes, despite being over 6,500 miles apart, show the similar acrid clouds of smoke filling streets as people try to flee.
In fact, those protesting against the situation in the Gaza Strip were so concerned by the situation in Ferguson that they took to social media to share tips on how to deal with the attacks.
So, what is tear gas and why are its effects so feared?
What is tear gas?
The most commonly used tear gas contains the chemical agent 2- chlorobenzaldene malononitrile (CS).
Despite its name, tear gas is not a gas, but an aerosol. CS is solid at room temperature and mixed with liquid or gas dispersal agents when used as a weapon designed to activate pain-sensing nerves.
Early forms of the tear gas were first used in World War I, both by France and Germany.
But CS gas was developed in 1928, when American chemists Ben Corson and Roger Stoughton synthesised its active component.
Tear gas use across the world
Show all 12
What are the laws surrounding its use?
According to the Chemical Weapons Convention of 1993, which was signed by almost every nation in the world, tear gas is banned in warfare but legal in domestic riot control.
What are its effects?
Tear gas works by irritating the mucous membranes of the eyes, nose, mouth, and lungs.
Typically, the effects kick in after around 30 seconds, and include a burning, watery sensation in the eyes, difficulty breathing, chest pain, excessive saliva and skin irritation. But those who face heavy exposure can also suffer from vomiting and diarrhoea.
After the person has escaped into fresh air, the effects should subside after around 10 minutes, Neil Gibson, an analyst with IHS Jane's, an intelligence and security publication, told BBC News.
Why are people pouring milk on their faces?
People have been pictured pouring milk or milky substances on their faces after suffering from the effects of tear gas, which is just one of the home-made remedies people have claimed will help with symptoms.
In Ferguson, protesters who have been exposed to tear gas have been pictured having milk poured over their faces in McDonald's, reportedly by the fast-food chain's employees.
The activist tweeting from the Israel/Gaza conflict told Americans in Ferguson not to pour water on their faces, but to use milk or coke instead to stem its effects.
It is thought that milk soothes the pain induced by lachrymatory agents, or tear gas. In an online flier circulated by people affiliated with the Occupy movement in 2011, antacids such as Maalox dissolved in water was advised as a method of relief from the effects of tear gas, sprayed onto people's eyes and mouths, and to be swallowed.
Join our commenting forum
Join thought-provoking conversations, follow other Independent readers and see their replies