Yazidi bleeding hearts: The fragility of Armenia's largest ethnic minority
Most of the 100,000 Yazidis from the former Soviet Union consider Armenia to be their homeland. But in Armenia itself, the community faces a crisis of survival as economic hardship and rural poverty drive them out of the country, writes Lemma Shehadi
Sunday 25 October 2020 17:01 GMT
Comments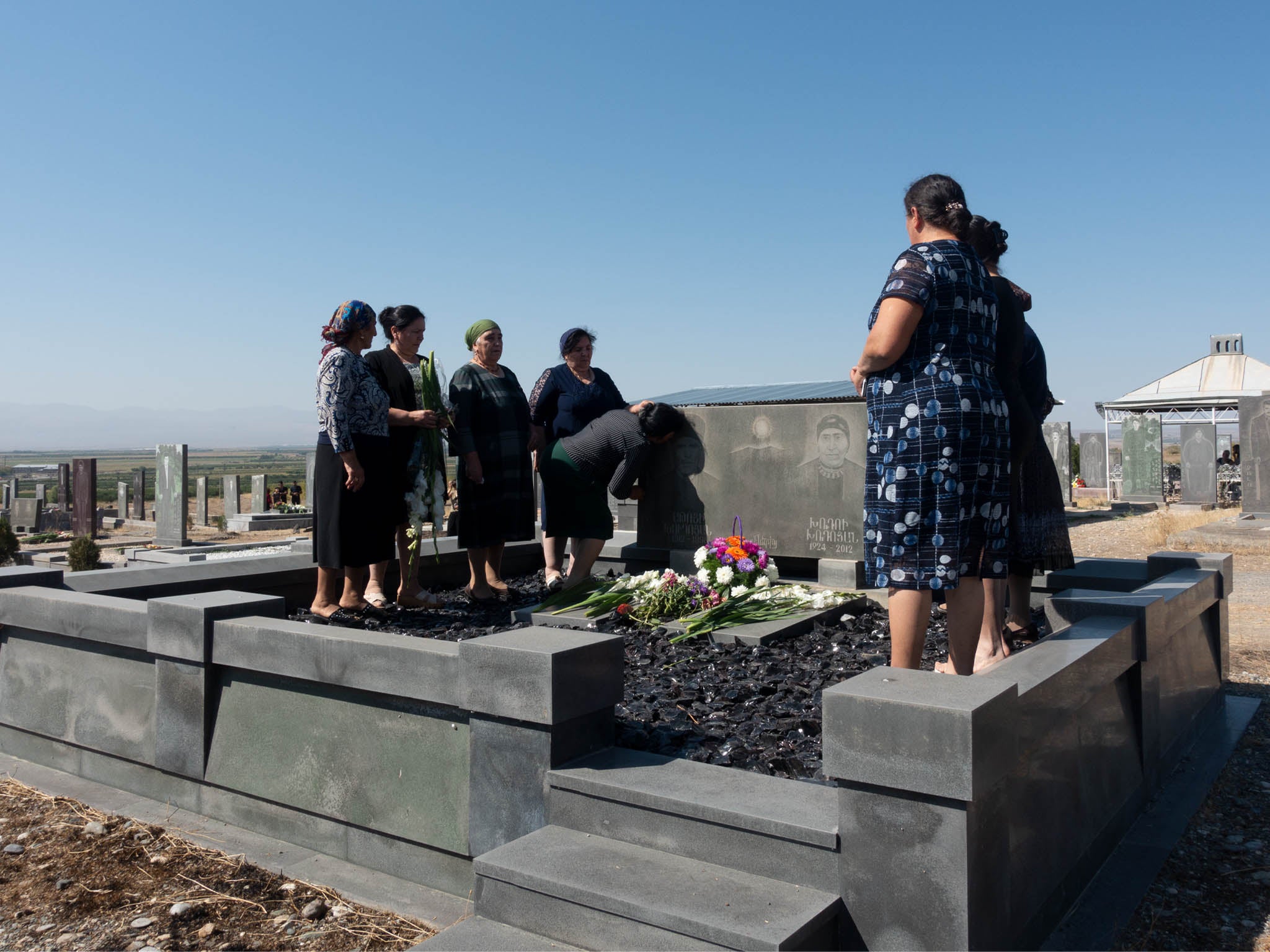 On a hot and dry September morning, the descendants of three Yazidi villages from the Armavir region in Armenia met at a cemetery on a hill, on the outskirts of the town of Sardarapat. Every village has its own annual cemetery festival, which is pegged to the cattle feeding seasons. "We remember our dead every year as an act of giving wellness," said Sheikh Kenyas Sijaddin, a priest attending the festival.
Originally a religious minority from northern Iraq, Yazidis came to Armenia in the 19th and early 20th centuries. The origins of the monotheistic religion are disputed because it does not have a book and its sacred songs are passed on orally from generation to generation.
In Armenia, Yazidis living in compact settlements preserved the secrets of their ageless religion, while developing their own distinct culture and history. "We know songs that are long forgotten in Iraq," said Sheikh Tosun Shamsani, a priest from a nearby village in Armavir.
Over 300 people came to the cemetery on that day, many having travelled from Russia and Europe to visit the graves of their ancestors. "Armenia is our homeland. It is where our relatives are buried and we come to this cemetery every year to visit them," explained Katya Broian, an Armenian-born Yazidi who lives in St Petersburg. 
Armenian Yazidi village's cemetery festival
Broian's father is buried at the Sardarapat cemetery. She, her sisters, mother, grandmother and aunts travelled from Russia to bring white flowers and mourn at the foot of his grave. At the request of another family, the priest Sijaddin stood in front of a grave, his palms facing up to the sky as he recited prayers for the dead. For the occasion, he wore a grey suit and crocodile shoes with the initials of a famous French fashion brand. The men of the deceased's family each give him 1,000 drams (around £2). Older women, known as "bleeding hearts", extolled elegies to the dead, sometimes sung, sometimes spoken.
"I don't write or record anything, my words are spontaneous and they come from within," said Lucik Safarian, an Armenian-born elderly woman who now lives in Georgia.
"There is a deep respect for the bleeding hearts when they sing," said anthropologist Estelle Amy de la Breteque, who has documented the oral traditions of Yazidi villages in Armenia. "The women can raise their voices about the community's political or social issues, without any interruption from men."
But this event in Armenia may be among the last. "Every year, fewer people attend these ceremonies, because they live abroad," bemoaned villager Temur Akmoyan.
The question of how to preserve the community is complex and related to Armenia's own social and political struggles.
The World Bank estimates that 21.9 per cent of Armenians are unemployed. Just two years ago, one in four Armenians lived below the country's national poverty line; in 2004, it was one in two.  Over one million Armenian migrants are estimated to be working in Russia, and Armenia's population of 2.9 million is on the decline. A war with Azerbaijan over the disputed territories of Nagorno-Karabakh was reignited on 27 September, plunging Armenia into further uncertainty.
For the Yazidis of Armenia, these national issues are a threat to the dwindling community's survival. For Armenians, the departure of Yazidis would represent the erasure of the last trace of diversity in a country that is 98 per cent ethnic Armenian and Christian. Yazidis in Armenia number at just over 37,000 people, or 1.2 per cent of the Armenian population.
Behind the cemetery, on the other side of the hill, the Sardarapat Memorial commemorates an important battle for the city in 1918, which laid the foundations of modern-day Armenia. Like hundreds of thousands of Armenians, entire Yazidi villages were expelled from the Ottoman empire in 1915 by Constantinople authorities and their Kurdish Muslim mercenaries. In campaigns to defend the country's current borders, Yazidi battalions fought alongside the Armenians against the Ottoman armies.
Funeral musicians playing the duduk, an ancient Armenian flute.
The Yazidis preserve memories of their expulsion from contemporary eastern Turkey in their oral traditions. In a village in Armenia's Aparan region, the musician Savto Tamoyan sang one such epic lament. His voice carried through the wood and stone house, his words accompanied by two fellow musicians who played the duduk, an ancient Armenian flute.
"It's the story of Uncle Alikhan who was killed by the Turks in 1915, while trying to save his nephew's daughter. The nephew laments his death and asks God for revenge," he explained, "We often play it at funerals, to make people cry. Crying for the dead is an important part of our tradition."
In recent years, many of these laments have been adapted to commemorate the Yazidis killed by the Islamic State's onslaught in their heartland of Sinjar, Iraq, in 2014.
Anahit Sharuef, from the Armenian Yazidi village of Ferik, recited a poem she had composed about the events. "I want to live, live and see my Sinjar mountain liberated, and covered with flowers instead of blood."
This shared history of persecution forms part of a local narrative for Armenian Yazidis. "Yazidis and Armenians fought together in 1915 against the invading Turks, and again in the Nagorno-Karabakh conflict with Azerbaijan," said Sheikh Hasan Tamoyan, president of the Yazidi National Union, a longstanding and influential lobby group for Yazidi issues in Armenia.
There are streets and monuments dedicated to Yazidi war heroes in Yerevan, and in 2016, Armenia became among the first nations to officially recognise the Islamic State's attacks on Yazidis in Sinjar as genocide.
"In Armenia, we could preserve our culture and religion. I always say that we are two nations with one homeland," added Sheikh Hasan. The Soviet Union banned religion and commonly registered Yazidis as Kurds, who spoke the Kurdish dialect of Kurmanji. But, in 2002, at the request of the Yazidi National Union, the Armenian parliament recognised Yazidis as a distinct ethnic group,with its own language, Ezidki. The differences between Kurmanji and Ezdiki are disputed by academics, but Armenia is the only country in the world to list them as two separate languages.
Today, a small portion of Armenian Yazidis still identify as Kurds. But a younger generation of Yazidi activists today point to issues faced by the country's largest ethnic minority. "Yazidis say that Armenia is the best country for their survival as a community," said Sashik Sultanyan, a Yerevan-based human rights advocate, "but this silences the challenges that Yazidis face with regards to their labour rights and education. The consequences of this are migration or assimilation." Sultanyan has been documenting instances of workplace discrimination against Yazidis and other minorities in Armenia, which he believes are widespread. "We need more competent policies that will integrate our national minorities, while letting them preserve and practice their culture," he added.
Armenia's rural poverty and lack of infrastructure also appear to be contributing to the community's decline. The isolated village of Sorik, on the closed border with Turkey, is one of the biggest Yazidi villages remaining in Armenia. "We used to share this village with Armenian refugees from Iran," said Vasir, the head of the village, pointing to the well-known Yazidi writers and Armenian diplomats who were born in Sorik. On top of the hill overlooking the village is the cemetery and a new shrine that was built with donations from an expatriate who now lives in Germany. Next to it lies a fallen meteorite which attracts foreign scientists every year. 
Both Christians and Yazidis from nearby villages visit this rock and consider it to be sacred, lighting candles and placing icons around it. The ruins of a former Kurdish Muslim settlement appear at the bottom of the valley. But despite Sorik's rich history, the winding road from the nearest town of Talin is so ragged and neglected that it takes over 40 minutes to drive 15 kilometres. The road closes permanently in winter time, once the snow sets in, and there is no public transport from the village. "In the Soviet Union we had a bus that drove us into town," said Vasir, "If we could get a better road and a new bus, many problems would be resolved." On the other side of the mountain, the isolated border village of Kanch, better known by its Yazidi name of Gialto, had few villagers left. 
Sinjar poem by Anahit Sharuef, from the Armenian Yazidi village of Ferik
"We came from Kars, in eastern Turkey and settled here in 1920. This year, we will celebrate our village's centenary," said Pir Kulijan, a local priest. The ruins of abandoned homes stood out as we drove into the desolate village. "We used to be 80 families, today we are 15. I thank God that we can keep our identity in Armenia."
In the Soviet Union, Armenia's Yazidis became the custodians of the Kurdish language and culture. A Cyrillic script for Kurdish was devised in 1948 by the Yazidi scholar Haciye Cindi. The Yazidi author Arab Shamilov's biographical novel The Kurdish Shepherd, published in Armenia in 1927, is widely considered the first Kurdish novel.
The Yerevan Public Radio's daily Kurdish-language programme was broadcast into Iraq, Syria and eastern Turkey at a time when the Kurdish language was suppressed by nationalist regimes in those countries. "Kurdish people from the Middle East visit the radio today because they grew up on the songs that were recorded and broadcast from Yerevan during their childhood," said the programme's current broadcaster, Titale Kerem.
But today, activists have raised concerns about education levels among the Yazidi community. "The quality of education in Yazidi-only villages is poor. Few schools teach to high school level. Too many children leave school early and don't pursue a higher education," said Yerevan-based journalist and school teacher Zemfira Kalashyan, who recently published a report on the education of Yazidis in Armenia. 
In Ferik, headmaster Levon Boghossian attempted to paint a positive image of his establishment. "All but one family sends their children to our school. The children learn the national syllabus and we provide extra lessons for their own language and culture," he said. On the walls of the classroom are illustrated posters of Cindi's alphabet, and portraits of the medieval scholar Meshrop Mashtots, who devised the Armenian script. But in a village of 213 children under the age of 18, the school takes just 46 pupils from the ages of six to 16, according to the mayor Rustam Hasanyan. 
The school has only five classes, and in each, children of different school years are taught together. Shinam, a great-grandmother and influential elder of the village, lamented the decline in education standards. When we met at her home, her great-grandchildren played on the sofa, and other villagers gathered around as she spoke."We need more classes and better teachers for our children. Even their parents didn't learn enough at school, so they don't see the value in education," she said. 
She recalled an anecdote from her own schooling in the Soviet Union: "One week, I had to memorise musical notes in order. I could not sing 'do-re-mi-fa-sol-la-ti-do', so I skipped school. The teacher told my parents, who scolded me. So I learnt to sing the notes. We don't have this rigour and discipline today," she said.
Part of the issue is that some more conservative families avoid sending their children to school and discourage education for girls. "If the educational levels were better it would resolve these issues," added Kalashyan. Shinam was 11 when she left school. "I was the eldest of seven sisters and three brothers. My parents became my teachers," she said. Yet she placed high value on the education of her great-grandchildren. "They're the only pupils doing well at the school. That's because, as a family, we push them to study." 
But many believed the government should provide more support. Currently, national minorities can apply for free education in their first year of university, to study a subject related to their minority's language or culture. "But the job prospects from those subjects are so low that few people take this opportunity. Those resources would be better spent on improving high school education," said Kalashyan. For Shinam, the consequences of these educational problems was clear. "Our village is in decline. Young people go to work abroad, and they never come back," she said.
In 2018, a peaceful uprising across Armenia, known as the Velvet Revolution, provided hope for change. The new government led by prime minister Nikol Pashinyan promised to clamp down on corruption, diversify its foreign investment and reduce the country's dependence on Russia.
Some changes have been felt at a domestic level. In 2019, the government announced that the shadow economy, the amount of untaxed profits in the country, stood at 22 per cent. This is a reduction of four per cent since the new government took over a year earlier, they said. And some Armenians from the diaspora have returned to set up new businesses. 
At the time of writing, before the conflict resumed in Nagorno-Karabakh, Yazidi villages were hopeful that the revolution would bring new investment to their farming businesses. "Today, we sell meat and milk. But we also produce a lot of sheep's wool and we're looking for someone to buy it," said villager Murad Usoyan, of Riya Taza, a village in the Aparan region. Back in Ferik, Sharuef read a poem which she had composed for the new prime minister: "Priceless mothers, our kind sisters, let your path be green, give birth to a son like Nikol, a lord and a protector to Armenia."
However, the impact of the Yazidi community's migration out of Armenia may be irreparable. From her living room in the Georgian capital of Tbilisi, Lucik Safarian, the bleeding heart, sang a mourning song dedicated to those who had migrated and lived away from their families. "It's a shame you don't speak our language," she told me, as her daughter poured us tea and served sugared figs, "Or you would be crying too."
Safarian became a bleeding heart in her late 30s. "My father died and I felt a great sadness. I locked myself in my room. The words just came out of me," she recalled. "I have lost many family members since then, so my sadness grew and grew. It comes to me when I sing." She is often invited to sing at funerals. "She can make anyone cry," said her daughter Leila, "Even at weddings, when she tries to sing happy songs, she bursts into sad ones. We have to ask her to stop singing." 
There are fewer bleeding hearts today. Safarian's recent experience of a Yazidi funeral in Germany revealed how migration has caused these traditions to die out. She sang at the funeral through an online video call from her living room in Tbilisi. "Nobody in their community could sing for the man who had died, so they contacted me" she said, "The dead man's daughters sat with their hands on their knees, looking down at the floor, unable to find the emotions." 
Join our commenting forum
Join thought-provoking conversations, follow other Independent readers and see their replies