Ennio Morricone: The Oscar-winning maestro movie composer
The Italian master rose to fame with spaghetti western scores such as 'The Good, the Bad and the Ugly' and moved audiences with his heartfelt melodies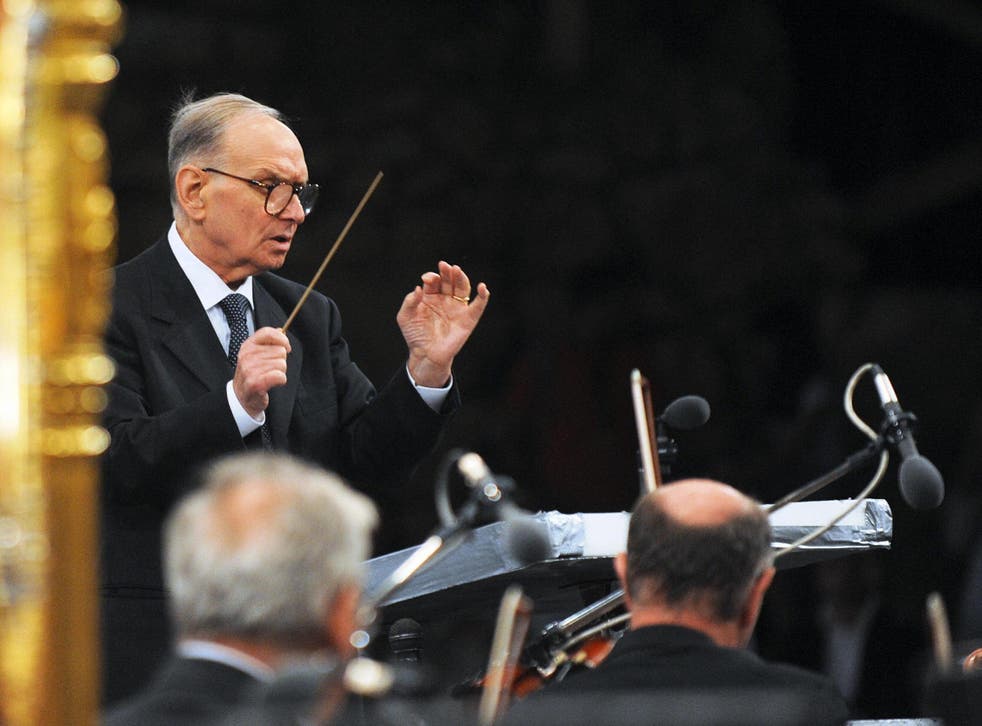 Ennio Morricone was a uniquely famous film composer, one of the very few whose work is recognisable enough to be parodied. Yet the subject of those parodies – his scores for Sergio Leone's spaghetti westerns – formed a tiny part of an immense output. Probably even the composer himself lost count of his film scores, but it was certainly over 500, in addition to many concert works. Though it wasn't until 2016 – when Morricone was 87 years old – that he took home the Best Original Score Oscar, for Quentin Tarantino's The Hateful Eight.
Born in Rome in 1928, his trumpeter-father was his first music teacher, insisting that he studied the same instrument before moving on to the Santa Cecilia Conservatory. Prodigiously talented, in 1943 Morricone completed a four-year harmony course in six months, gaining a cum laude. He also began to deputise for his father in Constantino Ferri's band.
In 1954 he completed his studies with Goffredo Petrassi, who had completed four of his eight Concertos for Orchestra, and Morricone wrote one of his own in 1957. After the course, Petrassi advised him not to work for two years 'and something good would happen' but the restless Morricone wrote and produced pop songs, working pseudonymously to avoid discovery. But his sheer inventiveness soon blew his cover and over the next decade he produced around 500 songs for artists including Miranda Martino, Paul Anka and Charles Aznavour. Working also for theatre, radio and TV, he developed a rigorously professional attitude, composing rapidly in any style, away from the piano and orchestrating everything himself. His training led him frequently to use classical forms even when the language was far from classical.
In 1958 he joined the Italian national broadcaster RAI. On the first morning it was explained that, whatever his fame, his was a junior post and none of his original music would be used. Morricone, who has died at the age of 91, resigned on the spot.
After the musical conservatism of Fascism, Italian composers of the late 1950s were internationalists, and often avant-gardists. In 1958 Morricone heard Luigi Nono's Cori di Didone and attended a seminar by John Cage, with his theories of sound-as-music and use of chance in compositions. It was a crucial event for Morricone: he joined an avant-garde improvisation group and non-musical sounds began to appear in his pop arrangements. This found its climax in the opening of C'era una volta il West (Once Upon a Time in the West, 1968) with its symphony of hyper-amplified creaking signs, dripping water and buzzing flies. Morricone also enjoyed unusual instruments; there can be few he didn't employ, including pan-pipes, harmonica, sitar and Jew's harp.
Though his first film credits were as arranger/conductor for Morte di un amico (The Death of a Friend, 1959) and Barrabas (1961) he actually helped Mario Nascimbene write the scores, before his first solo credit, Luciano Salce's Il federale (The Fascist, 1961). His cinema career quickly took off and his productivity soared – 1972 saw around thirty scores.
Though best known for scoring spaghetti westerns, Morricone hated the term, considering it "derogatory". To help the films in America, many participants used anglicised pseudonyms and, for a few titles, Morricone became "Dan Savio" or "Leo Nichols". This and his prodigious output led some people to think that Bruno Nicolai and Nicolai Piovani were also Morricone, though they are actually composer/conductors in their own right.
The mid-1960s brought a wide range of work, including B-films such as OK Connery (Operation Kid Brother, 1967) a Bond spoof starring Sean Connery's younger brother, allowing him to stretch his imagination. For the super-criminal caper Diabolik (Danger: Diabolik, 1968), Morricone wrote a psychedelic score with a swoony song, sitar, jazz sax and easy-listening chorus. Luigi Comencini's black comedy Il gatto (The Cat, 1978) has a typically varied score, ranging from tongue-in-cheek slinky suggestiveness, through elaborately labyrinthine twisting music, to parody Rossini. It all seems quite arbitrary and yet, in some mysterious way, completely matches (or creates?) the mood of the film. It was to be one of Morricone's secrets: to write music that illuminated the film from an odd angle. The manhunt in Sergio Sollima's La resa dei conti (The Big Gundown, 1966) is enlivened by dark, percussive music, and a German character allowed him to weave Beethoven's Fur Elise into the final gunfight.
But in 1964 Sergio Leone's For a Fistful of Dollars made stars of the director, Clint Eastwood and the composer. Spaghetti western music – and indeed the genre itself – was irrevocably changed. Composers began to imitate his pungent style, often at the behest of directors who couldn't get the real thing. Two true sequels followed: For a Few Dollars More (1965) and The Good, the Bad and the Ugly (1966). That film's famous screech, imitating a coyote, was to cover the last word of the film ("Blondie, you son of a ... ay-ee-ay-ee-aaaay"). It became an instantly recognised noise, along with the choral grunts, whistling, violent electric guitar and a gloriously open-throated trumpet. Hugo Montenegro's single version topped the charts, bringing further fame to Morricone, as did the use of "Chi Mai" from Maddalena (1971) for the BBC's The Life and Times of David Lloyd George (1981).
Morricone went on to score all of Leone's films. For Once Upon a Time in the West the music was written before filming and was played on set, not simply to get the actors into the mood but to help choreograph the camera movements. When Claudia Cardinale steps off the train, the music seems physically to vault the camera over the station building, and in the horrifying flashback revelation Henry Fonda and his music approach the camera before an electric guitar knifes its way through the wailing harmonica. But, despite their international success, Morricone was annoyed to be pigeonholed as a composer of westerns, pointing to the other 90 per cent of his output. Nevertheless, they did help give him the profile to begin a Hollywood career.
He worked with many Italian directors, scoring most of Giuseppe Tornatore's slightly sentimental films, most successfully, and in collaboration with his son Andrea, Cinema Paradiso (1989), but had earlier worked extensively with more political directors. For Bertolucci he scored Prima della rivoluzione (Before the Revolution, 1964), and gave La tragedia di un uomo ridiculo (The Tragedy of a Ridiculous Man, 1981) a circusy oompah band. Pasolini often used classical music but Morricone worked on his films from Uccellacci i uccellini (Hawks and Sparrows, 1966) to the final, grim Salo (1976). Another controversial project was La battaglia di Algeri (The Battle of Algiers, 1965), for which Morricone wrote original music and adapted director Pontecorvo's musical ideas, capturing the cruelty and sadness of the war.
The voice is a vital part of Morricone's soundscape: the choir ("I cantori moderni") featured frequently, and their conductor Alessandro Alessandroni also played several instruments and provided distinctive whistling. Edda dell'Orso's orgasmic moans are set against lounge music in Crescete e moltiplicatevi (Grow and Multiply, 1972), while her soaring soprano is a defining texture of Once Upon a Time in the West. Morricone often wrote film songs, including "Here's to You", for Sacco and Vanzete (1971) – the story of two anarchists executed in 1930s America, which became a hit for lyricist Joan Baez.
Apart from spaghetti westerns Morricone also worked on "giallo" films, named after the yellow covers of Italian translations of pulp fiction novels. For Dario Argento he wrote scores as inventive as the films' titles: L'uccello dale piume di cristallo (The Bird with the Crystal Plumage, 1970) with its horror nursery music and 4 mosche di velluto grigio (Four Flies on Grey Velvet, 1971), which features a mad, psychedelic Hammond organ. Il gatto a nove code (Cat o' Nine Tails, 1971) contrasts a wistful flute-led theme with a Miles Davis-ish trumpet, as well as providing one victim's death-rattle. Twenty-five years later Morricone scored Argento's La sindrome di Stendhal (The Stendhal Syndrome, 1996) and Il fantasma dell'opera (The Phantom of the Opera, 1998).
When Hollywood beckoned, Morricone tried to limit the assignments first by insisting that meetings take place in Rome and then by upping his fee. But directors were not deterred and for The Mission (1986), he provided a stunning mixture, including a neo-baroque oboe and choral chant. He also worked with Polanski (Frantic, 1988), Zeffirelli (Hamlet, 1990) and Brian de Palma (The Untouchables, 1987), Casualties of War (1988) and Mission to Mars (2000).
He was nominated for six Academy Awards – Days of Heaven (1978), The Mission (1986), The Untouchables (1987), Bugsy (1991), Malena (2000) and The Hateful Eight (2015) – winning for the last of these. It followed the award of an honorary Oscar in 2007 for "his magnificent and multifaceted contributions to the art of film music".
He was expected by many to take the statuette for Once Upon a Time in America (1984), but the film company allegedly failed to submit the paperwork in time.
Though less well known, his concert works unsurprisingly included vocal music and unusual combinations of instruments, such as a Concerto for Guitar, Marimba and String Orchestra (1991). In later years he conducted concerts including both his film and "absolute" music.
Fiercely private, interviews tended to elicit replies that were either boredly monosyllabic or incomprehensibly convoluted. Though he lived simply, his luxuries included collecting art, and he was an avid supporter of Roma football team.
Ennio Morricone. Born Rome, 28 November 1928. Married Maria Travia, 1956. Four children: Marco (1956), Alessandra (1961), Andrea (1964), Giovanni (1966). Died 6 July 2020
Register for free to continue reading
Registration is a free and easy way to support our truly independent journalism
By registering, you will also enjoy limited access to Premium articles, exclusive newsletters, commenting, and virtual events with our leading journalists
Already have an account? sign in
Register for free to continue reading
Registration is a free and easy way to support our truly independent journalism
By registering, you will also enjoy limited access to Premium articles, exclusive newsletters, commenting, and virtual events with our leading journalists
Already have an account? sign in
Join our new commenting forum
Join thought-provoking conversations, follow other Independent readers and see their replies