Georges Loinger: French resistance hero who rescued hundreds of Jewish children from Nazis
He escaped from a German prisoner of war camp and spent the rest of the war helping Jewish children cross the Swiss border to safety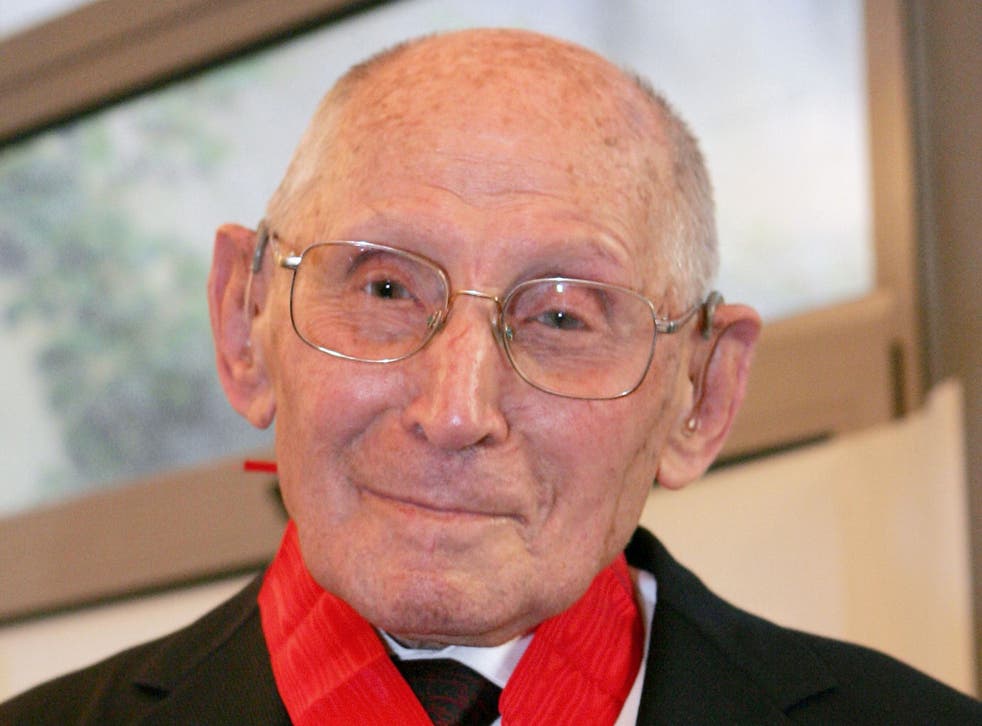 Georges Loinger, a physical education teacher in France who saved hundreds of Jewish children from deportation to concentration camps by helping smuggle them into Switzerland, died on 28 December at his home in Paris. He was 108.
His son, Daniel, said he died after a recent fall.
In the years after the German invasion of France in 1940, Oeuvre Secours aux Enfants, a relief organisation known as OSE, orchestrated many efforts with the French resistance to rescue the sons and daughters of European Jews who had been killed or sent to death camps.
Some children were placed with French Catholics or sent to the United States; others lived in safe houses around France, where Loinger, who was Jewish, ran sports competitions to maintain the children's physical and mental well-being.
Loinger (pronounced low-ohn-JAY) was well suited to his clandestine work. He not only spoke German fluently, but with his blonde hair and blue eyes he could also pass as an Aryan while smuggling young Jews.
In spring 1943, as the Germans stepped up their efforts to kill French Jews, the OSE gave Loinger a perilous mission: spirit the children to safety in neutral Switzerland. Over the next year, he was part of various operations that saved at least 350 children.
In one elaborate scheme, which he repeated numerous times in 1943, he brought the children by train from Aix-les-Bains to the railroad station in the village of Annemasse, across the border from Geneva. When they arrived, carrying false identification papers, the children walked through doorways affixed by cooperative railroad workers with signs that said, "This Exit for Campers" and were fed and sheltered at a reception centre.
Loinger told the children never to say "OSE".
A day or two after their arrival in Annemasse, Loinger took the children to a playing field.
"We happily played until nightfall," Loinger recalled in an interview in Rescuing the Children: A Holocaust Memoir (2002), by Vivette Samuel. "The children, caught up in the game, totally forgot the danger that was lurking around us. Once night had fallen, we walked over to the border, far from any road or path."
As the group approached the border, Loinger was met by another Resistance fighter, who helped the children slip through a barbed wire fence to enter Swiss territory. Once there, they were met by another fighter, who took the children to safety.
The operation was helped by Annemasse's mayor, Jean Deffaugt, and Ernest Balthazard, who ran the reception centre. Deffaugt and the Balthazard family have been recognised as righteous gentiles by Yad Vashem, Israel's Holocaust memorial and museum.
During one trip to Annemasse, Loinger said, his group of 50 German and Austrian children – all given French names – were joined in their railroad car by German soldiers. Although frightened that the children might inadvertently reveal themselves, Loinger watched in amazement as they played with the soldiers, who gave them candy.
When the commanding officer asked why Loinger was with the children, he devised a response: The children had been traumatised during the bombing of their homes near Marseille, and he was taking them to a rest camp.
The gambit worked. The officer had his soldiers escort the children off the train, and they marched, singing, from the station to the reception centre.
"You had to see the soldiers with their guns and my Jewish kids!" Loinger said in an interview in 2015 with Tribune Juive, an online magazine devoted to Jewish news.
Another ruse involved bringing children to a cemetery near Annemasse dressed as mourners – in black veils, carrying funeral wreaths – and having them climb a gravedigger's ladder to scale a wall within feet of Switzerland.
He also enlisted the help of a cousin, the mime Marcel Marceau, when he was evacuating children hiding in a French orphanage
"The kids had to appear like they were simply going on vacation to a home near the Swiss border," Loinger told the Jewish Telegraph Agency in 2007, "and Marcel really put them at ease".
World news in pictures

Show all 50
Loinger himself crossed to safety in Switzerland in April 1944, along with his wife, Flore (Rosenzweig) Loinger, and their young sons Daniel and Guy. But he returned to France to continue to rescue children.
"He'd tell his wife, 'Stay safe in Switzerland, but I still have work to do,'" Tamar Nezer-Loinger, one of his nieces, said by phone.
Joseph Urie Loinger was born on 29 August, 1910, in Strasbourg, France, in the Alsace region near Germany. His father, Salomon, an immigrant from Poland, sold furniture. His mother, Mina (Werzberg) Loinger, who was born in Romania, was a homemaker.
He grew up in a religious Jewish family with six siblings and was active in Zionist activities as Hitler rose to power. "Mein Kampf was sold in bookshops," he told Tribune Juive, adding that he had listened to Hitler on the radio declaring his goal of exterminating the Jews.
Loinger – who changed his given name to Georges as a young man – studied to be an engineer in Strasbourg but switched to physical education in Paris. While serving in the French army, he was captured by German troops in 1940 and spent several months in a prisoner of war camp near Munich before escaping with a cousin.
Several months earlier he had received a letter from his wife, who was a caregiver for 123 German-Jewish children in La Bourboule, a resort town in central France, suggesting they were facing increasing danger. He rejoined her on her birthday. Soon after, he began to work with the OSE.
For his heroism, Loinger was awarded the Resistance Medal, the Croix de Guerre and the Legion of Honour from France. In 2016 he received the Order of Merit of the Federal Republic of Germany.
In addition to his son, Daniel, Loinger is survived by two grandchildren and a brother, Charles. Another son, Guy, died in 2012. A sister, Fanny (Loinger) Nezer, a nurse who was also involved in saving Jewish children, died in 1992.
Support free-thinking journalism and attend Independent events
After the war, Loinger worked to bring Holocaust survivors to British-controlled Palestine. At the Mediterranean port city of Sète, he helped work with the French authorities to ensure safe boarding for more than 4,500 Jewish refugees and Holocaust survivors heading for Palestine on the steamship Exodus 1947. British naval forces intercepted the ship as it approached Palestine and made it turn back to Europe.
Loinger was also an executive of the French subsidiary of Zim, an Israeli shipping company, and wrote or helped write books about his wartime experiences, including "At the Frontiers of Hope" (2006), with Katy Hazan, and "Jewish Resistance During the Occupation" (2010).
According to his son, Loinger's last words were, "Personne ne pourra détruit la culture Juive," or "Nobody can destroy Jewish culture".
The New York Times
Register for free to continue reading
Registration is a free and easy way to support our truly independent journalism
By registering, you will also enjoy limited access to Premium articles, exclusive newsletters, commenting, and virtual events with our leading journalists
Already have an account? sign in
Register for free to continue reading
Registration is a free and easy way to support our truly independent journalism
By registering, you will also enjoy limited access to Premium articles, exclusive newsletters, commenting, and virtual events with our leading journalists
Already have an account? sign in
Join our new commenting forum
Join thought-provoking conversations, follow other Independent readers and see their replies