Murray Walker: Formula 1 commentator loved for his infectious enthusiasm
The broadcasting great, who was beloved by fans for his 'Murrayisms', covered the sport for more than 50 years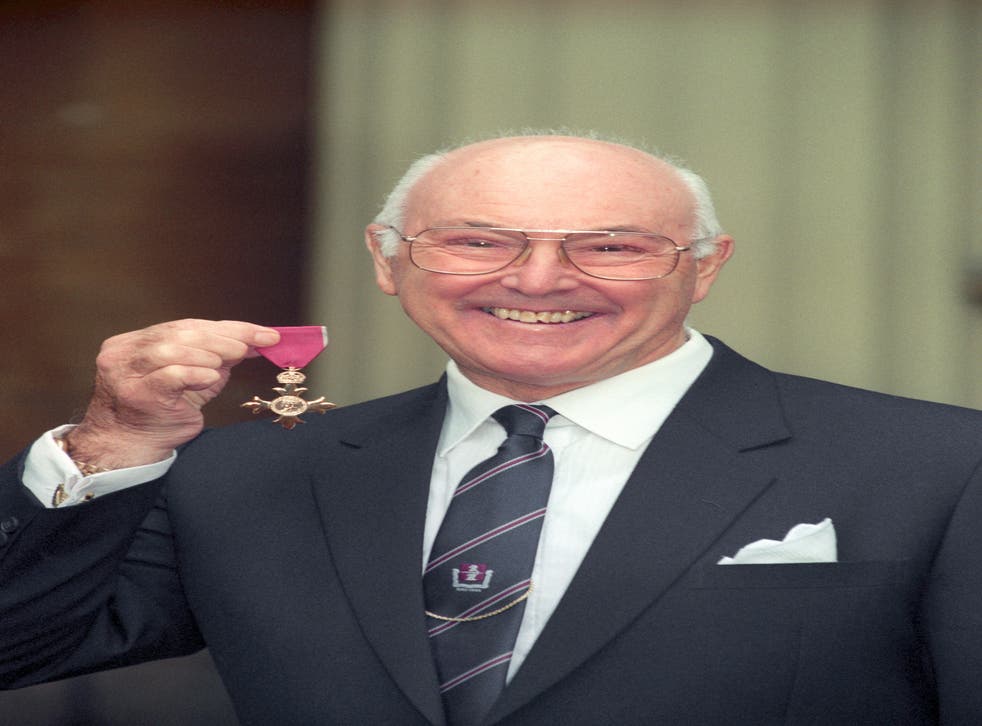 Murray Walker began his broadcast career at a hill climb in Worcester in 1948, providing the commentary over the public address system on behalf of the Midlands Automobile Club. Young Murray got the nod after a word from his father, a motorcycle rider of some pedigree and at the time the early voice of motorsport at the BBC.   
In his autobiography, published in 2002, Walker acknowledged the nepotism involved but did not let that get in his way, promising a "non-stop barrage of facts, figures, hysteria and opinion". The enthusiasm with which he took to the task would come to define a career indivisible from the sport upon which he commentated.
Walker deferred to his father, Graham, a car industry executive by profession, in all matters, maintaining that both on a bike and in the commentary booth he could never deliver the same degree of expertise and excellence. He went further suggesting that were he starting out today he would never have been given the opportunity that came his way in the early days of sports broadcasting.
Television was in its post-war infancy and outside broadcasts involved, in his words, "cameras as big as sheds". Radio was the thing and Walker was so spellbound by automotive combat that he never thought to say no, though he could not have known then that his career would develop as it did. For more than 30 years his principal responsibility was his role as an advertising executive, from which he did not wholly retreat until 1982, six months before his 60th birthday.
READ MORE: Murray Walker: My Life in Media
Born in Hall Green, Birmingham, in 1923, Walker was a pupil at Highgate School in London and during the Second World War graduated from the Royal Military College, Sandhurst, before seeing action as a tank commander with the Royal Scots Greys. On his release from military service in 1947 Walker took up a post at Dunlop, where he had briefly accepted a scholarship before joining the war effort. This would provide the grounding that led to a successful career in advertising, his most recognisable contribution to which was the slogan: "Opal Fruits, made to make your mouth water."      
His first grand prix commentary for the BBC was at the British Grand Prix at Silverstone in 1949 during which he gloriously underplayed a crash in which he thought the driver, John Bolster, had perished. "Bolster's gone off," he reported after said driver's car barrelled down the Hangar Straight before coming to rest in a bloody heap at the foot of his commentary box. Bolster would recover to become one of the first pit-lane commentators.
Walker served his broadcast apprenticeship as the BBC's motorcycling No 2 to his father until the latter's death in 1962. Walker's television breakthrough came with ITV in 1958 covering motocross, a kind of steeplechasing for bikes, as he described it. Since he wasn't exclusively contracted to the BBC and as Aunty was not interested in covering northern types hammering around muddy paddocks, Walker jumped at the chance and became a feature of ITV's Saturday afternoon sporting diet, a frenzied warm-up act for Ken Walton and the wrestlers.
On the odd occasion Walker's voice could be heard simultaneously on the BBC and ITV when a live broadcast for the former coincided with the latter's recorded output. Eventually the BBC caught up with the nation's interest in scrambling and offered Walker an exclusive contract to lead the commentary, a deal which would last almost 30 years before he returned to ITV with Formula 1 in 1997.
By then he was one of the most recognisable voices on British television, adored for the mistakes as much as his seat-of the-pants commentary. But back in the Sixties, when much of broadcast sport was of the highlights variety, filling slots on Saturday afternoons, it was the muddy stuff on Grandstand that helped make his name. Motocross was soon followed by its four-wheeled cousin, rallycross, the crash, bang, wallop nature of which was ideally suited to Walker's high-octane delivery and contributed quickly to his elevation as a national treasure.
The comic blunder was at the centre of the Walker metier. An early classic came via rallycross aspirant Stan Hastilow, who's Mini went off just as Walker was explaining its infallibility. "He is doing so well in the ghastly conditions because he's drilled a large number of holes in different diameters to a random pattern in his Mini's Perspex windscreen, as a result of which wherever any mud lands there's a hole he can see through..." at which point Hastilow hit a bank, took off, ploughed through a hoarding and disappeared from the nation's screens just as Walker was finishing his sentence with a rhetorical flourish, "what am I saying?".   
The episode was celebrated on David Coleman's Sportsnight programme, being the most requested item in the section of the magazine show where the presenter invited viewers to phone in with their sporting highlight of the week. Walker's became the default voice of any BBC sport that featured an internal combustion engine, including power boats. It wasn't until 1978 that the BBC elected to cover Formula One extensively, having previously dipped in and out around the marque grands prix of Monaco, Britain and Italy. And it would be another eight years before Walker's voice would be detailed exclusively to F1.   
The races were initially shown as a highlights package, with Walker doing the commentary from the studio in London, though he would travel to the European grands prix, returning to London after qualifying on Saturday. Late in 1979 he was informed by BBC head of sport that as a result of F1's growing popularity the BBC would be covering European races live, and there would be two voices in the commentary box. Thus began the unlikely two-step with James Hunt, the recently retired 1976 world champion for whom at the outset at least Walker had little time.
Then aged 57, Walker assumed it was the beginning of the end, the phasing out of the older man in favour of the telegenic playboy who knew what it was like to race cars. He could not have been more wrong. The pair endured for 13 years until Hunt died suddenly of a heart attack. Walker spoke at his funeral demonstrating how deeply he had come to feel about his colleague during their partnership.
Walker passed into legend as the master of the malapropism, which became Murrayisms in his honour. Each race would begin "Go, go, go", and at some point he would utter the phrase "Unless I'm very much mistaken", which he often was, of course. Other classic contributions include;  "the lead car is unique, except for the one behind it, which is identical",  "the young Ralf Schumacher has been upstaged by teenager Jenson Button, who is 20", and, "it's a sad ending, albeit a happy one, here at Montreal for today's grand prix". 
Walker was not only loved by the audience. He formed close relationships with the drivers, especially those that raced in British colours to world championships. Nigel Mansell provided Walker with a raft of thrilling flashpoints during his career, none more so than his success in the drivers' championship in 1992 after a string of near misses, the first Briton since Hunt in 1976 to win the fabled crown.
For the viewer Mansell and Walker came as a package. It was through the Walker prism that the audience appropriated the driver, and as Mansell grew in stature so the viewing figures followed suit, regularly reaching 5 million during his title winning year.  In the post-race environment with a microphone thrust under his nose, Mansell could be a challenging subject even in victory. On one occasion Walker went through the whole process without switching on his microphone, which meant a plaintive request to do it all again, to which Mansell cordially agreed, much to Murray's surprise.    
The bond with Damon Hill was perhaps the closest. Walker had not only commentated on his father Graham's two world championship victories but briefly shared a commentary box with him. It was by no means obvious that Hill would follow in his late father's footsteps but that he did in 1996, 12 years after making his debut in Formula Ford at Brands Hatch, where Walker just happened to be in attendance.     
Walker doubted the Hill Jr had the necessary commitment and drive shown by his father, but after a long apprenticeship as a test driver was given his chance at Williams in 1993, replacing Mansell, who had chosen to race on the ovals of America. Hill might have won the championship in his second season following the death of Ayrton Senna, and when he did so in Japan two years later, Walker endeared himself further to the nation with his emotional response as Hill crossed the line. "And I've got to stop now because I've got a lump in my throat," he said, tearfully.
Walker's final commentary came at the 2001 United States Grand Prix in Indianapolis, where he was presented with an original brick from the circuit known as the "Old Brickyard".
Murray Walker, motorsport commentator, born 10 October 1923, died 13 March 2021
Join our new commenting forum
Join thought-provoking conversations, follow other Independent readers and see their replies