The Independent's journalism is supported by our readers. When you purchase through links on our site, we may earn commission.
'A second job covered in glitter': Meet the irreverent order of LGBT+ drag nuns that beat the LA Dodgers
The Los Angeles Dodgers buckled under anti-LGBT+ pressure to disinvite the Sisters of Perpetual Indulgence from the team's annual Pride Night celebration. Within days, the team reversed course amid a groundswell of support for the drag artists. Io Dodds explores who the Sisters are and what they stand for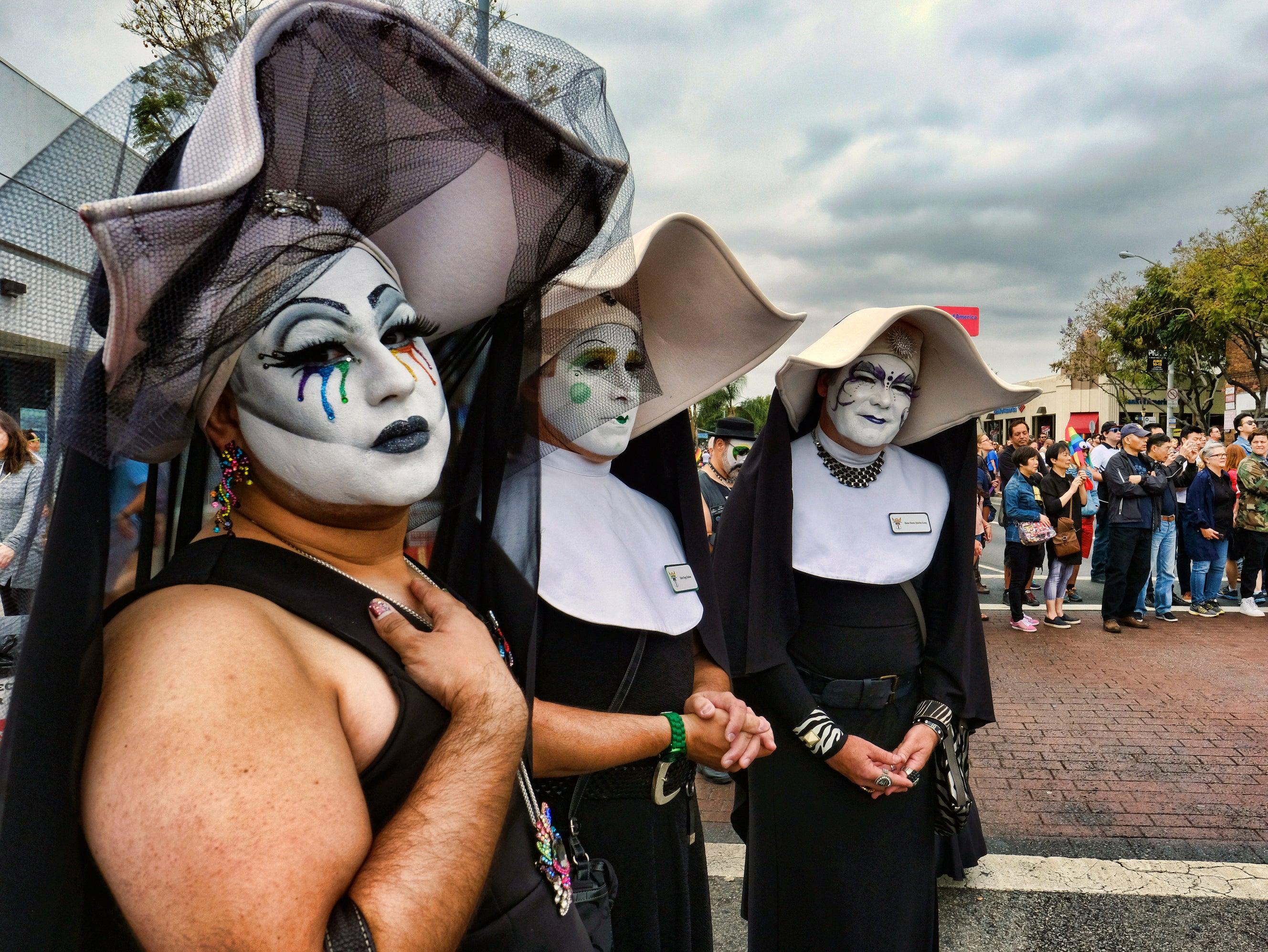 In 1982, a BBC reporter stood outside San Francisco's historic City Hall to interview a chain-smoking nun on a motorbike.
Pulling a pack of Marlboros from under the band of her fishnet tights, wearing gigantic eyelash extensions and what looked very much like a padded bra over her head, "Sister Boom Boom" explained why she had just run for the city's board of supervisors, listing her occupation as "nun of the above" and coming in at a respectable eighth place with 23,124 votes.
"I wanted to bring some imagination and humour to the election," she said. "So many people are alienated from politics because it's so dreary... the politicians take themselves dreadfully seriously while everyone's laughing at them behind their backs.
"Well, nobody laughs at me behind my back. They do it right to my face!"
Four decades later, Boom Boom's order – a colourful troupe of irreverent drag artists known as the Sisters of Perpetual Indulgence – has become an institution in California's LGBT+ community, regularly appearing at Pride events and raising a reported $1.5m for charitable causes.
Founded in San Francisco in 1979 by a group of gay men, the Sisters used extravagant Christian imagery to push back against religious homophobia and played a key role in the fight against AIDS. Today they boast hundreds of members of various genders and sexualities, organised in autonomous local chapters across the world.
All of which helps explain why, when a multi-billion-dollar major league baseball team picked a fight with them this month, the nuns won.
Buckling to pressure from Republican politicians and some Catholic groups, who had accused the Sisters of mocking Christianity, the Los Angeles Dodgers disinvited the order's LA chapter from its annual Pride Night celebration and rescinded a planned "community hero" award.
The decision came amid a nationwide wave of threats and harassment against drag performers and venues, whom some conservatives have demonised as as a threat to children.
But major local LGBT+ groups quickly rallied behind the Sisters and pulled out of the event, ultimately forcing the Dodgers to apologise and reinstate the award on 22 May.
"This is how I wish my family would have shown up when I was a younger LGBTQ person in Texas – with this vigour, and with this certainty and clarity," Sister Electra-Complex of the order's LA chapter tells The Independent.
So who really are the Sisters of Perpetual Indulgence, and how did they face down the second most valuable baseball team in the US?
'Go forth and sin some more!'
In the beginning there were four: Sister Missionary Position, Sister Hysterectoria, Reverend Mother, and Sister Vicious Power Hungry B***h.
These men – otherwise known as Fred Brungard, Edmund Garron, Bill Graham, and Ken Bunch – had met in 1979 at an international gathering of the Radical Faeries, a group of mystically-minded queer people who rejected the idea that gay men should assimilate into straight culture. (Sister Boom Boom, alias Jack Fertig, joined the group in 1980.)
Declaring their mission as to "promulgate universal joy and expiate stigmatic guilt", they began a series of attention-grabbing protests and fundraisers, from clashing with homophobic Christians in the Castro through staging a mock exorcism of the anti-gay exorcist Phyllis Schlafly to writing one of the first safe sex pamphlets for gay men during the AIDS pandemic.
One of their mottos ran: "Go forth and sin some more!"
But these public confrontations were only part of the Sisters' mission. According to Sister Electra-Complex, the nuns were also devoted to what the Catholic Church would call pastoral care: ministering to the sick, honouring the dead, and supporting the living in a community that had been spurned by many mainstream religious bodies.
"We were the people who sat with our friends who were dying of HIV and AIDS. We were the caregivers," says Electra-Complex, who in civilian life teaches sociology at an LA metro area university.
"At that time, religious groups were definitely not supportive of LGBTQ folks, and especially not those who had HIV. It was seen as a major stigma, and a lot of people were lost because of that stigma...
"So in a way, the idea that we exist in the same way a nun would exist is a real thing for us. We take vows, we see this as a public duty for a lifetime, and [it's] one that we joyfully accept."
Day by day, that mostly means lot of liaising with fundraising partners and organising charity events such as "Project Nunway" – a parody of the reality TV show Project Runway, featuring clothes made out of trash. There are also visits to hospices, community events, and conventions. "It's basically a second job covered in glitter," says Electra-Complex.
As the LA chapter's mistress of archives and merchandising, Electra-Complex is in the process of restoring and digitising its paper records, which stretch back to the chapter's foundation in the mid-Nineties but were "in a state of disarray" when they took up the post. "They had survived a flood and then been put upon a shelf in a warehouse for four or five years," they say, "so I've had to get all the rat faeces out, and any of the rotted things."
As well as gay men and non-binary people like Electra-Complex, the Sisters' membership includes transgender women, trans men, and even some straight cisgender (non-trans) people. Take Sister Leigh Viticus, who wrote an op-ed in the gay magazine Advocate in 2014 about her experiences as a non-gay, non-trans drag nun.
The process of joining is lengthy and exacting. Applicants must spend two months building relationships with their local chapter (known as a "house") and declare their intention to join. They then go through successive rounds of education, approval, and training, lasting more than a year in total, and are forbidden to wear their house's official garb (each house has its own distinctive headdress) until they are finally declared a "Black Veil".
In liberal-minded cities like LA and San Francisco, where local politicians make a point of showing respect for their local queer culture, the Sisters had become a strange thing: almost uncontroversial. That was until the Dodgers affair.
'An anti-Catholic hate group'
"We were shocked, to say the least," says Electra-Complex. "We have a couple of really die-hard Dodger fans for Sisters who were just like, 'wait a minute, I'm a lifelong season ticket holder! What do we do now?'"
The controversy began when Republican politicians such as Florida senator Marco Rubio and religious groups including the Catholic League and the conservative lobby group CatholicVote, wrote letters to the Dodgers asking for the LA Sisters' award to be revoked.
"Do you believe that the Los Angeles Dodgers are being 'inclusive and welcoming to everyone' by giving an award to a group of gay and transgender drag performers that intentionally mocks and degrades Christians?" Mr Rubio asked Dodgers commissioner Robert Manfred, referring to the Sisters as "men who dress in lewd imitation of Roman Catholic nuns".
In a similar missive, CatholicVote described the Sisters as "an anti-Catholic hate group which exists to desecrate and degrade the Catholic faith," claiming that "their sole mission is to disgust Christians with the most grotesque acts they can imagine". In a follow-up tweet, it suggested all major league teams should cancel their Pride events.
These criticisms of the Sisters go back decades, but Electra-Complex insists they are inaccurate. They say the nun get-up is a critique of religious institutions that enforce a rigid conception of gender and sexuality, and of anti-LGBT+ practices such as conversion therapy – but is not intended to attack religion itself.
"I've never seen a Sister mocking religion openly," they say. "Our symbolism is a statement about caregiving and nurturing a community that we deeply identify with and are part of, and so that is where the nun image comes from...
"For some of us that is a religious calling. We definitely have Catholic nuns in our house – Christian nuns, Muslims, Hindus, every religion, atheists...
"I think [the criticism] is a way for folks to not be so sexist and homophobic outright – a nice little cloak, without having to say what they're really trying to say."
Electra-Complex adds that the LA house's founder, Sister Candy Cide of the Immaculate Misconception (or Candy for short), went through conversion therapy in her youth yet remains religious today.
Indeed, some other Catholics – including Democratic Congressman Jimmy Gomez and an actual retired nun who wrote to The Los Angeles Times – said they supported the Sisters and opposed the Dodgers' response.
Electra-Complex also argues the Sisters' mission to "expiate stigmatic guilt" is a direct response to the guilt and shame imposed on queer people by some Christian leaders. Several Sisters in their house, they say, have joined after a lifetime of repressing their sexuality, still bearing the stigma of how it was seen by their former communities.
How, then, did the Dodgers come to rescind their award – and why did they reverse their decision?
'Several tearful apologies'
Electra-Complex was not at the Sisters' meeting with team executives, but was briefed on its contents. "From what I understand, it was a decision made by two individuals who immediately regretted it. I think they were acting out of political pressure," they say.
The team's initial announcement on 17 May said, given the "strong feelings of those who have been offended", it would remove the Sisters from its honours list in order not to "distract from the great benefits" of its Pride Night celebration.
But within two days, major local LGBT+ groups including LA Pride, the Los Angeles LGBT Center, and the ACLU of Southern California – some of whom were longtime partners – had quit the event, accusing the Dodgers of truckling to a hateful agenda. There was also a storm of criticism from pro-LGBT+ politicians and activists not involved with the event.
Only a year earlier, the Dodgers had sought to atone for its past homophobia by inviting the surviving family of Glenn Burke to Pride Night. Burke was the first major league baseball player to come out as gay, but did so only after being traded away by the Dodgers when he refused to accept a $75,000 honeymoon gift from bosses on the condition that he marry a woman. He ultimately died from complications of AIDS in 1995.
And so, Electra-Complex says, over the weekend the Dodgers scrambled together senior executives and lawyers for a Monday meeting with the Sisters and the LA LGBT Center, who frankly expressed their views.
"It was with, I was told, a tearful apology – several tearful apologies," says Electra-Complex. The Sisters were persuaded that these apologies were heartfelt, and they came with concrete commitments: diversity training for Dodgers staff, representation for its LGBT+ workers, and extra security for the event.
The latter item is a grim reminder of the current surge in violence and extremist invective against gender nonconformity, especially drag artists and transgender people. The number of anti-LGBT hate crimes reported to the FBI rose by 80 per cent between 2020 and 2021, while the global violence-tracking non-profit ACLED says that anti-LGBT groups in the US mobilised more intensely in 2022 than at any time since it began gathering data in 2020.
Meanwhile, social conservatives have increasingly mounted boycotts and pressure campaigns against corporations that show support for trans people, such as Budweiser. On 23 May, the retail giant Target said it would be moving its Pride displays to the back of its stores in some Southern areas due to threats against its workers.
The Sisters too have seen an increase in threats. "There is definitely some general harassment, [saying] that we've somehow gone against God and God hopefully will be saving us," says Electra-Complex. "People are praying a lot for me, apparently.
"But the ones that stick out to me are the ones that say 'we will come and find you in the streets'. That is a bit scary to me, as someone who shows up to a Sister event, parks their car, and walks in by themselves. I will probably be rethinking that."
Luckily for the Sisters, the diversity of the queer community can be an asset in such situations. When the LA house attends Dyke Day in June, they will be surrounded at all times by leather-clad toughs from the city's "puppy play" scene, which centres around roleplaying as dogs.
The Independent has verified Sister Electra-Complex's identity, and has chosen to withhold it at their request.
Join our commenting forum
Join thought-provoking conversations, follow other Independent readers and see their replies