Anna Pavord: 'Cleverly-designed kit like the Niwaki ladder make gardening tasks far less difficult'
The Japanese ladder feels much safer (and more comfortable) than our gardening correspondent's familiar narrow rungs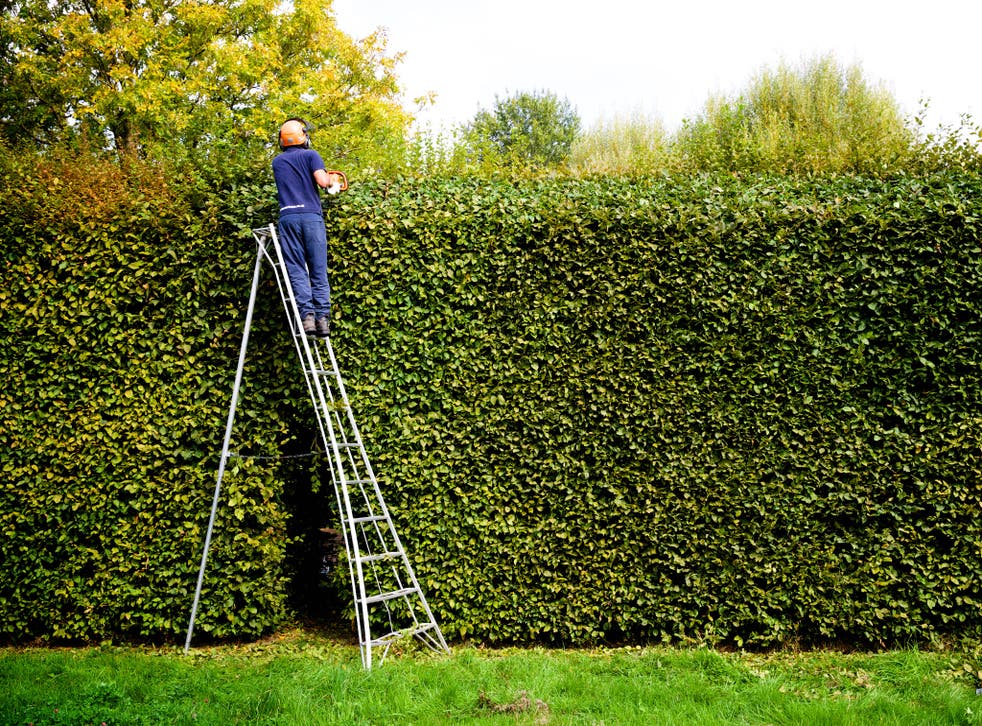 We have a new bit of gardening kit. That is front page news round here, I can tell you. It's a ladder. So what, you may ask. But all the ladders I've ever known have been of the same kind: two parallel struts joined by narrow rungs. There was a bit of an advance when wooden ladders were replaced by aluminium – lighter and longer lasting. Another step forward came with extendable ladders that could get you safely up to gutter height. My husband once gave me one of those for my birthday. To be fair, we did need it, but it didn't quite have the delicious glamour that useless presents have.
The new ladder, imported from Japan by Niwaki, is made on a completely different principle. Our traditional kind of ladder has to lean against something. The Japanese ladder is supported by an extending back foot, which you can poke right inside a hedge or a tall piece of topiary. There's a moveable chain to link the back foot with the front of the ladder, which is a wide sweeping shape, much broader at the base than it is at the top. The steps are made from double rungs, so you have a tread which is 10cm/4in wide. That feels much safer (and more comfortable) than our familiar narrow rungs.
I first began to see the ladder on the rattlebag trucks driven by the boys who do tree work and gardening round here. Truck, dog, chainsaw. Sorted. That's how it used to be. Now this Japanese ladder has been added to the list of essentials. They are expensive and these guys aren't the kind to be swayed by looks or fashion. But they like them because they allow them a better SSH (Safe Standing Height). The wide base makes the ladder exceptionally stable, and the provision of a back leg means they can get close in to the tops of tall hedges or the sides of big pieces of topiary.
The ladders come in six different sizes from 1.2m/4ft to 4.5m/15ft. We've got the 3m/10ft one (£269), which weighs just 10.5kg. It spreads 1.93m at the base and is 3.17m long with 10 steps. From this, we reckon we should be able to clip anything up to 10-12ft high. The idea is that we should keep hedges and topiary down to a size that is reachable from the ladder, rather than get the bigger ladder (3.6m/12ft £309) which would allow clipping up to 12-14ft.
The Niwaki ladder is also useful when you are picking fruit. Traditionally, in apple-growing areas such as Kent and the West Country, pickers used wooden A-frame ladders, which are easier to poke into the crown of a big tree than the parallel-strut kind. But you can't lean over the top of an A-frame ladder without risking a sharp jab in the stomach, and there's nowhere to rest a basket. You can both lean from and prop a basket on the Niwaki ladder. The "shelf" or platform at the top is 21cm/8in wide.
It is nine years since we last got a new piece of kit. Manufacturers may groan at our rate of consumption, but the truth is that you can garden with very little stuff. That last acquisition was a sack truck, which like the ladder is a very simple but exceptionally well-designed object.
The truck, made by Draper (we've got the 3 in 1 Heavy Duty version) looks like a porter's trolley, but has a clever extra set of wheels which, when let down, allow you to use the trolley flat, like a truck.
I like it because it is robust, quiet and efficient. It has fat rubber wheels which bounce over our uneven ground and never get stuck. The shelf at the bottom is easy to get into position under the things – 100-litre sacks of compost for instance – that you want to move from the car to somewhere else. Because of its good wheels, the truck will bounce down steps or can be dragged up them.
The shelf at the bottom sticks out about 30cm but, if need be, you can double that by folding out another part of the trolley. Like the ladder, it has a simple but strong pin to hold it in whichever configuration you want. I've recently been using it to cart the huge pots of black Aeonium "Zwartkop" from the courtyard to overwinter in the greenhouse. The carrying capacity, says the manufacturer is 300kg. Awesome. I'll never need it to do even half that. But I appreciate the fact that, with the truck's help, I can do jobs that would otherwise need two people. And it doesn't ever say it's busy doing something else.
For more information about the ladder, visit niwaki.com. Prices include delivery. For details of the sack truck, currently on promotion at £105, go to draper.co.uk
Register for free to continue reading
Registration is a free and easy way to support our truly independent journalism
By registering, you will also enjoy limited access to Premium articles, exclusive newsletters, commenting, and virtual events with our leading journalists
Already have an account? sign in
Register for free to continue reading
Registration is a free and easy way to support our truly independent journalism
By registering, you will also enjoy limited access to Premium articles, exclusive newsletters, commenting, and virtual events with our leading journalists
Already have an account? sign in
Join our new commenting forum
Join thought-provoking conversations, follow other Independent readers and see their replies