Anna Pavord: 'Thanks to clement weather, we're seeing an usual mix of summer and autumn plants'
Oriental poppies and marigolds have been joined by colchicums and eye-catching ferns in our gardening correspondent's garden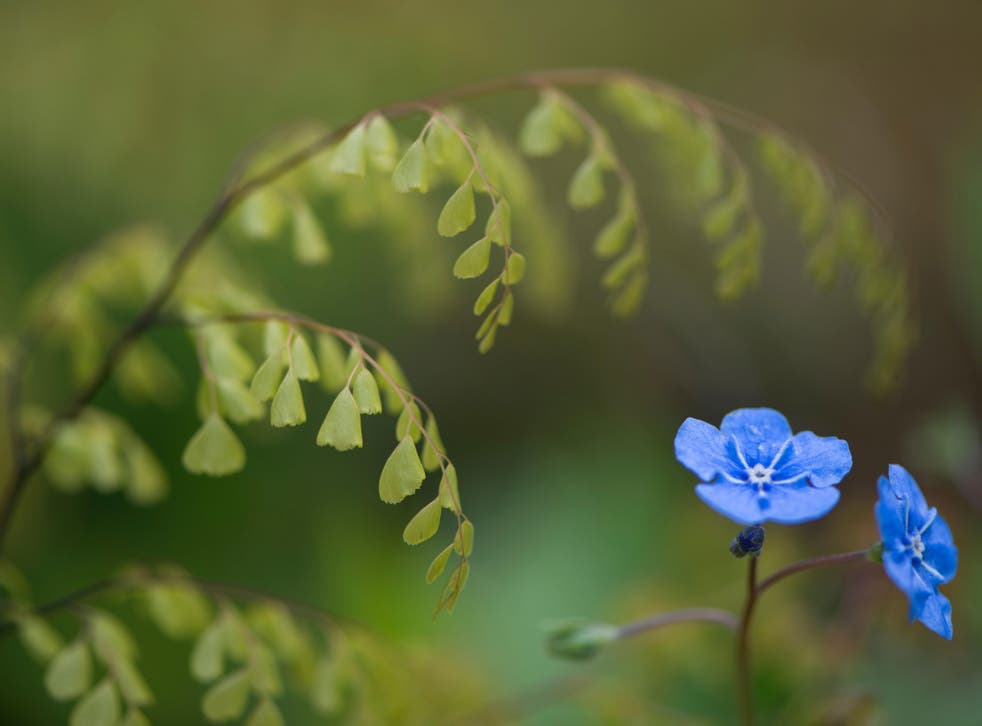 The extraordinarily mild autumn has brought summer round all over again in the garden. Oriental poppies have sprung up once more into flamboyant, opportunistic bloom. The marigolds I sowed from seed on 6 March decided they wouldn't give up after all, and have been blooming as brightly as they ever did in July. Rather better, actually, as the plants are much bigger and bushier now than they were then. My favourite kind is called "Indian Prince" (Mr Fothergill's, £1.95), which is mercifully un-dwarfed (why do breeders think that we necessarily want squat plants?) and has flowers of a gorgeous brownish orange, the petals backed with mahogany. It grows to 75cm/30in.
I've just sown another batch of marigold seeds in the greenhouse, which will give an early crop of flowers next year. They don't self-seed in the garden with the same joyous abandon as love-in-a-mist, but like other annual flowers such as cornflower and the indispensable white orlaya, they do well with an early autumn sowing under cover. The marigold I'm talking about is the English pot marigold (calendula), not the African or French marigolds which are types of tagetes.
The fact that so many summer flowers are still bouncing around in autumn has brought about some odd combinations – zinnias backed by holly in full red berry – but the weather has favoured true autumn plants as well. The show of colchicums pushing through a low mat of lacy maidenhair fern has never been so prolific. I wondered, as the fern began to spread over the place where the colchicums had been planted, whether it might muzzle them, be too strong a companion. But they seem to be sharing the space amicably and look terrific together.
The colchicum is pink Colchicum speciosum, bigger and later-flowering than Colchicum autumnale. Each produces a lunatic amount of flowers. I don't see how that many can be packed away in a single corm. But at least they aren't having to produce leaves at the same time. Those come later, next spring.
The fern is Adiantum venustum, evergreen with us, which makes it useful ground cover, no more than 30cm/12in tall with roughly triangular fronds. It has fine wiry black stems with lacy green foliage and does best in some shade. I used never to touch it. Then I went to a garden in Washington state on the north west coast of America, where they garden in conditions much like ours. There, they cut this fern down to the ground in late January, so that the new fronds emerged cleanly. It's worth the effort, because the new foliage is a gorgeous bronze-pink. It's the best gardening tip I've been given for a long time.
Further up the bank there's a group of eye-catching ferns, unusual in that they produce their new fronds in late summer and are fully mature in spring, when most other ferns are only just beginning to wake up. It's Polypodium cambricum in a form called "Richard Kayse", no more than 38cm/15in tall and a rich, vivid yellowish-green at a time of year when most other greens are dulling and dying. The foliage is dense but not congested, with the side-growths held at an angle giving a beautiful layered effect – almost three-dimensional in contrast to the flatter habit of other ferns. The group of three is interplanted with the variegated Arum italicum "Pictum", darkest green, arrow-shaped leaves symmetrically marked with silver.
The polypody is a special plant because there is a record of it being first collected in 1668, at Dinas Powys in South Wales, by the Richard Kayse after whom it is named. It was growing, though not much of it, on a limestone cliff, and gardeners soon discovered that it was sterile and could only be propagated by division. This means that all "Richard Kayse" polypodys around now are directly descended from that same population. We have the children of the fern originally collected in the year that Isaac Newton built his first reflecting telescope, when Molière's comedy The Miser was first performed.
Plants raised from naturally pollinated seed will not necessarily be exactly like their parents, because each seed will contain the possibility of variation, a genetic shift which may give the plant some useful survival technique in generations to come. But a sterile plant is fixed. In the wild, this polypody can only increase by spreading. Gardeners can split it. Nurserymen will now probably increase it by micro-propagation. But by any of these techniques, what you produce is a clone, an exact replica of the parent. We know we are looking at exactly the same plant that eagle-eyed Richard Kayse saw, way back in the middle of the 17th century. I salute the ferns, each time I pass them.
Register for free to continue reading
Registration is a free and easy way to support our truly independent journalism
By registering, you will also enjoy limited access to Premium articles, exclusive newsletters, commenting, and virtual events with our leading journalists
Already have an account? sign in
Register for free to continue reading
Registration is a free and easy way to support our truly independent journalism
By registering, you will also enjoy limited access to Premium articles, exclusive newsletters, commenting, and virtual events with our leading journalists
Already have an account? sign in
Join our new commenting forum
Join thought-provoking conversations, follow other Independent readers and see their replies